Ceremonial mounds in shapes such as bears and birds are what make Effigy Mounds National Monument unique. Here, the Little Bear group is a highlight on a hike on the Fire Point Loop trail. 
Past and present come alive at Effigy Mounds National Monument and the communities and parks beyond.
Writer: Beth Eslinger
Photographer: Mary Willie
As my daughter and I started our hike on the Marching Bear Group—a series of bruin- and bird-shaped ceremonial mounds—a long brown morel mushroom greeted us from the side of the trail. It seemed like an omen of good things to come. Steps ahead on the steep incline to the top of the bluff, feathery maidenhair ferns, perky jack-in-the-pulpit, and purple blooming sweet William made stopping for a breath a little more enjoyable, as did the warblers, catbirds and gray squirrels flitting amid the trees. A lone pileated woodpecker—with a 30-inch wingspan—zipped overhead on his way to the ravine below.
As the hike continued, the woods opened up until we reached the top of the ridge. Just a few minutes away at the end of the 2-mile trail, the 10 bears and three bird mounds making up the group appeared, with shapes protruding 2 to 4 feet off the ground and stretching up to 80 feet long. Ferns and other vegetation helped define the heads, legs and wings.
Although our trek took place in the spring, fall's fiery foilage brings the area's breathtaking views to the next level. No matter the season you visit, though, you'll inevitably find yourself wondering how past hunter-gatherers moved this massive amount of earth without modern tools. What happened to these people and their descendants? Why are there no Native people left here? How can we preserve this state gem so it can be enjoyed for another 1,000 years or more?
Get to Know the Park
Iowa's only national monument, Effigy Mounds not only possesses natural beauty but also evokes respect and awe. Between 850 and 1,500 years ago, Native peoples built ceremonial and burial mounds—altogether there are 206, including 31 animal shapes. While conical and linear mounds occur throughout the Midwest and East, the animal shapes make these unique.
Established in 1949, Effigy Mounds National Monument is located in the Driftless area of northeast Iowa, which missed glaciation during the last ice age. This means hikers can expect to encounter hilly terrain, rocky limestone outcroppings, and deeply carved river valleys, including the Mississippi and Yellow rivers flowing through the park.
The visitor center, located a few miles north of Marquette, offers a brief education on the original Native peoples, with artifact displays such as pottery shards and several examples of atlatls (the first complex weapon created by humans). There's information about the mounds and the Woodland Period people, as well as maps showing the extent of mounds across the eastern United States.
One of the last messages in the exhibit before experiencing the mounds sets the mood: "The bear is like the earth—each year it 'dies' and is reborn. The birds in the sky have freedom, dignity and beauty. These waters—home of the fishes and turtles—give life to all things. We can see all these things in forms of the mounds."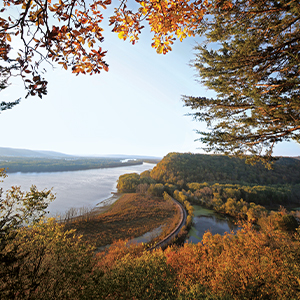 The Eagle Rock overlook at Effigy Mounds offers prime views of the main Mississippi River channel below. Autumn is an especially scenic time. 
Take a Hike
Trekking amid the hardwood forest to see the mounds is a top attraction throughout the year, but fall is perhaps the most picturesque, when the maples alight in reds and oranges. I've hiked the park in all four seasons and each has its merits—complete solitude in winter except for a lone deer or woodpecker; intense greenery in spring; lush, shaded woods in summer; and epic color and cooler temps in fall.
There are two main areas to explore, each worthwhile. From the visitor center, a self-guided trail climbs north past a small bear grouping and a series of conical dots leading to Fire Point, which overlooks the Mississippi. While taking a break, see Pikes Peak State Park—named after 1805 explorer Zebulon Pike—to the south and Prairie du Chien across the river in Wisconsin. You'll likely see fabric prayer bundles tied to the fences and trees—these are often used in Native traditional ceremonies and honor the ancestors who were buried here.
It's possible to loop back for a quick 2 miles or continue for up to a 7-mile hike. There are more series of conical and linear mounds, a few more bears, plus more river overlooks.
Located half a mile south of the visitor center, the Marching Bear trail offers a quieter escape from the popular visitor center trek. It's a secret spot with birders and nature lovers, and the overview of Founders Pond is particularly pretty. The trail to the bears is 4 miles round trip.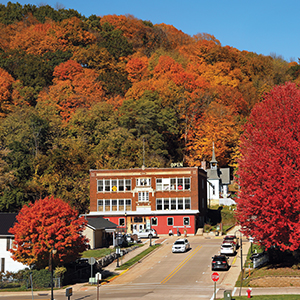 Mid-October is prime fall color season. Here, Marquette's School House Antique Mall tempts travelers with three floors of finds.
Explore Nearby
Incorporated in 1874, the town of Marquette (population 450) was first visited by the French in 1673. Today it's a hub for antiquing, relaxing with a glass of wine and exploring more local scenery.
Unique Antiques is my favorite spot for curated glassware, china and jewelry; many of the pieces are one-of-a-kind. Just down the street, School House Antique Mall provides the largest selection of vintage goods in the area. (I scored a variety of steins for an Oktoberfest party at the three-story building a few years ago.)
With an outdoor wine garden, Eagles Landing Winery pours reds, whites and rosés. Its Bluesfest won people's choice and best of show at last year's Iowa State Fair.
To learn about the area ecosystem, stop by the Driftless Area Wetlands Centre, which hosts a farmers market, concerts and interactive family activities. The free center is open Tuesday through Saturday from 11 a.m. to 4 p.m.
Also find lodging and dining in Marquette, plus flea markets, a riverboat casino, and the bridge leading to the Wisconsin side of the Mississippi.
Just a mile south, McGregor dates to the mid-1800s—the buildings here proudly show their age. Stroll through downtown and discover more finds at the antiques and gift shops, including Paper Moon, which has all sorts of gifts and novelties such as books, quirky socks, kitchen items and more.
For fixings for a picnic or a hike, stop at By the Spoonful to see what's on hand for local meats, cheeses and other snacks. The made-to-order sandwiches are particularly tasty, plus there's a great selection of local beers to take home or enjoy throughout the weekend.
You'll find mostly comfort cuisine at the restaurants in town. Cafe McGregor is tops for breakfast, and Old Man River Restaurant & Brewery is a scenic downtown spot to enjoy an Iowa Pale Ale with a Mississippi Burger (with bacon and pepper jack) and scratch-made chips.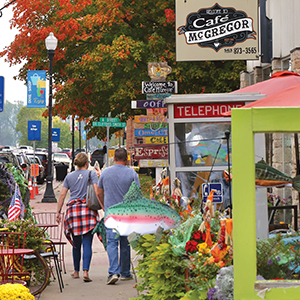 Plan on spending an afternoon in McGregor checking out the independent shops and eateries downtown.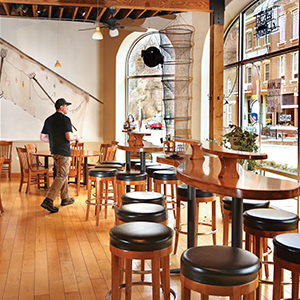 The Old Man River Restaurant & Brewery is located downtown and dishes pub fare.
More Nature to Explore
Just south of McGregor, Pikes Peak State Park is another favorite fall destination for families and hikers.
Operated by the Department of Natural Resources, the park has free access and features overlooks of the Mississippi and boardwalks to trickling waterfalls. It's a great picnic spot.
There are 11 miles of trails—including some that allow mountain biking—and it's possible to trek from McGregor to the park visitor center. More burial mounds are located within the park, though not in animal shapes.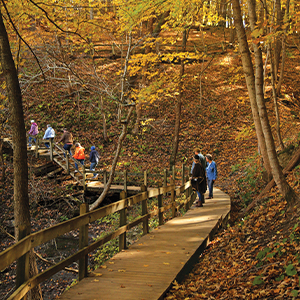 Boardwalks lead down the steep hills at Pike's Peak State Park to features such as Bridal Veil Falls.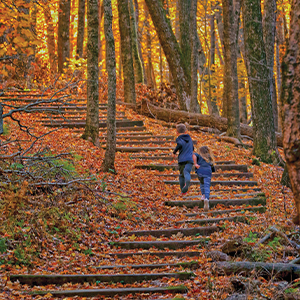 The Myotis trail at Pike's Peak State Park is family-friendly, especially when carpeted in fall leaves.
Make It A Weekend
Decorah to Effigy Mounds is only a 40-minute drive through bluff country. Book a hotel for Friday night in Decorah, enjoy pizza at Luna Valley Farm (see here), then spend Saturday and Sunday in the Mississippi River area exploring the Native mounds and charming vintage towns. If you're coming from central or western Iowa, join a coffee "cupping class" on Friday morning in West Union's Euphoria Coffee, about 30 miles south of Decorah (learn more here).