Guests to Luna Valley Farm near Decorah gather to enjoy wood-fired pizzas Friday nights from May through October. The nearby pasture and bluff light up in vibrant shades of green in spring and summer and brilliant oranges and reds in fall. The Driftless Area farm lures locals and visitors alike with regionally sourced toppings and a relaxed community vibe. 
Pack a picnic blanket and savor scratch-made pizza amid Iowa's rolling countryside.
Writer: Beth Eslinger
Photographer: Charlie Langton
You know you're in for something special on the drive to Luna Valley Farm in northeast Iowa.
You'll travel on gravel roads through roller-coaster hills, past towering limestone bluffs and by farmsteads dotted with dairy cows. Your destination—a weathered red barn just 15 minutes from Decorah—is set against a grassy overlook of the verdant pasture and winding trout stream below.
Hosting wood-fired pizza night every Friday from May till the end of October for the past five years, Luna Valley Farm presents an al fresco experience where rural life meets modern flavors. The working farm in Winneshiek County operated by Marin and Tom Beard creates their hand-tossed pies from ingredients sourced on their 60-acre property and elsewhere in the area. That big barn houses a wood-fired pizza oven as well as drinks on tap—all locally crafted in nearby communities.
"We have three breweries in a 10-mile radius, local soda and natural wine," Marin says.
Our order included a 16-inch Middle Sattre topped with heritage breed Italian sausage from the farm's pigs, meaty oyster mushrooms, and fresh mozzarella cheese, as well as a Sweet Pea pizza with fresh pea shoots and a pea pistachio pesto. It was a perfect complement to a rhubarb sour from Pivo brewery in nearby Calmar.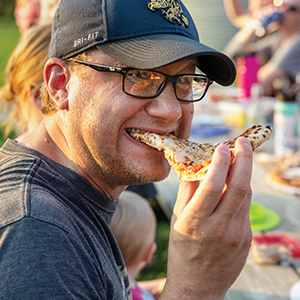 On the night we visited, the farm was abuzz with activity. Children ran freely through the pasture shooting off toy rockets, while others fed greens from that same field to a trio of newborn lambs. Their parents happily observed from above. Visitors of all ages sprawled on picnic blankets soaking in the 77-degree evening while overlooking the bluffs, the stream beyond and the rising full moon, which seemed apt considering Luna means moon in Spanish.
Strolling around the farm is an essential part of the dining experience. There's a pizza garden, where red peppers, garlic, eggplant, squash and flowers for the bar grow. Visitors can also see beehives, grazing cattle and sheep, and a newly planted native prairie. If you're lucky and plan early, you can even snag an overnight spot in one of their deluxe platform tents. The two glamping tents sell out quickly in early February, so plan accordingly if a trip like this is on your bucket list. It might be the best night ever with a belly full of pizza and local brews.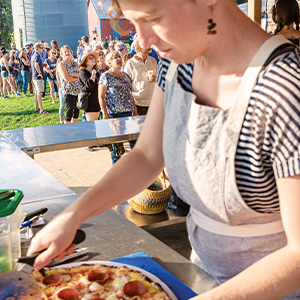 The red barn's open kitchen allows visitors a behind-the-scenes look at the pizza-making.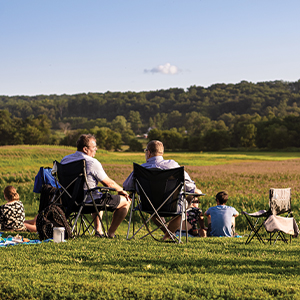 Scenic views of the working Winneshiek County farm make for a relaxed al fresco evening.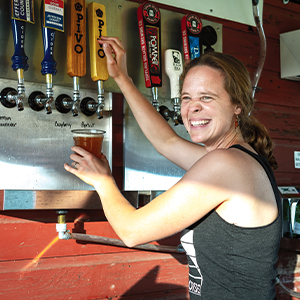 Marin Beard serving at the bar.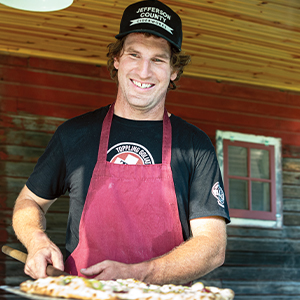 Thomas Beard on pizza duty.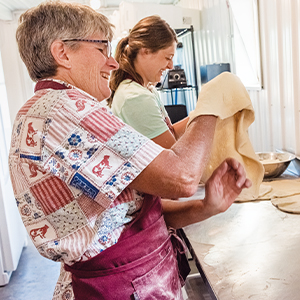 Crust is prepared and hand tossed on-site.
---
Winneshiek County Beer Scene

Beer fans find plenty to sample at these three Decorah area breweries.
Pivo Brewery, Calmar
Just 11 miles south of Decorah, this small-town brewery is known for big flavors. Order a few 4-ounce shorties of wheats, pilsners, sours and more to enjoy on the patio. The mustardy beer cheese dip is thick and delicious with a fresh pretzel.
Pulpit Rock Brewing Co., Decorah
A local favorite, this Scandinavian-modern space (it's in an old dairy facility) is known for American classics like ales, sours and lagers. Sit outside on the patio if the weather's cooperating. Next door, the Landing Market sells grab-and-go and sit-down bites for a post-beer snack.
Toppling Goliath Brewing Co., Decorah
On a weekend of a special release, expect to see license plates from all over the Midwest and even Canada throughout town. Enthusiasts love their classic brews such as Dorothy and Pseudo Sue. There's also food on-site. Tip: Toppling is a few miles east of town, so plan your transportation accordingly.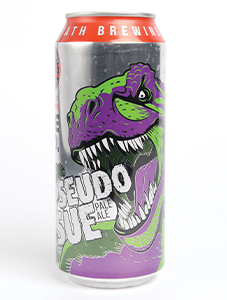 Toppling Goliath's Pseudo Sue
Other Pastoral Pizza Parlors
Pizza tastes better when you have a view of the sunset and grass beneath your toes. You can find outdoor pizza nights at these additional spots across the state.
Wallace Centers of Iowa, Orient
Hosted Friday nights June through September amid the rolling hills of Adair County (about an hour southwest of Des Moines), Pizza on the Prairie features made to order pies packed with straight-from-the-farm veggies and area meats, including Graziano sausage and Des Moines Meat Co. bacon. Order the 10-inch weekly special: On the night of our visit the signature dish was topped with roasted asparagus, smoky bacon and honey.
Enjoy sides, desserts and a signature drink crafted from garden produce that's harvested steps away from the kitchen. Live music, yard games (including a supersize Connect 4) and a stroll through an outdoor prairie art gallery elevate the picnic experience. Seating is limited, so spread a blanket or pop up a folding table to get your party off the ground
Tip: Bring insect repellent if you're there early in the season. While at the farm, visit the gift shop and learn about former Vice President Henry Wallace, who was born here. Reservations are required and available at wallace.org/pizza-on-the-prairie/.
Plant Life Designs, Van Meter
Guests at the Plant Life Pizza Picnic events enjoy seasonally inspired wood-fired pizzas prepared by Chef Jacob Schroeder of Crafted Food Services. Served in a lush garden setting under string lights, 10-inch pies highlight ingredients from local farms. Individually sold tickets include appetizers, pizza, veggies, dessert and two drinks. Dates vary; for details and reservations, visit plantlifedesigns.com/dinners-at-plant-life-designs/.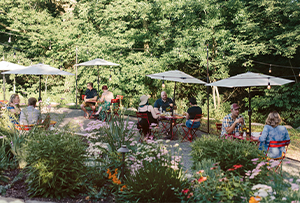 Plant Life Designs, Van Meter