Above: Settled in the early 1850s, picturesque Decorah is home to a rich Norwegian-American culture. Its downtown brims with independent shops and restaurants. For a bird's-eye view, visit Palisades Park.
Writer: Wini Moranville
Photographer: Mary Willie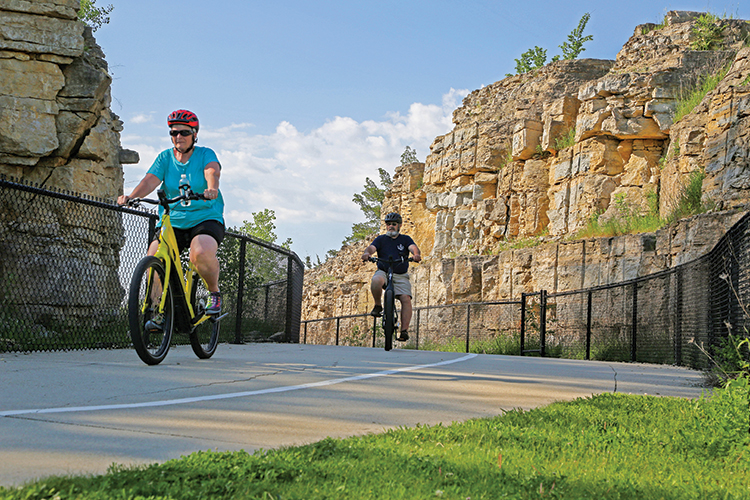 The 11-mile Trout Run Trail loops around town, crossing several trout streams and following the Upper Iowa River. Here, a cyclist passes "The Cut."
While writing travel stories for this magazine, I've spent pleasure-filled stretches of time poking around revitalized downtowns and small-town main streets that went from boom to bust to boom again. A winning example is downtown Cedar Falls—nearly abandoned and threatened by the wrecking ball in the '80s. It now flourishes as a lively entertainment and shopping destination.
Decorah's downtown has never made that kind of comeback—and that's because its main-street life never went away. While other cities and towns saw their cores decline as suburban malls went up, such a thing never happened in this county seat of 7,500-plus. Water Street—the two-lane main street running through the city's center and lined with historic buildings—remains the area's retail hub and a boon to travelers who love poking in and out of the shops and boutiques of a vital town's core.
"Decorah is landlocked by rivers and bluffs, so sprawling development wasn't an option," explains Kristina Wiltgen, executive director of the Decorah Area Chamber of Commerce. "You're going to travel a good hour to get to a place with malls. This encourages people to do business locally."
Indeed, more than 75 shops and businesses (mostly independent) thrive in the downtown area, where you can buy everything from menswear to baby chicks to musical instruments. The Winneshiek County Courthouse, the high school and its sports fields, a movie theater, and even the county fairgrounds all lie within a walkable central area. And with many of the town's residents living and working nearby, and Luther College close at hand, it all adds up to a kind of buzzy and populated civic life that makes a visit here especially gratifying.
Fortuitously, the restrictive terrain that keeps Decorah's center so robust adds to the appeal of a weekend visit here. The city is nestled in northeast Iowa, legendary for its dramatic limestone bluffs, rivers and wooded valleys, offering some of the state's best hiking, biking and canoeing.
Here's how to make the most of a 36-hour foray.
FRIDAY
4 p.m.: Tick-Tock, People
If you're coming from the south, time your visit so that on your way into town you can swing by the Bily Clocks Museum in Spillville. All of the 20-plus intricately hand-carved wooden clocks were crafted during the long, still winters of the early to mid-20th century by Joseph C. and Frank L. Bily, two bachelor-farmers who never traveled more than 35 miles from their home place. Depicting scenes of the world's history, religions, myths and lore, the clocks might just refire your creative soul and make you think about all that your own talented hands and wonder-prone mind might be able to do with great commitment and fewer distractions. If nothing else, the clocks, with their poignant depictions of vanished lives and timepieces that continue to tick forward, serve as a reminder to make the most of the time that's been given to us.
5 p.m.: Settle into the Hotel Winneshiek
When was the last time you stayed in a small-town main-street hotel, where, with windows open, you could catch the early evening's breezes and hear the pleasing ripples of street life below? While many suburban hotels, with airtight windows overlooking parking lots, can seal you off from the wonder of being someplace new, the Hotel Winneshiek, with its prime location on Water Street, makes you feel unmistakably in the thick of much that is great about this energetic community.
With a grand cherry-wood staircase, marble walls and an octagonal three-story atrium—all capped by a stained-glass skylight—the public spaces evoke the beaux-arts splendor of the hotel's 1905 provenance. Agreeably appointed in neutral tones, the less-ornate (yet entirely comfortable) rooms speak to the more streamlined inclinations of our times—the hotel was entirely restored in 2000.
Dinner at Rubaiyat
"Rubaiyat" is the title of a collection of poetry written by Omar Khayyam, the 11th-century Persian thinker and writer famous for, among other things, penning the thought "a jug of wine, a loaf of bread—and thou." It's the perfect name for this restaurant, which is devoted to the joys of sharing uncomplicated yet life-enhancing food.
The menu changes frequently, but by combining chef-driven touches with ever-popular meats and seafoods (e.g., a blueberry-Dijon demiglace on a grilled tomahawk pork chop), the restaurant hits an admirable sweet spot somewhere between relaxed and refined. The exposed brick walls and stamped-tin ceiling of the refurbished 1890s building add to the historic sense of place that you feel throughout Decorah.     
After Dinner: The Water Street Trail
Wander Water Street and take in the well-preserved 19th- and early 20th-century buildings. Be sure to look for the "Walk Into the Past" plaques posted along the way; each offers evocative glimpses of the downtown's history with photos and texts.
SATURDAY
Morning
Breakfast: The complimentary continental breakfast served at the Winneshiek is serviceable, but if expert espresso drinks are a must, head across the street to Impact Coffee. The hip and airy coffeehouse is housed in what once had been a J.C. Penney building, and the bones of the former tenant are still visible, including the wide staircase up to the mezzanine.
A Morning Ride (or Hike): Decorah and its surrounding area offer great opportunities for cyclists and hikers, including off-road options for rugged mountain bikers as well as paved recreational trails for the rest of us. A doable route for a morning ride is the Trout Run Trail, an 11-mile loop around Decorah that offers a mix of easy riding over bridges and farmland and arduous switchbacks leading up to great views of the area. You can rent bikes (including pedal-assist electric bikes) at Decorah Bicycles, near the downtown trailhead. Find great hiking, with views of a 200-foot waterfall, at Dunning Springs Park.
Afternoon
Lunch: Pick up some deli sandwiches at the Oneota Food Coop to enjoy in Phelps Park, a surprisingly secluded stretch of land smack-dab in the middle of town. Afterward, meander along the nature trails or stroll by the grand Victorian homes in the nearby neighborhoods.
Alternative Lunch for Beer Lovers: Famous for its IPAs and barrel-aged stouts, Decorah's Toppling Goliath Brewery draws beer enthusiasts from all over the country and anyone else who enjoys being part of a good-time crowd. Order some taster-sized beers to sample over the casual food. Consider timing your visit for a 2 p.m. tour of the brewery (buy tickets in advance on the website).
Shop and Stroll: Spend the remainder of the afternoon poking in and out of downtown Decorah's shops. Find anything from jewelry to hardware, including one-of-a-kind shops selling musical instruments, women's fashions, cookware, books, home decor and more.
Beer Enthusiast's Alternative: If you want to see what else is on tap in Decorah, pop into Pulpit Rock Brewing; it offers both classic and off-the-beaten-path styles (e.g., the Dessert First sour, with notes of strawberries, graham crackers and marshmallows).
Evening
Dinner: Housed in an old storefront building, complete with a creaky screen door, La Rana Bistro is a gem of a spot—charming, without being too cute, and chef-driven without being too precious. Families looking for something even more casual should check out Mabe's Pizza. Established in 1953, the popular Decorah icon has been serving pizza in its current downtown location since 1978.
Nightlife: The Hay Market, a downtown dive bar, offers live music on select Saturdays. Also, see if anything's on at the Lingonberry, a cultural/arts venue that hosts events ranging from concerts to drag show dance parties.
SUNDAY
Breakfast
For the kind of local cafe experience you always hope for but don't always find, check out Ruby's Restaurant. Family run for nearly 50 years, they're especially known for their homemade cinnamon rolls, though biscuits and gravy, corned beef hash, and other diner-style breakfasts also satisfy.
History and Culture
Yes! You still have time to visit the crown jewel of Decorah's cultural life: Conveniently, the Vesterheim Norwegian-American Museum opens at 9 or 10 a.m. on Sundays, depending on the season. The museum houses the world's largest collection of Norwegian- American artifacts, and in doing so, tells a story of the American immigration experience that's sharply focused yet broad in its appeal. The folk-art displays are especially evocative, as they showcase the many ways in which early immigrants sought to bring beauty into their hardscrabble lives. The museum features a great gift shop, too.
Over and Out
To keep the weekend's laid-back vibe alive as long as you possibly can, head to the Oneota Food Co-op again to pick up sandwiches; enjoy them at a wayside park as you meander back home.