Zanzibar's Coffee Adventure on Ingersoll Avenue in Des Moines roasts and sells specialty-grade Arabica coffee.
Local coffee roasters from across Iowa spill the beans on their approach to our favorite caffeinated beverage.
Writer: Linh Ta
Photographer: Duane Tinkey
When you think about picking up a cup of coffee, you might picture a friendly barista who hands you your latte or mug of dark roast. But a growing crew of urban and rural coffee roasters is expanding the quality of Iowa's coffee choices by carefully curating, testing and roasting beans for optimum flavor and depth.
Whether you're curious about how a bean's country of origin influences the flavor in your cup or want to see and smell the whirring machines at work, local roasters and the coffee shops that carry them have you covered. We chatted with a few coffee creators to learn how they're perking things up across Iowa.
Not Your Average Cup of Joe
Brewing artisan coffee can elevate your habit into a hobby, somewhat like enjoying fine wine. Andy Fuchtman, who co-owns four Sidecar Coffee shops and a roasting facility in Black Hawk County, recommends paying attention to the essentials—bean quality, water purity and grinder consistency—as the first step for anyone who wants to improve their at-home preparation. (Swapping a plug-in coffee maker for pour-over is another step toward superior taste.)
"Making a really good cup of coffee is just like playing chess," Fuchtman says. "You can figure it out in about five minutes, but you can spend the rest of your life getting good at it."
Fuchtman likens shifting to high-quality beans to the difference in taste between biting into a fresh heirloom tomato from the farmers market to one you'd pick up in a grocery store, or sampling a craft beer beside a run-of-the-mill domestic.
"All coffee is graded by professionals at the processing location," he explains. "And the coffee that specialty roasters like us are buying is at the top end of the spectrum, quality-wise. We're finding interesting and high-quality coffees from around the world that are seasonally available."
Roasting formulas aren't the only thing that factor into a flavor. Fuchtman explains that processing styles can bring out the terroir (to borrow a French term from the wine world) of a bean, too. In fact, what we call a bean is actually the seed of a small red fruit, commonly called a "coffee cherry." If a producer uses a "natural" or "dry" process, beans are dried inside the cherry, and that extra exposure to the sugars brings out more fruit-forward notes. The "wash" process submerges beans without outer layers, resulting in what he describes as a "cleaner" flavor.
Coffee Cupping
To ensure quality control, Nick Yost and the staff at Euphoria Coffee in West Union practice "coffee cupping" every Friday morning. Similar to wine tasting, it involves sampling spoonfuls of fresh brews.
"Cupping is all about your aromatic or taste sensory analysis," Yost says. "It's focusing on the flavors and gets people to start understanding what they're tasting."
In addition to the staff-focused Fridays, Yost hosts private cupping experiences for those wanting to learn more about coffee. Other roasters across the state host tasting events, too, and some roasters serve curated coffee flights to help you refine your palate.
Iris Coffee Co. in Pella hosts workshops in their "Drink Lab" to make learning about flavors and extractions fun and approachable.
"Many people will walk in our door, see our menu, and give me a nervous chuckle," says owner Beth Dierking. "My response to them is trust the science."
Their roasting team delves into how different acidities, aromas and flavor profiles interact as they develop an ever-evolving drink selection.
Roasted to Connection
Another aspect that sets local roasters apart is their commitment to building community. Morning Bell Coffee Roasters in downtown Ames recently evolved into a worker-owned cooperative model, after their founder took a new job out of state. BLK & Bold, which skyrocketed to national distribution after a humble start sharing space at Fox Brewing in West Des Moines, continues to give back a portion of profits to youth programs. Others, like West Union's Euphoria Coffee and Swed & Co. Coffee in Fort Madison, play a placemaking role, offering smaller cities a vibrant gathering place.
"I caught whatever it is that grips you when you first get into coffee," says Chris Swed, who went from entering barista competitions in college to opening the Fort Madison roastery along with his wife, Maddie, after the couple moved to the town of 10,500 people to restore the historic Fox Theater in 2017. They debuted the roastery backstage, and the cafe came shortly thereafter.
"I can't imagine opening up Swed & Co. somewhere else," he says. "I love that even if you don't come into the cafe, if you have our coffee at home, we get to still be a part of that morning routine."
---
Roaster Roundup
Instead of scanning the menu for your "usual" when you order coffee from a local roaster, get curious about which coffees and specialty drinks they're currently highlighting. If you can't travel to a specific spot in person, you can often order these craft coffees online.
WEST
Stone Bru, Sioux City
stonebru.com
Exposed ductwork, a wall of artfully stacked wood flanking a fireplace, and cursive neon signage above wide leather booths give this coffee shop (which also serves breakfast and lunch) Instagram-worthy vibes. Try their Bedrock blend, featuring almond, toffee and cocoa notes.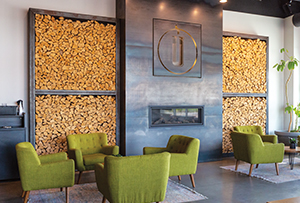 Stone Bru, Sioux City
CENTRAL
Friedrichs Coffee, Urbandale
friedrichscoffee.com  
Before Gary and Colleen Meyer opened their metro coffee shops, wholesale operation and subscription services, they met coffee growers while camping in Costa Rica. Building relationships with farmers inspired their business.
Horizon Line Coffee, Des Moines
horizonlinecoffee.com
Listed as the Iowa entry in Food & Wine magazine's recent roundup of "The Best Coffee Shops in Every State," this laid-back cafe was praised as a "model to follow." 
Horizon Line Coffee, Des Moines
Iris Coffee Co., Pella
iriscoffee.co
Grab a cup of single-origin (one farm, one bean variety, one roast method) coffee when you're on the go, or plan to visit their new Drink Lab for an in-depth tasting experience.
Lightbrite Coffee Roasters, Grimes
lightbritecoffee.com
Every step of Lightbrite's roasting process is controlled by hand leveraging a fully manual San Franciscan gas drum roaster.
Morning Bell Coffee Roasters, Ames
morningbellcoffeeroasters.square.site
This shop prides itself on sustainability and an analog "palate-led" roasting process that earned them accolades as "Best Independent Coffee Shop in Iowa" from the publication 24/7 Wall St. With Morning Bell's green bean selection, roasting without use of computers, and hand-pulled lever espresso, customers receive a complete handcrafted coffee experience.
Pammel Park Coffee Co., Winterset
pammelparkcoffee.com
The beloved wholesale roaster and pop-up purveyor shared plans for a fall opening of Petite Cafe, just off the town square, which will complement their roasting space and espresso bar. Be sure to bring home their signature Roseman Bridge Blend, which features hints of dark chocolate and cherry.
Smokey Row, Pleasantville
smokeyrow.com
Headquartered in Pleasantville, Smokey Row has eight locations, several nestled in historic buildings. Their offerings feature many blends, and varieties like "Blueberry Cinnamon Crumble" and "Highlander Grogg" use syrups in the process to add flavoring to the finish.
Zanzibar's Coffee Adventure, Des Moines
zanzibarscoffee.com
This Ingersoll Avenue institution has been small-batch roasting on-site since it opened in 1993, drawing locals to the cozy spot for three decades.
EAST
Dash Coffee Roasters, Cedar Rapids
dashcoffeeroasters.com
The details on each Dash Coffee bag—Farm, process, elevation, importer and notes—tell a unique story for your sip.
Daydrink, Iowa City
daydrink.coffee
Launched in the midst of the pandemic and co-located with Basic Goods, a plant and wellness retailer, the brand is known for selling beans in beautifully designed, reusable glass jars inspired by the free-spirited mentality of the '60s and '70s.
Euphoria, West Union
drinkeuphoria.coffee
In addition to house-roasted coffees and seasonal drinks (Gomassita is a double shot of espresso served over a homemade marshmallow), Euphoria serves an array of waffles.
Impact Coffee, Decorah
impactcoffee.com
In the summer of 2019, Impact expanded its roastery and coffee bar into a cornerstone building that once housed a department store. Try the Cereal Draft Lattes, which are steeped in Oat Milk, then mixed with espresso and served over ice with a topping of Reese's Puffs or Froot Loops, and order from their Nordic Waffle menu.
Sidecar Coffee Roasters, Cedar Falls and Waterloo
sidecarcoffee.com
Sidecar Coffee operates four cafes (plus a coffee truck) in Cedar Falls and Waterloo, with roasting operations in the fully renovated historic Wonder Bread Bakery.
Swed & Co., Fort Madison
swedandco.com
This bright and modern small-town shop has a hip vibe that could go head-to-head with spots on the West Coast. Come for the wine-barrel-aged coffee, stay for the avocado toast and atmosphere.