The Webster's whole Wisconsin trout is prepared with tomato, basil, buttermilk, bacon and arugula. Photograph courtesy of The Webster.
Writer: Karla Walsh
With culinary destinations popping up in every corner of the state, it's time to satisfy cravings for fresh flavors on your next travels. Here are five new restaurants on Iowa's dining scene.
1.
Inspired International: Delhicacy
921 Blairs Ferry Road N.E., Suite 150, Cedar Rapids
Since she was 10 years old, Delhicacy owner Sneh Chopra dreamed of opening her own restaurant in the United States to highlight the vibrancy of Indian culture. After 2 1/2 years building up an enthusiastic following at a stall inside the Newbo Market, the New Dehli-area native planted roots at a new brick and mortar in August 2021 near Lindale Mall. With a theme of "Indian street fusion," prepare to dive into dishes that nod to Canada (poutine chaat), China (chutney-dressed chow mein) and Mexico (a butter masala curry burrito, aka "currito"). (delhicacycr.com) 
2.
Fine Dining: The Webster
202 N. Linn St, Iowa City
Luxury ingredients (such as wagyu beef and oysters) meet a relaxed atmosphere at this upscale restaurant perfect for Champagne-worthy celebrations. After attending the prestigious Culinary Institute of America in Hyde Park, New York, and working in New York City at Momofuku under chef David Chang for more than a decade, chef Sam Gelman returned to his hometown to open this big-city-style bistro in May 2021. After one bite of saffron orecchiette with braised pork ragu, we're glad he's back. The restaurant is located about four blocks east of the Iowa River on the edge of the University of Iowa campus. (thewebsteric.com) 
3.
Brilliant Brunch: Toasted
118 E. Fourth St., Davenport
This swanky breakfast and lunch bistro is housed in a refurbished building downtown, across from the Hotel Blackhawk. Opened in September 2021, Toasted boasts crowd-pleasing signature menu items that are both gorgeous and delectable. Choose from sweet options such as a cinnamon roll waffle with cream cheese frosting or savory items like pulled pork carnitas eggs Benedict with black bean and corn salsa piled on a potato rosti. (staytoastedqc.com) 
4.
Date Night: Markley & Blythe
15 W. State St., Mason City
Step inside the Historic Park Inn Hotel in Mason City, Frank Lloyd Wright's only remaining hotel, to discover Markley & Blythe. Designed as an homage to the Midwest's bounty, the warm and welcoming mood might inspire you to book a room along with your dinner reservation. For an unforgettable experience, start by sharing a platter of snacks from their in-house charcuterie program and Iowa beef-stuffed short rib ravioli. Then dive into their even cozier fare: dishes like duck pot pie and Mangalitsa pork chop (deemed by some as the "Kobe beef of pig") with Brussels sprouts and apple butter. Split a bottle of New World wine or linger with a round of craft cocktails and chocolate cake. If a multicourse meal will leave you feeling too full, pop into The Draftsman, the hotel's basement bar and billiards room. Sip a Mason City Manhattan and order from a curated menu by the team upstairs. (markleyandblythe.com)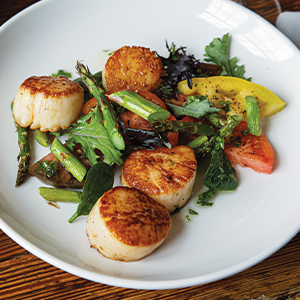 Seafood gets a Midwestern spin with Markley & Blythe's Street Corn Scallops, featuring street corn salad, pickled fresno, and jalapeno and cilantro crema. Photograph courtesy of Markley & Blythe.
5.
Baked Goods: Savor the Rise
107 E. Salem Ave., Indianola
In December 2021, Deja Keppler delivered a major holiday gift to the charming Indianola town square: a kid-friendly cafe that is home to some of the state's best laminated doughs and artisan breads. Each visit you'll be surprised with something new, like cinnamon-sugar cruffins (croissant muffins), bananas Foster cinnamon rolls, overflowing s'mores croissants or asparagus and brie tarts. Get there early, as the bakery sells out fast. (savortherise.com)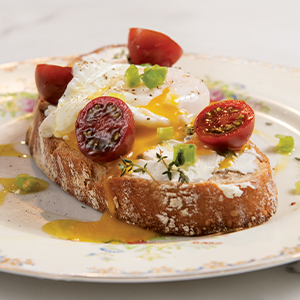 Savor the Rise in Indianola offers tempting menu items in addition to baked goods, including the Billy Goat, which consists of toasted sourdough bread topped with goat cheese, tomatoes, fresh thyme, poached egg and chives. Photographer: Duane Tinkey.