Above: At Iowa City's Pullman Bar & Diner, counter seats are coveted by many for the fun of watching and interacting with the talented kitchen crew. 
Writer: Karla Walsh
The latest trend in dining is the ultimate two-for-one deal. Dinner becomes the show when you book a seat at a chef's table.
What started at sushi bars, hibachi restaurants and in larger cities can now be found at a range
of Iowa restaurants: the opportunity to dine within feet (and sometimes inches) of the action
in the kitchen. 
"Chef's tables are a unique way to dine. Being in the kitchen where the team cooks in front of you is becoming more and more popular," says Aaron Holt, culinary consultant for restaurant supplier Sysco Iowa. "Open kitchens are a branch off of this and people love them, since many want to see how and who is preparing the food."
Whether it's due to the growth in popularity of food TV, our craving for community in an era when we spend 11 hours each day interacting with some form of media device, or the fact that we're ready for new dining experiences, the temperature is rising on this culinary craze across Iowa.
Savor every scent and sensation—and perhaps make new friends while you're at it—by scoring a seat at these chefs' tables.
Alba // Des Moines
"Give me a price, a number of courses you're interested in trying, and alert me to any allergies, and we'll be happy to create a tasting menu for you," says Garrett Dotsch, general manager at Alba. "In fact, we prefer that rather than ordering off the regular menu so we can guide the experience and create a nice flow."
The custom tasting experience is available Tuesday through Thursday at the chef's table in this restaurant, which specializes in new-American cuisine, in the East Village of Des Moines. Otherwise, the table can be reserved any Tuesday through Saturday when Alba is open for dinner. (Monday it's often snapped up by people indulging in the $6 burger-and-fries night available in the adjacent bar.)
"The kitchen almost always sends something out on the house. It might be a soup, a mini pasta course, an Amaro to cap off your meal—we really try to make it memorable," Dotsch says. 
He adds that the chef's table is one of the most family-hospitable tables in their restaurant since kids are often in awe of the speed of the knife work and color of the flames.
Dotsch recommends calling a few days in advance to book the chef's table for a weeknight, and at least a week ahead for a weekend dinner. For a tasting, ring in two weeks ahead to allow for ample prep time. 
(524 E. Sixth St., Des Moines; albadsm.com)
Cobble Hill // Cedar Rapids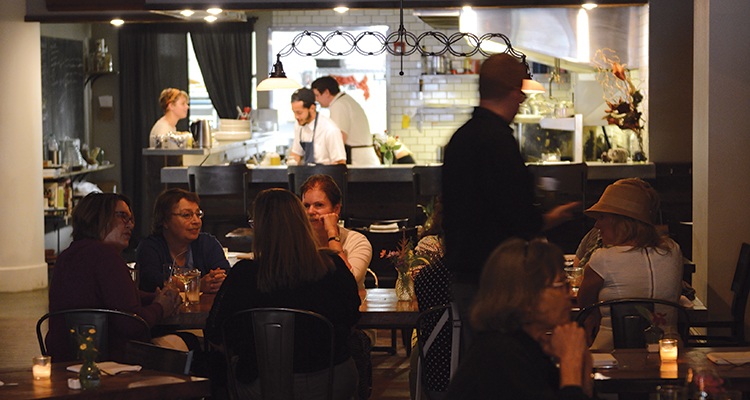 Only a handful of James Beard Award-nominated chefs live in Iowa, and at Cobble Hill in Cedar Rapids, you can watch and learn directly from one of them: Andy Schumacher, who co-owns the farm-to-table fine dining restaurant with his wife, Carrie.
He considers the cozy four-seat chef's table at the foot of his open kitchen a win-win.
"The cook can show hospitality and a new level of service. It's not just about making food—it's about making people feel special," Schumacher says. "We get direct feedback from these diners," which can help direct the course of future menus. 
The Cobble Hill staffers take immense pride in their work, he says, and appreciate sharing their love of food with those who sit at their table. Recently, a parent brought in her 10-year-old daughter. One of the cooks "was really sweet and connected with her throughout the meal," Schumacher says, and invited her back into the kitchen to help plate her dessert at the end of the meal.
"We often have little treats in the back to share, like a sample of cured meat or a dessert we've been working on," he says.
On a lucky weeknight, you might be able to drop in and find the chef's table open. But to be safe, call ahead for a reservation, especially on weekends, holidays or with special dining requests.
(219 Second St., Cedar Rapids; cobblehillrestaurant.com)
Lincoln Wine Bar // Mount Vernon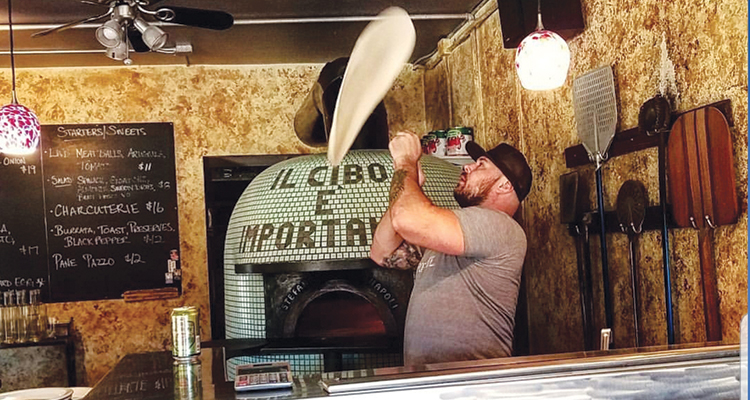 "The open concept brings so much energy to the space. We feed off the interactivity and love to chat it up," says Jesse Sauerbrei, owner of Lincoln Wine Bar. "A lot of open kitchens are like a hallway. Here, the oven is essentially 10 feet away from the action at every table."
Translation: There's no bad seat in this intimate upscale pizza place. While technically there's no chef's table, there are tables right next to the noteworthy oven that "came from Naples, Italy, in 2012," Sauerbrei explains. "It was shipped via boat, then caught a train to Chicago, where it was transferred to a truck and driven to Mount Vernon. Main Street was shut down while they installed it inside the Wine Bar"—it's that massive and heavy. The pizza oven was among the first 20 shipped straight from Italy to Iowa.
Come winter, the ovenside seats are coveted since they're the toastiest in the house. "We cook the pizzas at 900 to 950 degrees and the outside tile is warm to the touch," he says.
The locally famous oven is used for a base menu of five pizzas, plus an ever-changing crop of specials based on what the restaurant receives from local farms.
The food isn't the only thing that fosters a sense of community. "We have a lot of regulars," Sauerbrei says. "You'll hear us at the oven hollering at people as they enter and leave. That friendly connection is a good feeling—there's not enough of that level of community anymore."
Lincoln Wine Bar doesn't accept reservations, but they will add your name to the waitlist if you call ahead. 
(125 W. First St., Mount Vernon; foodisimportant.com) 
Pullman Bar & Diner // Iowa City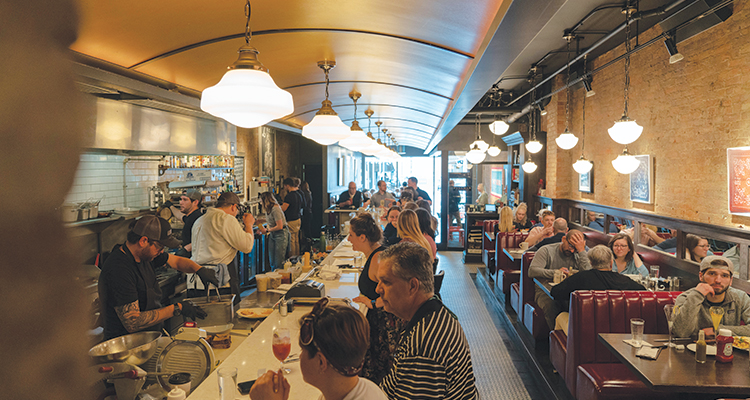 "Sitting at our counter is like being on the stage of a concert," says Cory Kent, managing partner of Pullman Bar & Diner. "You are right in the middle of the action. There's nothing to hide; what you see is what you get. 
"The smells, the sounds, the busy work of the staff, it's all part of the show. 
We work incredibly hard to provide a unique experience for our guests. The open kitchen is a huge part of that."
Located in downtown Iowa City in a space that resembles a refurbished old Pullman train car, this dressed-up diner is a fairly casual way to check out a chef's table, including with your family. 
"We have a family of four that comes in a couple of days a week. They will wait, even if a booth or other table is available, for the seats right in front of the counter," Kent says.
The interactive nature allows the Pullman team to connect in a deeper way with their guests.
"There was a couple that came in to grab a quick bite before going to a show. They were having so much fun with our cooks at the counter that they skipped the show and stayed here for a couple of hours," Kent says. "To see the joy that our staff gets when the counter regulars come in is one of the most rewarding experiences that I have at work."
TV food-show host Alton Brown even stopped in before a speaking engagement to enjoy a meal at the counter—and take a photo with the staff.
Besides the counter, the restaurant also includes booth-table combos farther from the kitchen.
While Pullman doesn't accept reservations, you can request a seat at the counter when you arrive. 
(17 S. Dubuque St., Iowa City; pullmandiner.com)