Nook & Nest. Photographer: Duane Tinkey.
Writer: Carole Gieseke
Historic downtown Ames is known for some of its quintessential indie shops—Cook's Emporium, the Octagon Center for the Arts, Wheatsfield Grocery—but there's a new crop of local stores worth exploring.
Anchoring the 300 block is Nook & Nest, a carefully curated collection of home decor, tableware, bedding, stationery and other home and lifestyle products. Owner Mindy Bergstrom opened the store in 2019 with a goal of providing a cozy, welcoming shopping experience.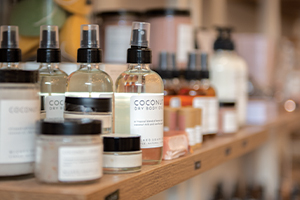 Take a quick glance around the main space and you'll find modern furniture, comfy pillows, colorful vases, thoughtfully chosen kitchen textiles and dishes, floral pottery, handcrafted jewelry, clothing items, and gifts for baby. In the next room—a recent expansion—there's a generous selection of whimsical greeting cards, journals, printed writing paper and notebooks from brands such as Kate Spade, plus tote bags, mugs, pens, games and more.
In the same block, Bergstrom also owns Z.W. Mercantile, a sustainable, eco-friendly general store promoting zero-waste products. The idea is to eliminate single-use items, she says, with a bulk "filling station" and reusable replacements for disposable cleaning and beauty products.
In the next block, a highly anticipated independent bookshop, Dog-Eared Books, opened in March. Owners Amanda Lepper and Ellyn Grimm operate with the philosophy that "books are meant to be loved"—and dog-eared books show they have been loved a lot.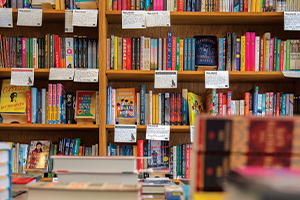 With its ever-present shop dog, Lovie (a golden retriever), the bookshop has already become a gathering place for Ames residents and Iowa State University students, with nooks for reading, a doghouse-themed hidey-hole for kids, vintage seating from an old elementary school—and, of course, books. Add a selection of coffee, pastries, beer and wine, and you have an inviting space in which to share the love of reading and community.
"It's our happy place," Grimm says.
Rounding out your trip to downtown Ames are Little Wood Herbal for specialty teas and herbs, Chocolaterie Stam for chocolate and gelato, a knitting shop, coffee shops and roasters, and other assorted shopping and dining.
"All the business owners are super welcoming and collaborative," Lepper says. "Downtown Ames is truly a destination."