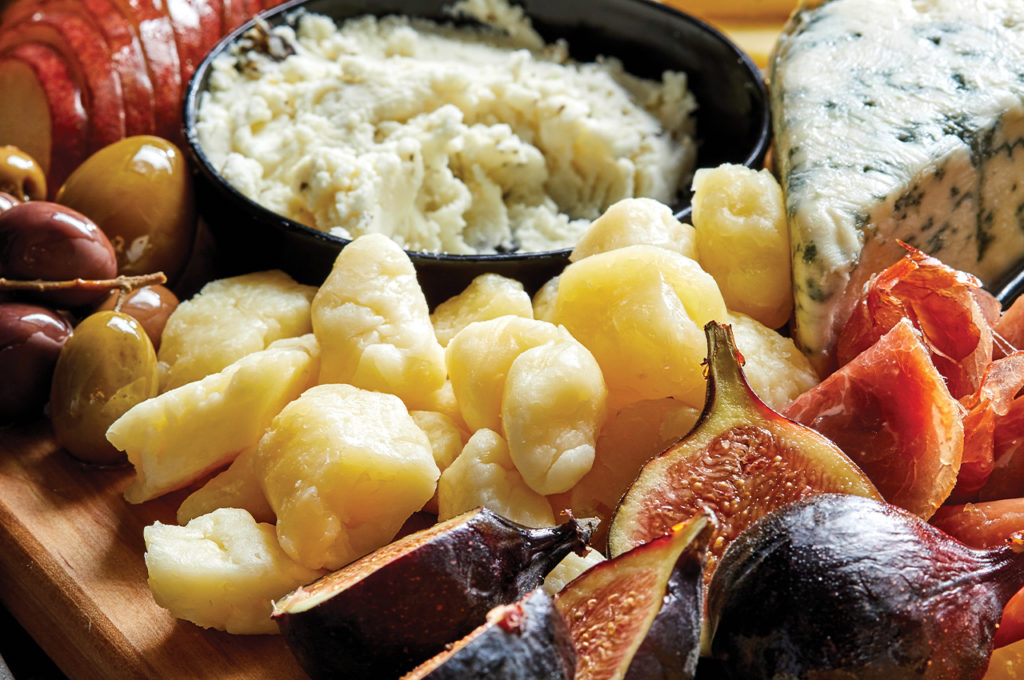 Writer: Karla Walsh
Photographer: Dera Burreson
Stylist: Sammy Mila
Wisconsin probably pops to mind as destination No. 1 when you think cheese. But did you know Iowa produced 3.3 million pounds of cheese in 2019, more than a pound a person? And each ounce is among the most delicious you'll find across the country.
"The dark, rich soils of Iowa help us produce lush forages and cheeses that can't be replicated anywhere else in the world. What you taste in a cheese goes all the way back to the beginning," says Ranae Dietzel, co-owner and master cheese-ager of Lost Lake Farms in Jewell.
That's because the cows or goats producing the milk used in Iowa cheeses feast on nutrient-rich fare, resulting in top-notch fromage. C.J. Bienert, owner of the Cheese Shop and Cheese Bar in Des Moines, echoes Dietzel and gives you permission to declare a cheese board "dinner."
"We're farming on compost from centuries of prairie and we grow the best of anything we try to make," Bienert says. "Cheese is a complete food minus fiber and vitamin C. Add an apple and you have a pretty terrific meal." (Read below for his cheese-pairing ideas, including with Iowa meats.)
Discover more about the most prolific cheesemakers in the state, below.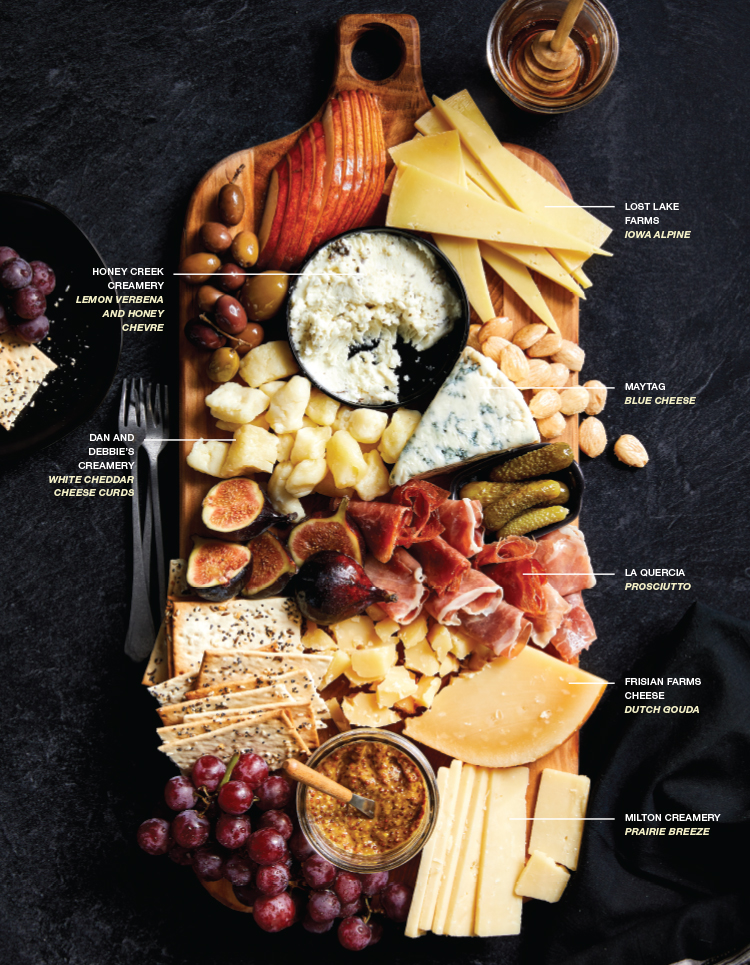 Milton Creamery
If you've heard of the name Prairie Breeze, then you've heard of this company's product. Founded in 2006 in Milton (southeast of Ottumwa), the family-owned creamery sources all the milk used to make their award-winning cheddars and quark (a smooth, tangy and spreadable German-style cheese) from small, local farms within 30 miles of their headquarters.
"Prairie Breeze is our most decorated and beloved cheese," says Angie DiMeo, the company's marketing manager. "It's a twist on a well-aged white cheddar-style cheese and is aged for a minimum of nine months. Because of the cultures we add, it develops a ton of flavor with a delicious sweetness, is crumbly yet creamy, and has a little crunch from the aging process. It's addicting in the best possible way."
Find it online at miltoncreamery.com/collections/all.
Frisian Farms Cheese
This Leighton family-operated creamery (located between Pella and Oskaloosa on Iowa Highway 163) is pulling its weight in terms of our state's dairy industry. "We produce 40,000 pounds of traditional Dutch Gouda each year. We currently offer four different ages and eight different flavors," says co-owner Mike Bandstra.
Aged two months to 1,000 days and offered in smoky, herby, bacony, peppery flavors and beyond, Bandstra and his brother/co-owner, Jason, use the classic Gouda techniques first created in Holland to make this semi-hard cheese. For those unacquainted with Frisian Farms, Bandstra recommends that you "start with our fresh curds and work your way up to our young (two months), aged (one year) and sneek (three years) … to see how the flavor intensifies just simply with time."
Their cheese house is open Monday through Friday 9 a.m. to 5 p.m. and Saturdays from 9 a.m. to 4 p.m.; you can also purchase online at frisianfarms.com.
Maytag
One of the oldest and most established cheesemakers in the Midwest churns out some of the country's best funky blue. Founded 80 years ago by Frederick Maytag II in Newton, Maytag changed the blue cheese game by using cow's milk (from his own farm) instead of the traditional European base of sheep's milk. Aging also makes all the difference for the ultimate mild, creamy, tangy and buttery results.
Today, Maytag is still created from fresh local Iowa Holstein milk, and each wheel of the artisan product is personally "graded" to ensure quality, says Jennifer Seeley, vice president of sales and marketing. While they offer white cheddar and cheese spread, too, you can't go wrong with the traditional Maytag Blue. "It's buttery with a slightly salty tang and a clean finish," Seeley says. "And it pairs with practically anything."
Maytag is expanding to complementary products, partnering with other nearby producers to make popcorn from local grains and honey from bees on the Maytag Farms. "We're not just a dairy company—we're an Iowa farm company," Seeley says.
Retail hours are Monday through Friday 8 a.m -5 p.m.; visit maytagdairyfarms.com for tour updates.
Lost Lake Farms
"Turning luscious grass into delicious cheese" is the specialty of this family-owned Jewell farm north of Story City. Ranae Dietzel, co-owner and affineur (cheese-ager), and Kevin Dietzel, co-owner and cheesemaker, put a lot of care into managing the soil on their farm so it grows the best plants for the cows to eat. Their cheeses vary based on the season, but the Iowa Alpine is their top seller. It's a "flavorful, nutty cheese and such a crowd-pleaser," Ranae says. "But cheese selection should be a function of purpose. We have a variety of cheeses to suit crackers and beautiful cheese boards, sandwiches, salads, baking and grilling," including feta, blue, cheddar, Camembert and a unique burnt oak wheel that's not to be missed.
Up next: The Dietzels are testing out new aging strategies for their cheddars to keep adding more options to their expansive lineup. Buy online at lostlakefarmllc.com/online-store.html.
Dan and Debbie's Creamery
Set on a family farm in Ely (about 15 minutes southeast of Cedar Rapids), this 24-year-old dairy has grown to include 150 Holstein cows (the best cow breed for milking). The team is made up of Dan and Debbie Takes, plus three sons and a daughter. Their own farm's milk is the only kind used to make their signature white cheddar curds, or "squeaky cheeses," as well as their milk and ice cream.
The enzymes yield that special curd-like texture and cheddar flavor, and once the foundation is set, the cheesemakers add fresh herbs and spices for varieties such as onion and chive, dill, tomato basil and spicy chipotle. If curds aren't your top choice, the Takeses also offer six flavors of aged cheddar that work well on cheese boards, as part of mac and cheese, stuffed inside grilled cheese sandwiches, as stand-alone snacks, or on a cheese board.
Find shop locations at dananddebbies.com/where-tobuy. You can also take a creamery tour and enjoy an ice cream treat.
Honey Creek Creamery Inc.
Calling all dairy-intolerant: Goat cheese might be your solution, according to Sharon Oamek, owner of the aptly named Honey Creek-based creamery, located north of Council Bluffs. That's because goat milk is the closest to human milk, so it's easier to digest. Milk from her farm's three breeds of goats (Nubians, Saanens and Alpines) is all that's used to craft fresh chevre.
Available in basil garlic, cranberry horseradish, smoky aleppo pepper, lemon verbena and honey, and simply pure cheese, this semi-soft cheese is mild, spreadable and remarkably versatile. (Try leftover cheese board fixings slathered on crostini with figs, crumbled over risotto, or as an unexpected pizza topping.) While you're snagging some cheese, be sure to grab a pint or two of their super-silky goat milk gelato.
Buy online at honeycreekcreamery.com/shop.html. Pencil in a visit next summer when you can try goat yoga.
---
The Supporting Cast
When it comes to charcuterie to pair with your cheeses, C.J. Bienert with Des Moines' Cheese Shop says there's really only one answer: La Quercia Cured Meats. The Norwalk-based brand is world-renowned (and he's not just saying that because he lives in the state) for their 'nduja, salami, pepperoni, pancetta and especially prosciutto. Otherwise, most Iowa butchers and meat producers focus on blends for sausages, franks or grillable cuts of meats, and a handful of restaurants across the state excel at homemade pâtés and rillettes.
To round out the spread, Bienert suggests honey (try Runnels-based Bell Farm), jam, mustard, apple slices, grapes, something pickled such as corbichons, olives, nuts and, of course, plenty of bread and crackers. Fill in any gaps with fresh herbs and you'll have a totally Instagrammable snack dinner.
Get On Board
Because a typical platter or cutting board won't quite cut it to really drive home the Iowa-made theme, we suggest an Iowa-made or Iowa-inspired serving board. A few of our favorites:
Iowa Cutting Board ($39.95, amanashops.com)
Cheese Board With Iowa Inlay ($35, damonlaynewoodworking.com)
Wood Lazy Susans ($60 to $92, jkcreativewood.com)
Des Moines Mercantile handmade cutting boards (price, styles and sizes vary; check desmoinesmercantile.com or call 515.423.0608 for availability)