Created by Terrance Karpowicz, "Let's Go" cheerfully welcomes visitors to the Sioux City Art Center, located downtown. Photography courtesy of the Sioux City Art Museum.
Walk up to the Sioux City Art Center from one of the nearby hotels and be instantly consumed by the creativity and color on the modern campus.
Outside, 14 sculptures, many with organic shapes, greet visitors as they walk to the glass-enclosed structure, which opened in 1997.
With more than 1000 works by artists from the upper Midwest, including many with Sioux City ties, there's plenty to see and experience. Enter the building and walk the geometric floor labyrinth based on a Greek design, while light pours in through the 46-foot atrium.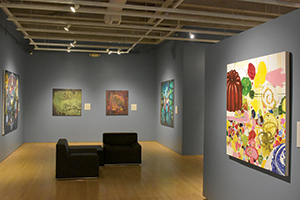 Several permanent galleries opened in September 2019, including the Margaret Ann Martin Everist Permanent Collection Gallery. Inside the space, see landscapes and nature scenes: "Bluejay Ojibwe" by Billy Hassell is particularly striking with its vibrant hues, as are stacked porcelain forms created by Iowa State University professor Ingrid Lilligren, and "Trio" by Iowa-born artist Tracy Miller. Her paintings (this one is of colorful desserts) "quirt and move and hop," she says.
The other galleries address art elements such as line, form, shape and color. The writeups explain why the artworks are perfect examples of the theory—great for budding critics.
Upstairs on the third floor, view the muted, honey-hue Corn Room mural painted in 1927 by Grant Wood. It once decked the Martin Hotel downtown. Sit and study the walls and learn about the technique. Wood's assistant would apply the paint, "and Wood would then wipe away from that to create the corn stalks, buildings and other imagery," according to the signage.
While at the museum, also explore Chihuly glass, works by local students, and rotating exhibits.
After the visit, take a walking tour of Sculpt Siouxland downtown, where you can snap photos of "El Toro-Angry Bull," a giant mushroom and more. Find keyed maps downtown.