This otherworldly photo was shot above the Women of Achievement Bridge in Des Moines. "The bridge and cascading falls had a unique and abstract look at night," photographer Tom Gustafson says.
Drone photographer Tom Gustafson treats Iowans to a bird's-eye view of some favorite places.
Writer: Hailey Allen
Photographer: Tom Gustafson
When Tom Gustafson goes sightseeing, he prefers a 200-foot view. The self-taught photographer loves exploring new cities and towns, drone in hand (or rather, in sky), ready to take in the scenes.
Gustafson started snapping pictures as a kid growing up in Okoboji, playing around with his mom's old Vivitar 110 film camera—the skinny, rectangular pocket camera popular in the '70s. During his time at Iowa State University earning a degree in finance, he continued dallying in photography while also taking flying lessons on the side. Once he became a pilot, he discovered a brand-new view unlike anything he was used to on land.
"I was fascinated to see what my local area looked like from the sky—from different perspectives, different altitudes, different types of weather," he says.
Fast-forward to 2015 when Gustafson first encountered people using drones for photography. He had previously taken a mail-order class from the New York Institute of Photography to learn composition, and he was drawn to the idea of capturing the captivating scenes he witnessed as a pilot.
"It melded the two things that I knew about together, and so in late 2015 I bought my first [drone] and then it just went from there," Gustafson says.
Although he still works full time at a day job ("in the sexy business of selling storage containers," he says with a laugh), he's also gained a following for his drone photography. His wife, Janine, set up a Facebook page for him to share his images, and at the encouragement of friends and fans, he's since started to sell prints and books of pictures taken from the sky.
Drone photography offers a chance to get above the fray. Even images of lively scenes offer a sense of calm. "To me it's like walking in the woods or going for a hike," Gustafson says. "You are the sole energy and everything else is peaceful around you.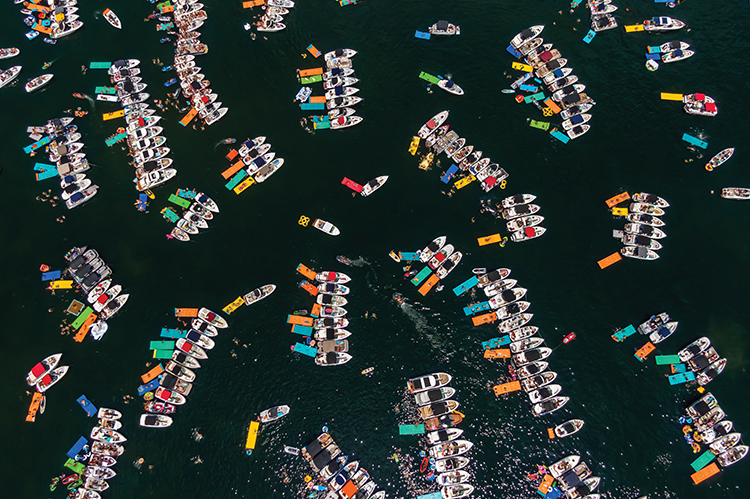 In West Okoboji Lake's Millers Bay, boaters gathered in clusters to enjoy the water and July sunshine.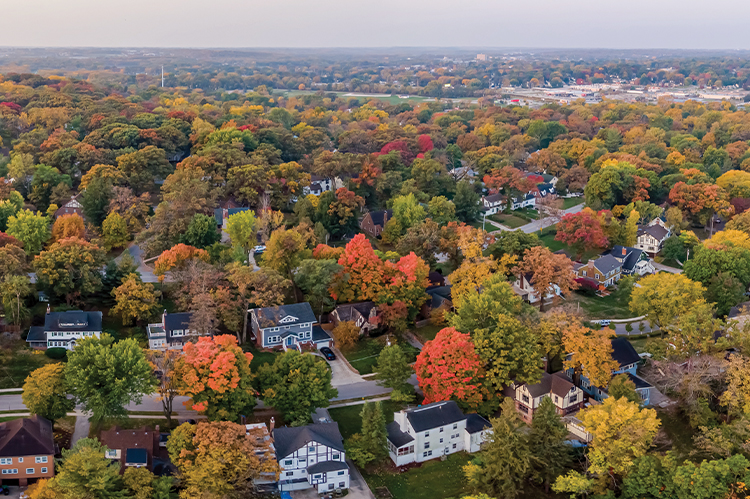 On a humid fall morning, just before a Sunday sunrise, the Waterbury neighborhood in Des Moines "was quiet and peaceful. The colors really pop in the diffused light," Gustafson recalls.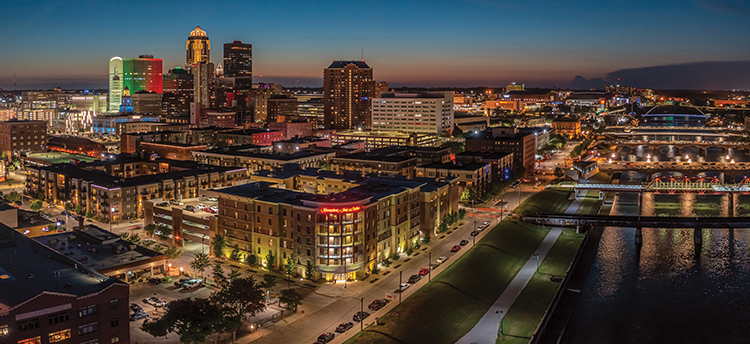 "The colors of the Des Moines skyline and many bridges over the river really demonstrate how vibrant Des Moines is," Gustafson says. This photo was taken in the fall on a warm evening when many people were out walking and riding bicycles.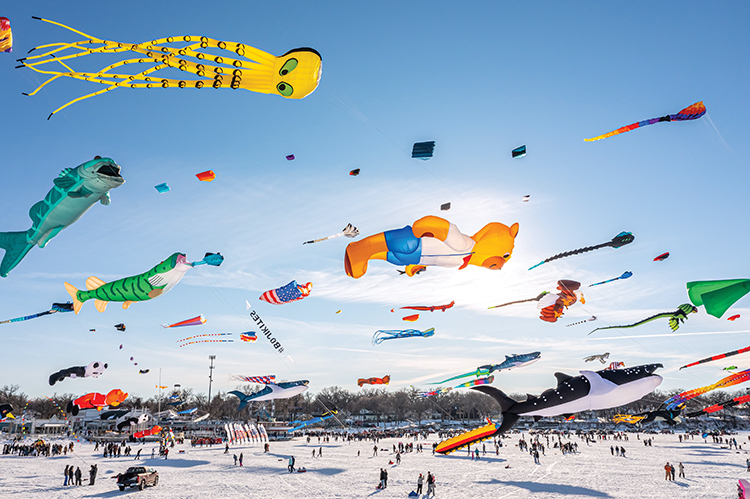 Gustafson weaved his drone through the Kite Festival at the 2022 Okoboji Winter Games. Kites ranging in size from 20 to 40 feet long fly all weekend during the event.
Find Out More
Gustafson sells photo prints on his website, visionairydrone.com. You can also purchase his recent photo book, "Above Des Moines," along with others like "Above Okoboji." Or, find him on social media. Facebook: Drone Photographs By Tom Gustafson. Instagram: @tom.gustafson