Youths participating in a Black Life Youth Camp hosted through the UNI Center for Diversity, Inclusion and Social Justice helped with research that will inform the Iowa African American History Trail project. 
Writer: Karris Golden
Photographer: Sean O'Neal, University of Northern Iowa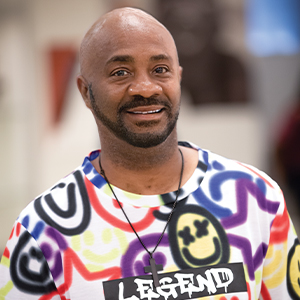 Iowa's Black heritage, history and culture can be found in books, museums and lecture halls, but few landmarks with signage tie significant places to the stories of the past.
That's why Waterloo-based historian Charles Pearson is developing the Iowa African American Heritage Trail, a project envisioned to improve access to historical information on locations like Davenport's Goose Hollow, the Flats of Fort Dodge, Des Moines' Sherman Hill neighborhood, Waterloo's Smokey Row, and Buxton, a once thriving southeast Iowa "ghost town" known as the state's lost "Black Utopia."
Pearson says there aren't any specific Black communities tourists know about that they can visit. "There isn't one African American historical district that highlights our presence," he says. "There are no maps that allow tourists to explore these areas. These places exist, but we're not making the connection; we're not identifying and preserving these areas."
Sites are spread across the state, so the trail concept won't be a single loop you could explore in a day. Pearson says it's imagined more as an evolving information hub to be accessed online and in classrooms, and that it would complement existing nature trails and byways. There's momentum to tie into segments of the Mississippi River Trail, for instance, which offers 3,000 miles of bike and pedestrian paths from Minnesota to the Mississippi's mouth at the Gulf of Mexico.
Although Pearson is spearheading the project as an independent consultant, the Iowa African American Heritage Trail idea has attracted partners interested in diversifying preservation, revitalization and educational efforts, including the National Park Service, the Iowa Natural Heritage Foundation and the University of Northern Iowa.
The UNI Center for Diversity, Inclusion and Social Justice collaborated this past summer on a Black Life Youth Camp that engaged local middle school students in researching cultural resources in the Cedar Valley and safe biking routes to help inform the trail development.
Chiquita Loveless, the Center's director, says the partnership's goals expand beyond exploring history and look to make an impact on the next generation. "This piece is essential because we're grabbing hold of young people, and we're educating them on the history of their hometown," she says. "We need to tell a story about the African Americans that lived and served in and have been an integral part of the Cedar Valley community.
"Our students don't know unless we teach them," she adds. "We're pouring into our Black and brown students now, and it'll pay dividends in the future if we get this right."
For more info on the Iowa African American Heritage Trail, visit facebook.com/aahtiowa.