Above: The rugged terrain along the northeast corner of Iowa is like nowhere else in the state—dramatically poised along the Mississippi River. Visiting Dubuque offers plenty of ways to soak in the river's majesty. Photographer: Bob Modersohn.
Writer: Wini Moranville
Photography courtesy of Hotel Julien and Travel Dubuque
Living in Iowa without spending time on or around the Mississippi would be a little like living in Colorado and ignoring the Rockies. Forming the entirety of Iowa's eastern border, the country's second-longest river (after the Missouri River) is a key landmark: part natural wonder, historical icon and workaday waterway all rolled into one ever-flowing, always-fascinating attraction.
As Iowa's first and oldest European-settled city, Dubuque offers a great place to soak in a sense of the river's history and majesty. No matter what you do or where you go in and around the city, the river—or its legacy—is nearly always present in some way. 
Dubuque was named for French-Canadian Julien Dubuque, who came to the area in 1785. He arrived as a fur trader, but, thanks to an alliance with the local Meskwaki tribe, he soon learned that the region was at least as rich in lead as it was in fur pelts. He oversaw a mining operation until his death in 1810. Known as the Mines of Spain, the lands that Julien Dubuque once excavated now encompass a must-see state recreation area.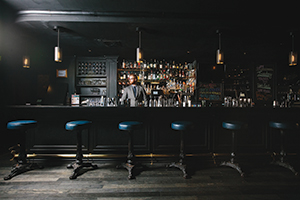 After the city was chartered in 1837, a robust manufacturing economy helped it thrive. Over the years, industries ranged from button-making and meatpacking to boat-building, mill-working and brewing. By the 1980s, however, the city was plagued by unemployment, a declining downtown and a heavily industrialized riverfront. At one point, a disheartening 55% of its downtown storefronts sat empty.
These days, the city tags itself as the "Masterpiece on the Mississippi," but living up to that moniker has taken some heavy lifting. Much of the work began in the late 1990s; subsequently, through a combination of fundraising and a Vision Iowa grant, a budget of $188 million helped transform a stretch of the riverfront into the Port of Dubuque, a recreational, educational and entertainment area. The jewels in this crown include the National Mississippi River Museum and Aquarium, the Mississippi Riverwalk, and the Star Brewery, a mixed-use venue that now houses offices, a winery and historical exhibits.
Dubuque's downtown is also on the move—if not yet arrived. Historic Main Street merits a walk to view the well-kept Victorian-era and early 19th-century buildings. While some remain empty, you'll find a smattering of shops worth perusing; highlights include a terrific independent bookseller (River Lights Bookstore), the home design shop Living on Main, and Yarn Soup, a knitter's paradise. Also on Main Street, the beautifully restored Hotel Julien Dubuque anchors a cluster of bars and restaurants. A short walk from Main Street, the historic Millwork District offers another compact bundle of drinking and dining spots. 
Dubuque and the surrounding area offer much to enjoy within just a few miles, making the city an appealing option for a weekend getaway. Note that the best time to visit the area is in the warmer months, when you can enjoy as much time as possible on and around the Mighty Missisippi and its scenic bluffs.
Friday
5 p.m.: Settle into Hotel Julien Dubuque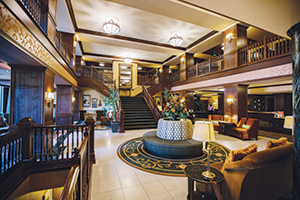 If you love historic hotels, treat yourself to a stay at the Hotel Julien Dubuque. A $33 million renovation, completed in 2009, restored the lobby to its circa-1915 grandeur. Find plenty of historic touchstones in the lobby—original marble floors, soaring arched windows and plush atrium seating. Equally important, enjoy all the right modern conveniences in the guest rooms, including luxury linens, spacious bathrooms with walk-in showers, and elegant dark-wood furnishings with richly colored fabrics.
If historic isn't your thing, check out the brand-new TownePlace Suites by Marriott, which opened in 2018 in the Millwork District, an up-and-coming entertainment area. 
5:30 p.m.: Rise Above It All
The Fenelon Place Elevator is a trip—and a one-of-a-kind trip, at that. The world's shortest and steepest scenic railway climbs 296 feet at a 41-degree slope up to a historic neighborhood on the bluff. Getting there is at least half the fun, but stay a spell to get your bearings on Dubuque by taking in the view of the city—plus the Mississippi River and great swaths of Iowa, Wisconsin and Illinois.  
Alternative option: If you'd prefer to be on—rather than above—the river, consider a happy hour cruise aboard the American Lady. Board the yacht for a 1 1/2-hour cruise along the Missisippi's banks. Tap beer and snacks are included in the price, and a cash bar is available. 
6:30 p.m.: Drinks and Taxidermy
Dubuque boasts a bounty of quirky and time-honored neighborhood taverns. Just a block from the Julien is a prime example: Paul's Tavern, which opened in 1947, showcases big-game taxidermic trophies displayed under glass. Curious travelers combined with a quittin'-time crowd of regulars give off a good vibe.
7:30 p.m.: The Millwork District for Dinner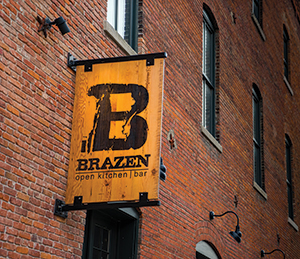 Head to the lively Millwork District, where character-rich brick warehouses have been transformed into offices, living spaces, galleries and dining/drinking establishments. You'll want to eat at Brazen Open Kitchen, where chef-owner Kevin Scharpf's ambitious cuisine is refreshingly uncomplicated yet boldly flavored. Seasonally focused dishes, such as a lamb tortellini with romesco sauce, spring onion, mushrooms and Parmesan, fit seamlessly in the refined-rustic appeal of the restaurant's dashing yet decidedly unfussy decor of exposed brick and well-worn wood. Make no mistake: Brazen is the food lover's can't-miss stop in Dubuque.
9 p.m.: Go All-Out Goofy (or Not)
The Rainbow Lounge at the adamantly unrenovated Canfield Hotel merits a visit for anyone who gets a kick out of karaoke—and kitsch. Because the gaudy pink decor, pastel disco lights and campy silhouette murals all seem to date back to when such style was entirely in earnest, there's something kind of sweet about the offbeat spot. 
Saturday
Saturday is all about exploring the Mississippi, both past and present, both up-close and from afar.
Morning
Snag a breakfast sandwich, cinnamon roll or muffin at the charming East Mill Bakeshop in a residential neighborhood a short drive from downtown. Then head to the Mines of Spain State Recreation Area. Located less than 4 miles from downtown Dubuque, the park offers over 14 miles of trails through woods, wetlands and grasslands, with paths up the bluffs. The 1.6-mile Horseshoe Bluff Trail is especially exhilarating—you'll traverse a quarried canyon through two majestic bluffs, then arrive at a scenic overlook with some of the area's most pastoral and unspoiled views of the Mississippi. For lunch, pack a casual picnic—there's a Jimmy John's near the Julien or a Hy-Vee on the way out of town. Picnic tables are scattered throughout the park.
Afternoon
Motor on over to the Port of Dubuque. Your first stop should be the National Mississippi River Museum and Aquarium, where extensive exhibits show the history and wildlife of the legendary waterway. Sure, you can view oceanic life darting around the aquarium in all their bright, show-offy colors, but to get an idea of what's lurking in and around the local waters, check out the more eerie and lumbering fish species in the Mississippi River Main Channel exhibit as well as the snakes, toads, turtles and birds of the Backwater Marsh exhibit.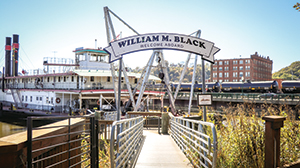 Also not to be missed is a walk aboard the William M. Black Dredge Boat. Here, you can see how onboard workers lived as you poke in and out of the bunkrooms, officers' cabins, mess hall, boiler room and pilothouse of a dredge boat that operated from 1934 to 1973. Many of the boat's artifacts—down to the china plates and cookware used in the galley—remain authentically intact, as if the crew just left the boat yesterday.
Before leaving the area, get as close as you can to the river (without getting wet) with a stroll on the Mississippi Riverwalk. Along the way, you'll pass sculptures that are part of the Art on the River project (the artwork changes yearly). At the end of the walk, take a look at the landmark Shot Tower, an 1856 structure built to manufacture lead shot. Then pop into the Stone Cliff Winery at the historic Star Brewery. Inside, a nostalgic exhibit tells the story of the erstwhile Pickett's and Dubuque Star beers. The winery offers lunch, appetizers and a wine and beer bar. 
Evening
What's better than a sweeping view of the Mississippi? How about a sweeping view with a martini in hand and a steak on its way? Venture across the river to East Dubuque, Illinois, and grab a table at Timmerman's Supper Club, a well-preserved venue with unmistakable midcentury-modern appeal—horseshoe-shaped bar, relish trays, shaker cocktails and all. The mostly steakhouse fare is classic if not thrilling—but you can't beat the old-time vibe and the lush views of the river out the period-perfect slanted windows. 
Alternate: If you're seeking something more close-by and casual (yet nevertheless well-crafted), go to
7 Hills Brewing Co. in the Millwork District for pizza, sandwiches, barbecue and craft beer.
Later Evening
Find out what's onstage at Smokestack. 
Housed in an until-recently abandoned building constructed as a hotel in 1856, the hip multistory hangout operates as a restaurant, bar and entertainment venue. Performances include everything from piano-bar, jazz and bluegrass music to drag shows. 
Before checking out, enjoy a leisurely breakfast at the bustling Caroline's Restaurant in the Hotel Julien—the blueberry buttermilk pancakes are especially gratifying. 
To really stretch out your Sunday, head across the river to Galena. Nestled in the gentle hills of Illinois—just 25 minutes from Dubuque—this quaint town draws tourists for its perfectly preserved Victorian main street that's chock-a-block with all kinds of boutiques and galleries. 
Or, to keep your weekend sharply focused on the Mississippi River theme, stay in Dubuque and head up to Eagle Point Park. Here, you can enjoy views of Lock and Dam No. 11, and if you're really lucky, you might just see a barge passing through. Tip your hat to this storied river's hardworking past—and present.