Windmill Park, Orange City
Sample rich local history, distinctive dining options and more than a few treats in this cluster of communities.
Writer: Megan Bannister
Photographer: Rachel Mummey
As cornfields give way to the rolling crests and valleys of the Loess Hills, there's much to savor among a series of northwest Iowa cities. Each offers distinctive flavors of culture, cuisine and creativity.
Sioux City may not have been built on rock and roll, but it does have a vibe, blending a more metropolitan atmosphere with decidedly small-town charm. A developing community of small businesses, arts attractions and local restaurants is spicing up the scene alongside large-scale amenities like the Hard Rock Hotel and Casino that was long one of the area's bigger draws.
Outside city limits, there's even more to explore. Cruise Iowa Highway 60 through small towns and stroll the main streets of the communities of Le Mars and Orange City for a 36-hour getaway that's as sweet as it is short.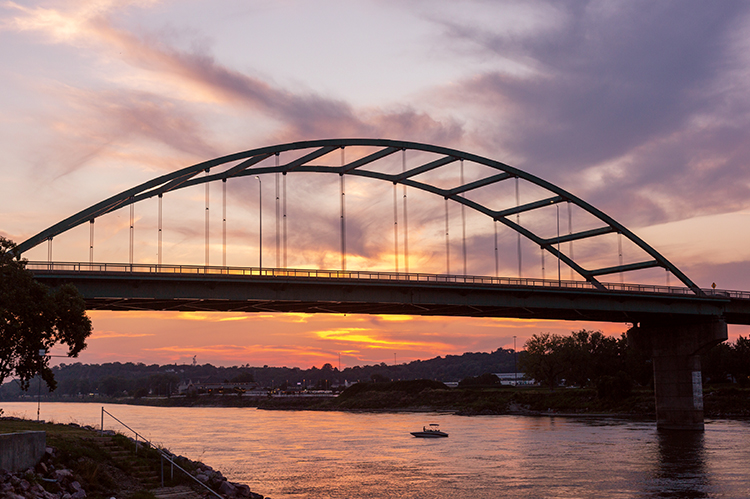 Siouxland Veterans Memorial Bridge and the Missouri River, Sioux City
---
Friday
Afternoon
Start Off Sweet: Travelers with a sweet tooth are in luck. Sioux City is the longtime home of the Palmer Candy Co., makers of the Twin Bing candy bar. For the uninitiated, Twin Bings are made from two mounds of chewy, cherry nougat covered in a mixture of chocolate and chopped peanuts. While cherry is the iconic original flavor, Palmer Candy has expanded their offerings with a caramel Twin Bing. Stop by their downtown storefront to stock up on this classic Sioux City candy and more.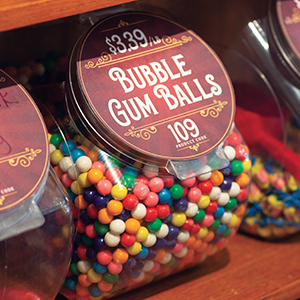 Palmer Candy Co.
You Had Me at Deco: Check into your art deco home base, The Warrior Hotel, for the weekend and prepare to swoon at this stunning transformation. Stepping through the front doors, you'll marvel at a dramatic black stone entry set against a gleaming grand staircase. The glamorous 1920s flair continues throughout the space with gilded inlays, luxurious textures and rich greens intermixed.
After sitting vacant for more than 40 years, this now Autograph Collection by Marriott "hipstoric" hotel underwent a $70 million renovation and reopened in 2020. Today, the 148-room destination features an upscale restaurant, indoor pool, private bowling alley and serene spa. The rooms are spacious and luxurious—the perfect environment for relaxing and recharging after exploring all northwest Iowa has to offer.
Evening
Dive into Dinner and Drinks: Head up the street for a few drinks and a bite to eat at The Diving Elk. Named for the troupe of traveling "diving elk" trained by Sioux City's own W.H. Barnes in the early 1900s, this eatery is as unexpected as its namesake. The menu changes frequently, and dishes like the farro and roots bowl and elkwurst along with handcrafted cocktails and a variety of craft beers on tap give this unassuming gastropub its glowing reputation. About those sensational diving elk? By 1903, the beasts were jumping from a 40-foot tower into a 16-by-6-foot tank and headlining traveling shows across the country.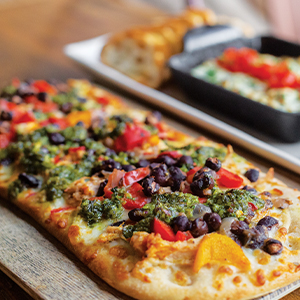 The Diving Elk, Sioux City
Nightlife: Plan your visit around a show at the Orpheum Theatre. The largest theater in the state when it was built in the 1920s, its stage has hosted icons Fred Astaire, Tallulah Bankhead and Katherine Hepburn. Home to the Sioux City Symphony Orchestra, the Orpheum welcomes Broadway hits and touring headliners. Jerry Seinfeld, Bonnie Raitt and comedian Charlie Berens recently stopped through.
Nearby Nightcap: End the evening back at The Warrior Hotel's indoor-outdoor rooftop bar, The Crown. This swanky hot spot is open late and serves an expansive cocktail menu alongside wine and beer. (The signature "Comfortably Numb" includes an effervescent buzz-button in addition to St-Germain, gin, white grape and Cointreau.) Sip and savor the sunset views of downtown Sioux City and the hills beyond from the bar's wraparound patio. And if you missed your candy stop or are already craving seconds, you can order a Twin Bing Chocolate Cake in Woodbury's dining room below.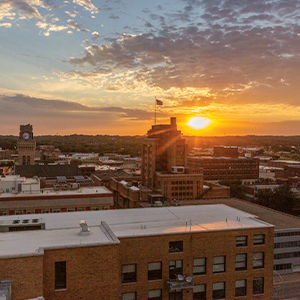 The Crown rooftop bar at The Warrior Hotel, Sioux City
---
Saturday
Morning
Breakfast: Grab a croissant and something from the seasonal menu a few blocks away at Hardline Coffee before catching some cultural attractions.
Local Lore: Right across the street, you'll find the Sioux City Public Museum, where you can learn all about the city's past and present. Start with a film about Sioux City's early days as a hub of commerce and discover unique traditions like the corn palaces that were built in the late 1880s. Also see a colorful collection of Native American beadwork.
Appreciate the Arts: Stroll to the Sioux City Art Center for a jolt of creative inspiration. Wander the engaging outdoor sculpture walk and appreciate works from the museum's impressive permanent collection. The real gem is Grant Wood's "Corn Room" mural. Originally painted for the Martin Hotel in 1926, this multi-panel mural was lost for decades before being rediscovered in 1979. The depiction of Iowa cornfields is intricately captivating with its tone-on-tone golden hues and makes this installation a can't-miss Sioux City experience.
Liquid Lunch: Refuel with lunch at Marto Brewing Co. about a half-mile away. This swanky taproom and outdoor patio is a popular spot for foodies and beer enthusiasts alike. Order from a menu of mouth-watering wood-fired pizzas, giant soft pretzels and baked pasta dishes, and take a four-pack of your favorite beer to go.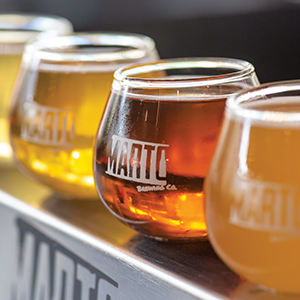 Marto Brewing Co., Sioux City
Afternoon
Side Trip: It's time to head north to Orange City for a hint of Dutch culture. Grab a treat—for now or later—at Brad's Breads & Bakery, which serves all manner of small-batch baked goods, including a variety of Dutch stroopwafels, thin, round caramel-filled cookies. Stick to tradition or opt for a twist on the classic and choose from varieties covered in sprinkles or mini-M&Ms. You won't want to miss Woudstra Meat Market, which keeps Old World traditions alive in the recipes, curing, smoking and sausage-making techniques they use.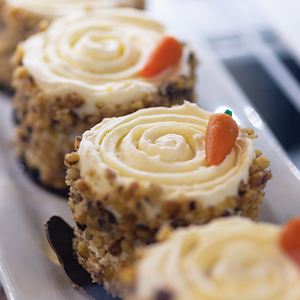 Brad's Breads & Bakery, Orange City
Photo Op: Take in the colorful murals and Dutch-inspired architecture. In the city's aptly named Windmill Park you'll find a collection of six replica windmills, a canal, a Dutch bridge and water pump, a band shell and a picture-perfect picnic shelter.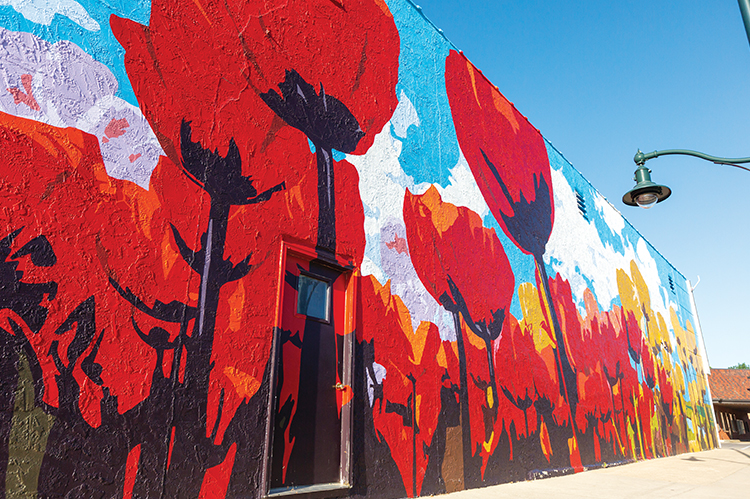 Orange City mural
Side Trip: Then, head southward for something even sweeter. Before returning to Sioux City, make a stop in nearby Le Mars, the "Ice Cream Capital of the World." This northwest Iowa community is home to the ice cream manufacturer Blue Bunny, and the Wells Visitor Center and Ice Cream Parlor offers an immersive experience complete with samples. As you wander around town, keep an eye out for the brightly painted ice cream cones that pay homage to this local icon. The 21-plus crowd can also pop into Wise I Brewing for a pint. This microbrewery opened as the 100th in the state in 2018 and boasts a vibrant taproom complete with board games, shuffleboard and more. If you're up for a lunch bite, stop by Iowa BBQ Co. for brisket, pulled pork or ribs to enjoy outside on the patio with a brew or glass of wine.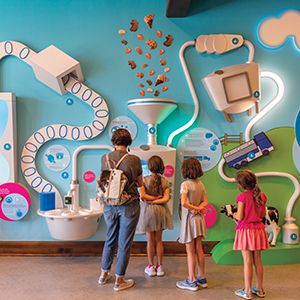 Wells Visitor Center and Ice Cream Parlor, Le Mars
Evening
Dinner: If you find yourself in Le Mars on a weekend evening, there's only one place to head for dinner: Archie's Waeside. It's an iconic supper club that serves stiff drinks and hearty portions with some of the best steaks in the state. You don't have to take our word for it. In 2015, Archie's Waeside was recognized with a coveted America's Classic Award from the James Beard Foundation. 
---
Sunday
Morning
Breakfast: Weekend wakeups call for doughnuts, and in Sioux City the place to get them is Jitters. Regardless of what time you arrive, be prepared to brave a line. This Sioux City institution makes all its doughnuts on a machine steeped in local history. Walk through the Fourth Street Historic District while shedding sprinkles and take in the ornate architecture, colorful murals and plentiful faded "ghost signage" in this storied section of downtown.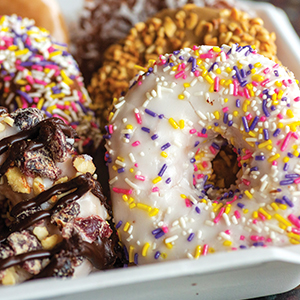 Jitters, Sioux City
Explore: Before your visit draws to a close, stop at two free riverfront museums. The Sergeant Floyd River Museum and Welcome Center, located in a former Army Corps of Engineers boat, features various exhibits covering the history of transportation on the Missouri River and the Lewis and Clark expedition. Next door is the family-friendly Sioux City Lewis and Clark Interpretive Center. Learn more about the legendary Corps of Discovery and see how you might have fared in the early American West. This riverfront museum is an enthralling way to experience the story of Lewis and Clark before you set off on your own adventure home.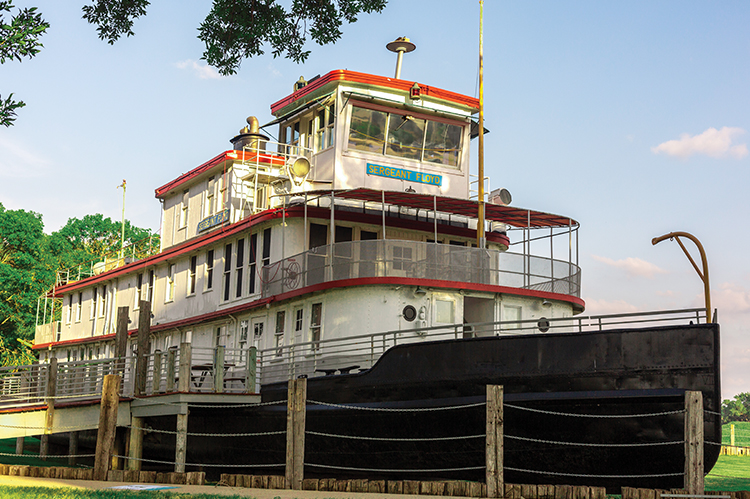 Sergeant Floyd River Museum, Sioux City