Above: Towering figures enliven a cluster of 110-foot-tall Fort Dodge silos, painted by Australian artist Guido van Helton. Photography courtesy of Fort Dodge Convention and Vistors Bureau.
Writer: Karla Walsh
Some credit #InstagramTrends. Others point to renewed interest in the revitalization of small towns. Whatever the cause, the effect is that murals are popping up at a rapid pace across Iowa, according to Jennifer Drinkwater, Iowa State University Extension community arts specialist and an assistant professor in the Department of Art and Visual Culture in the College of Design.
"Instagram has really helped spread the word about murals. Public art can now be a trending destination for selfies," she says. "Beyond that, I believe people are encouraged by art. It offers a sense of self for a community and can start a rallying cry around a cause." 
Drinkwater also points to the impact of the Iowa Arts Council—and specifically its Art Project Grant that has awarded more than 300 grants, ranging from $1,000 to $10,000, to support public art across the state.
In addition to a mural toolkit PDF that she developed for Iowa State University (find it at extension.iastate.edu), Drinkwater offers this advice to artists and those passionate about supporting the creation and restoration of murals: "If you're enthusiastic about public art, look at the demographics of your community. Who hasn't been represented in public art yet? You can use art to highlight these populations and reach out to people you don't know. A local arts commission is a great way to learn more about—and get involved in—your own community." 
Then fuel up and hit the road this fall to see some marvelous murals across Iowa.
Dubuque
233 Main St.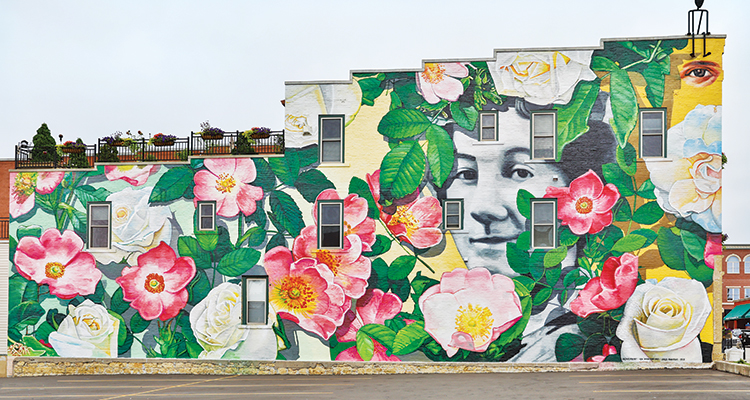 "Dubuque has awakened to the power of public art because of our mural initiative," says Sam Mulgrew, director of the Voices Project (voicesproductions.org). Voices launched in 2017 and is expected to include about three dozen murals by the end of 2019. Spot them all during a 3/4-mile walking loop around downtown Dubuque. Along the way, you'll see this work by New York artist Gaia, a recent Forbes "30 Under 30" member, who depicted the preservationist Ada Hayden and the wild rose, Iowa's state flower, in the three-story mural. The eye in the top right corner is in honor of the
Rev. Samuel Mazzuchelli, a founder of the nearby St. Raphael's Cathedral. 
(To read more about Dubuque attractions, turn to page 89.)
Sioux City
501 Fifth St.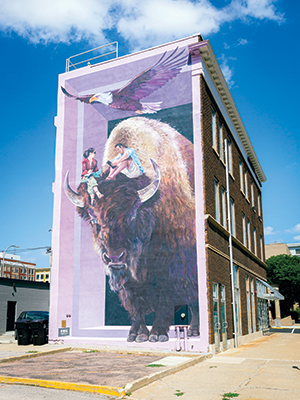 Martin Ron, an Argentinian street artist, and one assistant created this 1,125-square-foot piece in just two weeks during October 2017. The bison is facing westward—fitting, since Sioux City is one of the westernmost cities in Iowa—and welcomes oncoming traffic down Fifth Street. Two people perch atop the bison and an eagle soars overhead. The striking three-story mural, funded with a $25,000 grant from the Downtown Partners and the Gilchrist Foundation, is part of a larger-scale beautification plan for the Historic Fourth Street District.
Fort Dodge
Third Avenue N.W.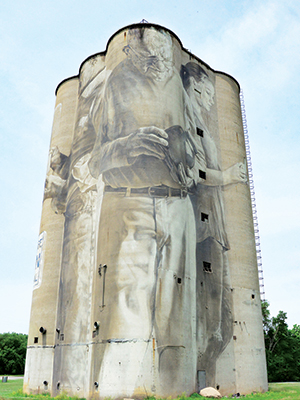 Australian artist Guido van Helten has credited this 110-foot-tall silo mural as one of the most extensive and challenging works he's done around the globe over the past six years. The scale is massive, of course, and he also created it during the cold, snowy months of November and December. To bring the enormous artwork to life, van Helten started with photos of local residents and then transformed the former grain vessel into a detailed mural, completing it in late 2018. Funded by the Fort Dodge Public Arts Coalition and private donors, the project cost about $130,000 and is now Iowa's largest piece of public art.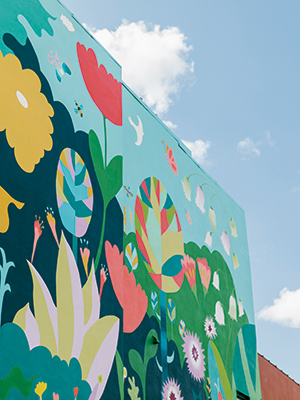 Keep the tour going by checking out these murals:
Iowa City: As part of Iowa City Downtown District's mural project, "Coexist" (pictured) is a 45-foot-tall mural (the tallest in Iowa City) on the side of a building at 220 E. Washington St. Supervising artist Sayuri Sasaki Hemann and 12 teenage artists teamed up to produce the aptly named community-building work in August 2018.
Le Mars: From the Wizard of Oz to a tree made of colorful ice cream cones, the downtown alleys of Le Mars are dotted with playful pieces created by 115 Midwest artists. The outdoor gallery, called Alley Art, was created to inspire more foot traffic and arts appreciation in the hometown of Blue Bunny ice cream.
Mason City: One of America's most prominent architects, and the designer of several structures around 
Mason City, Frank Lloyd Wright is the inspiration behind the work on the side of the City Center Building on East State Street. University of Iowa art student Ali Hval designed the geometric mural with Wright's Prairie School in mind, and mural artist Keely Hertzel painted it in July 2018.
Des Moines: To celebrate its 50th birthday, the Community Foundation of Greater Des Moines commissioned artist Ben Schuh to paint a mural on a wall of a downtown hotel. Just completed this past June, the mural features large block letters that spell "Des Moines" with art inside the letters depicting local attractions.