The Iowa City Press Co-op is PS1's community-access print and book arts studio.
Celebrating 20 years and an expanded footprint, Public Space One, the wonderfully weird and welcoming Iowa City arts nonprofit, is opening more doors than ever before.
Photographer: Janae Gray
A white flag hanging in a second-story window of the stately Iowa City mansion at 538 S. Gilbert St. offers a hint at what's happening inside. Emblazoned with "POSSIBILITY," the banner signifies that the landmark Close House (built in 1874) is now occupied by Public Space One (PS1), an artist-led contemporary art center that started two decades ago in donated space above a dive bar.
Don't be fooled by the fancy facade, though. The scrappy nonprofit known for community-driven programs, partnerships and public art hasn't lost its reputation for avant-garde offerings or its experimental spirit. There's still plenty of grit among the grandeur, and events like periodic Joy Marches and presentations of the internationally acclaimed Bread & Puppet Theater take the organization's activities out into the streets.
On one recent Wednesday evening at the Close House, a handful of workshop participants were altering 16 mm film strips with nail polish and etching tools at folding tables set up underneath a glittering chandelier. Down the hall, the PS1 Media Arts Co-Op, which provides access to recording and editing equipment and tools, is taking shape.
Upstairs, Indigenous artist and curator Dawson Davenport had recently opened the doors to his gallery space—art mounted over patched walls. A small writers' workshop was underway, and the quilt-filled LGBTQ Iowa Archives & Library was hosting evening hours on the heels of an afternoon family-friendly collaboration with the Iowa City Poetry Lending Library. The ballroom-turned-movement studio was spare, but like the other rooms with recently ripped-up carpet still awaiting renovation, possibility hung in the air.
Public Space One now spans three historic properties along a stretch of Iowa City's vibrant Gilbert Street, contributing to a cultural corridor that invites neighbors and visiting creatives to inspire each other. On the street's north side, an unruly garden of native pollinators connects a big white house (229 N. Gilbert), whose parlor is a now a PS1 gallery showing student street art, and the Iowa City Press Co-Op next door (225 N. Gilbert), housing PS1's "type kitchen" and rooms to design and print in small batches.
Collectively, the spaces are a haven for curious folks. Beyond each doorway, it feels like a different world, dreamed up by an ever-evolving team of creative collaborators committed to making connections that transcend disciplines and mediums. People at PSI share a sense of optimism that the possibilities are endless. Read about two PS1 initiatives below. —Brianne Sanchez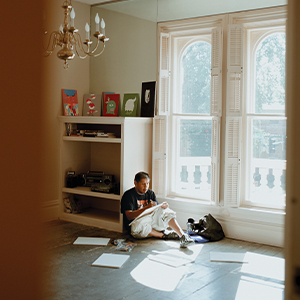 Artist and curator Dawson Davenport works in a sunny nook of Public Space One's Close House.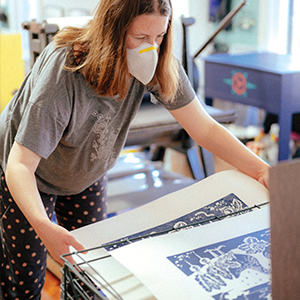 Artists engage with a variety of mediums at PS1, including screen printing.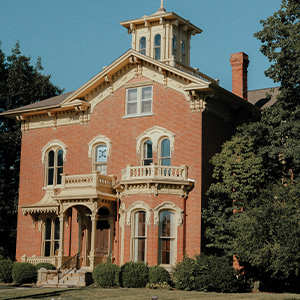 The historic Close House in Iowa City will host PS1 programming and has room to house visiting artists in residence.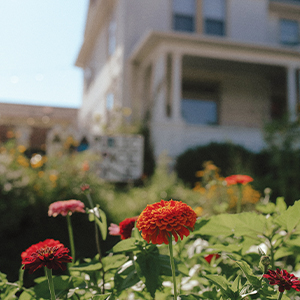 Gardens between the two PS1 buildings on North Gilbert Street contribute to the community-oriented nature of the nonprofit organization.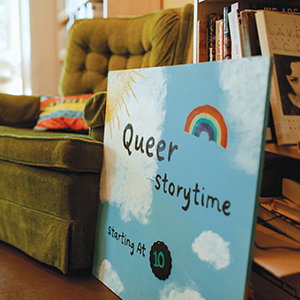 LGBTQ Iowa Archives & Library is nestled within the Close House, offering access to books and materials for all ages.
---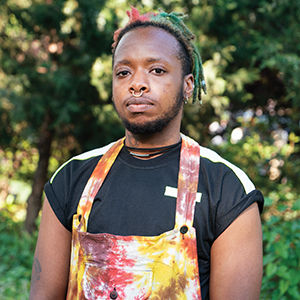 Future Forward
The Center for Afrofuturist Studies
"We're working towards a world where Black artists can thrive," says Anaïs Duplan, one of the originators of the Center for Afrofuturist Studies at Public Space One.
CAS was initially conceived as a two-year project, launched when Duplan was a graduate student in poetry at the Iowa Writers' Workshop. Despite finding supportive faculty and connecting with friends in the program, he felt frustrated by a sense of "obliviousness to the experience" of BIPOC students. So Duplan and a group of collaborators envisioned an artist residency at PS1 that could offer time and space to imagine more inclusive futures.
"To us as an organization, Afrofuturism has to do with making the conditions right for Black art and artists," Duplan says. "It's not often that Black artists get fully funded time and support to work out ideas. … My favorite part, at this point, is inviting artists to respond to the cultural ecosystem of Iowa."
The resident and visiting artists engaged with the center cross disciplines and span geographies. Their work fits into a broader cultural aesthetic and philosophical exploration of the African diaspora by imagining a future where Black identity is free from the oppression of the past and present.
In addition to its residency program, CAS has hosted dialogues, published pamphlets and coordinated public art. A towering pair of murals, together titled the "Oracles of Iowa City," brings critical conversations out of the drawing room and into the community.
The 2020 project, designed by artists Antoine Williams and Donté K. Hayes and painted by Jill Wells, transformed pillars of a parking garage on Burlington Street into billboards for Black liberation. The colorful works are a call to action, featuring blank-eyed figures and the phrases "Weaponize your privilege to save black bodies" and "Black joy needs no permission."
The process involved significant public engagement, both before and after the paintings were completed.
The mural's impact "is ongoing because of its ability, in many ways, to stare people in the face and to provoke our community to not only talk about what is happening but envision how a different future might exist for Black people in terms of race relations, in terms of racial justice," says Dellyssa Edinboro, who was instrumental in managing the Oracles project.
Today, CAS continues to evolve. Even as the center's founders move to roles outside of Iowa, they've remained connected and committed to introducing Iowa to new audiences and outside artists to Iowans. An upcoming exhibition in partnership with Mipsterz, a "Muslim hipster" arts and culture collective, is planned for August of 2023.
"At the end of the day, it's about asking, "How can we make this a more just place that we're working in and from?' " says John Engelbrecht, executive director of PS1. "Iowa is a pretty white place, and because we're bringing artists of color to a space, that's a perspective we're constantly thinking about." —Brianne Sanchez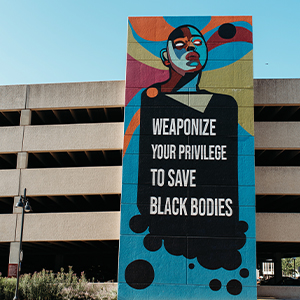 A mural within the Oracles of Iowa City project was inspired by W.E.B. Du Bois' idea of Double Consciousness, a term he used to describe the BIPOC sense of "always looking at one's self through the eyes of others, of measuring one's soul by the tape of a world that looks on in amused contempt and pity." Photographer: Ally Caple.
---
Thunder Maker
Dawson Davenport
While the Meskwaki artist Dawson Davenport was earning an art degree at the University of Iowa, he noticed a pattern. Whenever his courses focused on Native American art, it was always functional, like a rug or a pair of beaded moccasins. He saw artifacts but never any art for its own sake.
So he decided to change that. As Davenport recalls, "When I noticed a lack of representation of Native art, I thought, 'Why not offer this in Iowa City?'"
Housed on the second floor of Public Space One, the gallery displays and sells contemporary paintings, books and other artwork by local and international Indigenous artists, plus clothing from Davenport's own fashion line, Daepian Apparel. The brand's small selection of shirts and sweatshirts is meant to promote a positive message of "drive, ambition, empowerment and progression."
The gallery, which Davenport hopes to expand, hosts different exhibitions throughout the year and launched a series of online poetry readings during the pandemic. The series featured Indigenous writers from around the world, including the noted New Zealand writer Gina Cole, whom Dawson contacted through "a friend of a friend of a friend of a friend."
Many of the poets share common themes, despite their far-flung homes.
"We all kind of use art as therapy to deal with the changes in our cultures and traditions," Davenport says. "We're trying to balance the past, to preserve what we have left, and make sense of it all by moving forward in an ever-changing world."
Davenport is 42, born just two years after Congress granted Native Americans the right to freely practice various spiritual, religious and cultural traditions—traditions their nations had been practicing for centuries before Congress even existed.
"That gave us the right to openly pray in ceremonies, to wear traditional regalia, to play our drums," Davenport says. "There's a lot of artwork in that."
The law marked a turning point, inspiring an important shift that Davenport hopes will continue. His Meskwaki name is Makatenenemekiwa, or Black Thunder, and he belongs to the Thunder Clan, which is responsible for making peace and interpreting on the tribe's behalf.
"A thunderstorm starts with overcast skies, and then that cold or warm front comes through," Davenport explains in "We the Interwoven," a 2019 anthology by multicultural Iowa writers. "It brings with it the Thunder beings, very old spirits who come by to bless us and carry away the bad things with their high winds and heavy rains. At least, that's how they explained it to me when I was little." —Michael Morain, Iowa Department of Cultural Affairs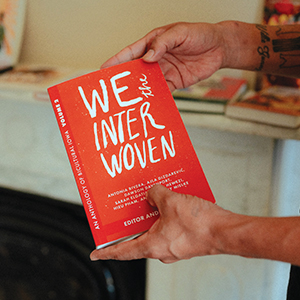 "We the Interwoven" is a book series created through the Bicultural Iowa Writers' Fellowship, which offers space and time for emerging writers to explore their multilayered identities.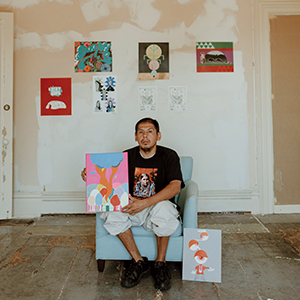 In addition to showcasing his own art, Dawson Davenport is programming exhibitions and events with Indigenous creators from Iowa and beyond.