Above: Edible flowers and fresh mint garnish a wild berry crisp with granola crumble and vanilla bean ice cream.
Writer: Wini Moranville
Photographer: Duane Tinkey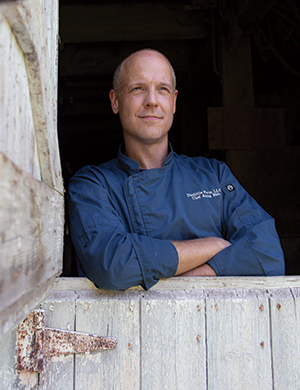 For the past two decades, Iowa chefs have become increasingly committed to sourcing their products as locally as possible and to ensuring that their menus march to the beat of the seasons. Indeed, farm-to-table has gone from movement to mindset. It's a driving force behind the way most of our better chefs approach their craft.
Chef Aaron Holt, however, is doing something Iowans don't see quite as often. Not only is he committed to the farm-to-table ethos, he's moving the table closer to the farm.
Buying from Iowa food growers and producers whenever possible, Holt partners with winery and event-venue owners to stage dinners in rural and small-town locales.
Often, these events require diners to drive through fields, meadows and woodlands—and that's a joyful part of the appeal. For example, four times a growing season, Holt's cuisine is featured in the "Dinner at the Barn at Lone Oaks Farm" series. Located on an acreage near Winterset and set amid a gently sloping landscape of grasses, wildflowers and timber, the Barn is a circa-1850s structure that's been beautifully restored as a performance and events venue.
"The coolest part of these dinners is the setting," Holt says. "You're meandering along this back road of Madison County and you roll over this hill, and you see this big, beautiful old barn surrounded by all this countryside."
Thoughtful Cuisine
Holt is being modest here: Certainly, one of the coolest parts of the dinners is the setting, but his food ranks right up there, too. Holt, who was named the Iowa Restaurant Association Chef of the Year in 2018, was previously the executive chef at the popular Ro–CA restaurant in Des Moines. He knows how to craft fresh, thoughtful cuisine that's Iowa hearty, strikingly refined and perfect for both the season and sense of place.
At last autumn's Lone Oaks Farm event, the evening set sail with diners milling about the barn and grounds, grazing over a spread of Iowa cheese and charcuterie served with locally grown crudités, herbs and edible flowers as well as locally produced honey. The bounty was arranged atop a large wooden farmhouse table—the type of sturdy surface you could imagine threshers gathering around a century ago.
For the subsequent courses, guests settled family-style around large, linen-draped tables framed in a gracefully rustic scene of rough-hewn wood beams decked with wildflowers and festooned with string lights.
Most plates showcased products from local artisans and producers, as well as vegetables from area growers. A salad course starred fresh mozzarella from Lost Lake Farm near Jewell and 'nduja—a spicy salami spread—from La Quercia in Norwalk, with organic greens from Dogpatch Urban Gardens in Des Moines.
Next, braised Iowa pork belly, produced from heritage-breed Mangelitsa pigs raised by Kerns Farms near Clearfield, arrived atop a pool of poblano-studded sweet corn. A main dish of seared Iowa beef steak came crowned by a shallot gravy spiked with Templeton Rye from Templeton. And note that it was gravy, not sauce—we are, after all, dining in a barn.
For dessert, the wild-berry crisp starred local raspberries and blackberries, plus the underappreciated mulberry, that wild-tasting berry that grows like a weed in cities, towns and the countryside throughout Iowa. This berry, which some Iowans curse for staining their cars in midsummer, is the same berry that Iowa farm wives have made into beautiful crisps, cobblers and pies for decades.
Doolittle Farms
The mulberries, in fact, came from one of the dozen mulberry trees on Holt's own farm, Doolittle Farms, near Story City.
"My great-grandmother planted a mulberry tree about 70 years ago, and the rest just popped up," says Holt.
Holt's ancestors settled in the area in 1886, eventually establishing the family farm in 1905. He grew up in nearby Ellsworth and has lived in central Iowa all his life. After attending Iowa State University's hotel-restaurant institute while working in a number of Ames restaurants, he moved to Des Moines, honing his craft at seminal restaurants Sage and Sbrocco, before heading up the kitchen at Ro–CA.
In 2019 Holt bought out his uncle's share of the farm partly with the goal of keeping the property in the family. These days, with the help of a seasonal employee and some volunteers, Holt cultivates about an acre and a half of gardens. A self-described "lazy farmer," Holt says much of his output includes perennial edibles, such as strawberries, rhubarb and asparagus, though he also grows lettuces, tomatoes and peppers. The recently planted orchard will one day provide apples, pears and peaches, while springtime finds Holt foraging through the nine acres of timber for mulberries, wild blackberries, ramps, morels and chicken-of-the-woods mushrooms. For summer 2020, he was planning to add chickens, ducks and bees to his small-scale operation.
Holt may describe himself as a lazy farmer, but he is hardly lazy. In addition to producing numerous farm-to-table dinners throughout the year, he holds a day job as a culinary consultant at Sysco, a food distributor, where he advises Iowa chefs and restaurateurs on how to up their game. He also offers chef-driven dinners at private homes.
Focus on Local
While fresh and local remain Holt's modus operandi for his dinners throughout Iowa's growing season, in winter, when fresh isn't always possible, "local" still remains a focus. This was apparent at a dinner held at Ames' Prairie Moon Winery.
Served in a great room overlooking the wintry landscape of dormant grapevines, the four-course meal featured zucchini, cauliflower, golden carrots and broccoli that Holt had purveyed in season from local growers, then diced and froze. Conveniently, his farmhouse has an old-fashioned root cellar, which housed the autumn harvest of sweet potatoes, parsnips and onions. All was brought to life during dinner, which included a cast-iron seared salmon with a winter vegetable sauté and an Iowa beef short rib with a sweet potato hash.
In addition to his dinners at the Barn at Lone Oaks Farm and Prairie Moon Winery, Holt also heads up similar farm-to-table gatherings at the Covered Bridges Winery in Madison County and the Open Door, an events center crafted from a renovated circa-1900 building in Iowa Falls.
In the future, he hopes to bring dinners home to his own farm. Last year, while picking strawberries at the farm with his daughter Olivia (age 5 at the time), he realized she was the fifth generation to gather food from his family's stretch of land. His dream for Doolittle Farms is to one day convert the 1905 farmhouse and 1916 barn into event spaces. He's working toward that goal with his day job and side hustles, while introducing Olivia—and one day, her little sister, Josephine—to the ancestral tug of growing what we eat.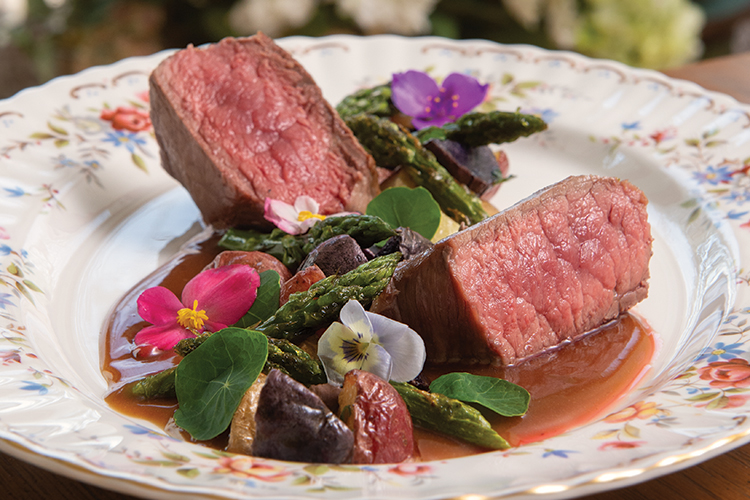 Holt dishes beautiful plates of local meats, produce and even whiskey. Here, a prime grade Iowa beef tenderloin filet is topped with Templeton Rye gravy and paired with asparagus and potatoes.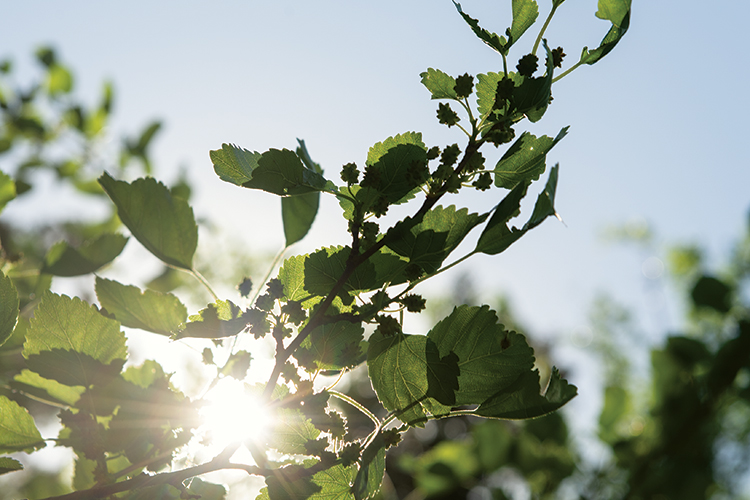 Doolittle Farms, Holt's farmstead near Story City, grows mulberry trees and other old-fashioned favorites such as rhubarb and wild blackberries.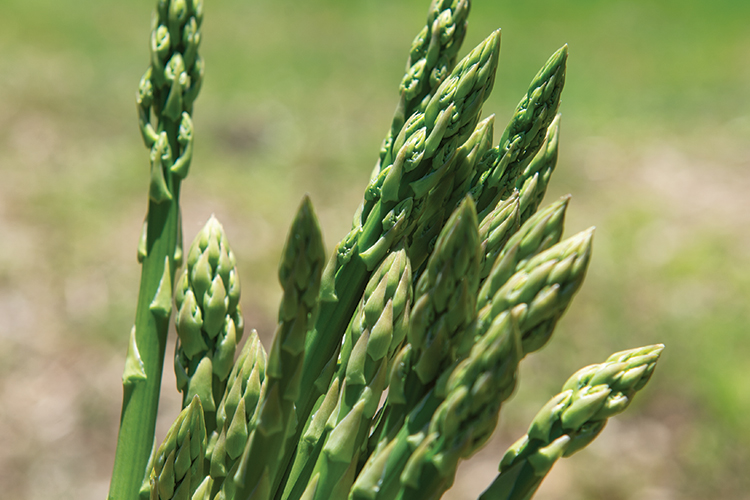 Holt grows asparagus and other vegetables at Doolittle Farms, his Story City-area retreat.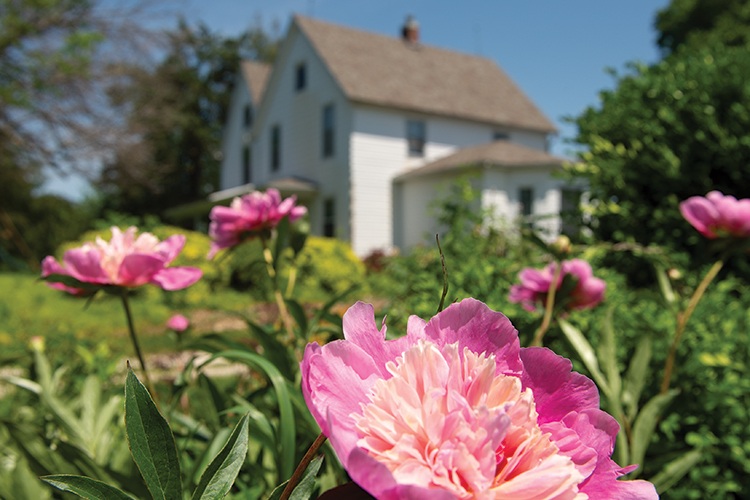 The farmhouse dates to 1905; Holt plans to convert it and the barn to event space.
Huts on the farm were used to dry popcorn for the Story Theatre Grand Opera House, which opened
in 1913.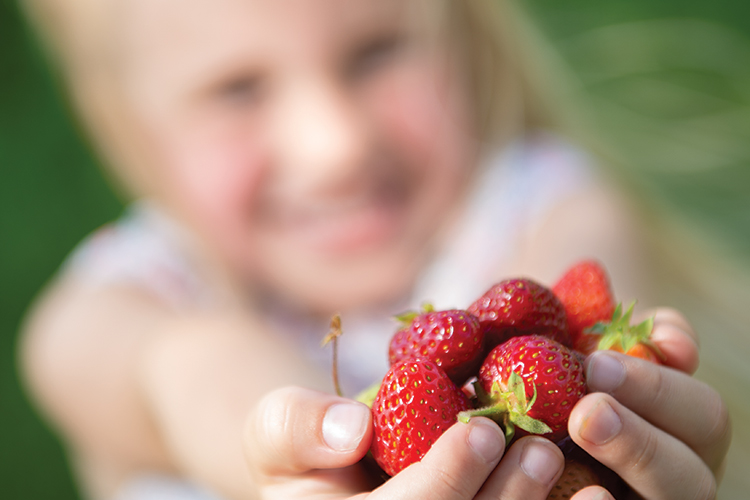 Holt's daughter Olivia often helps with the strawberry harvest.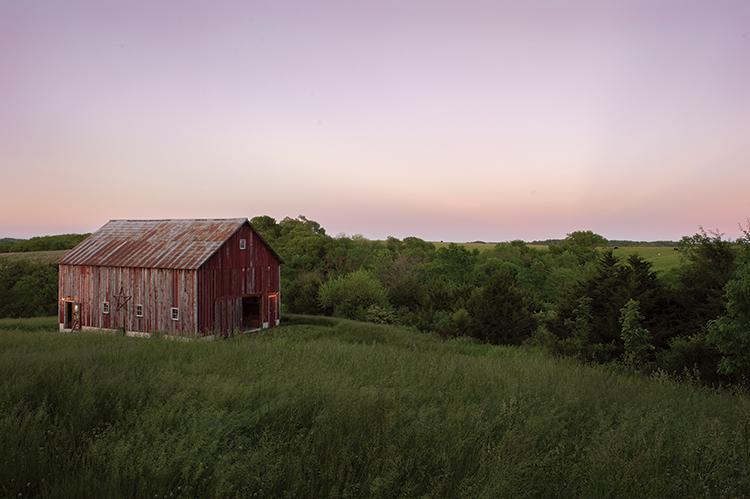 Farm-to-Table Dinners Featuring Aaron Holt
Currently, Holt partners with a variety of locations to offer his farm-to-table dinners. A great way to keep up on where he's cooking is to follow him on Facebook, at Doolittle Farms LLC, as well as to follow these venues, via social media links on their websites:
Covered Bridges Winery, Winterest
coveredbridgeswinery.com
Lone Oaks Farm, near Winterset
loneoaksfarmia.com
The Open Door, Iowa Falls
opendooriowa.com
Prairie Moon Winery, Ames
prairiemoonwinery.com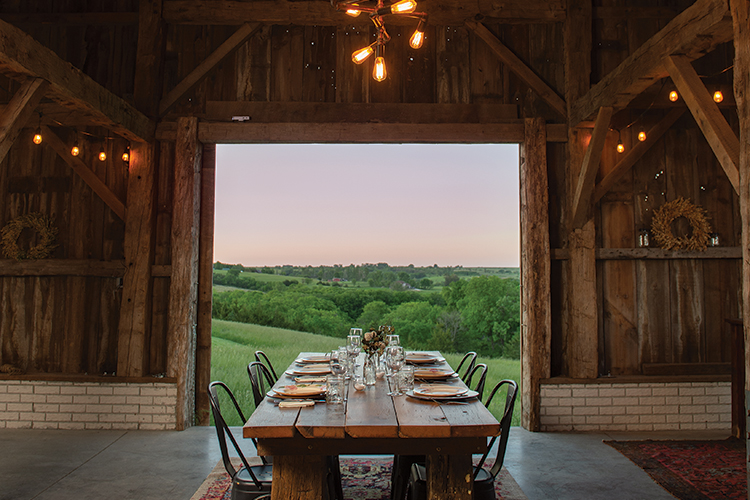 The restored 1850s barn on Lone Oaks Farm near Winterset serves as a rustic-chic backdrop for Holt's seasonal dinners.