Okoboji
Inspired
by Impressionists
Writer: Beth Eslinger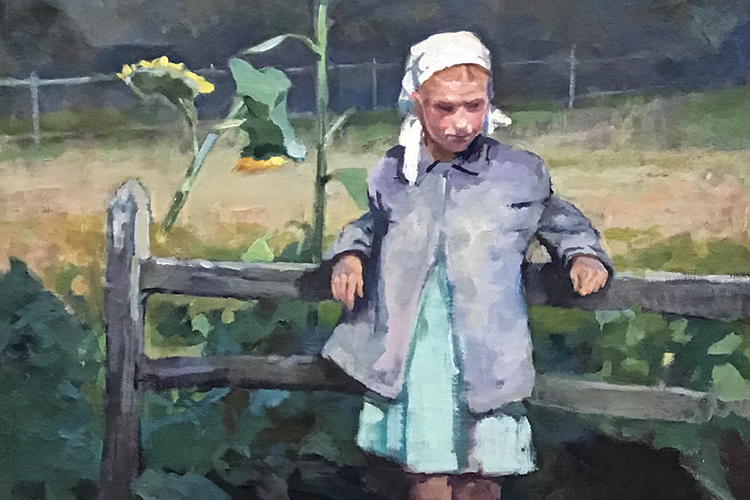 Sergei Krugakov, "Girl in Garden" (1959).
It's hard to know where to look first at the Russian Impressionist art exhibit at Okoboji's Pearson Lakes Art Center. With an array of color and stunning scenes on every wall, the 40-plus paintings take some time to process.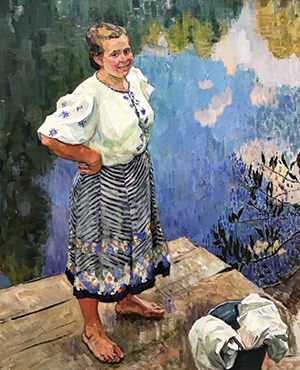 As with most Impressionist paintings, up-close views can be somewhat confusing, with messy brushstrokes and swaths of thick color layered upon each other in seemingly haphazard ways. But step back several feet and the images come to life, with dancers, old men and young girls staring you in the eyes with their expressive faces. Shadow and light play throughout the paintings, which were rarely seen outside of their home countries of Russia, Ukraine and Belarus until the past few decades.
Donated by Gerald "Bud" and Bev Pearson, the paintings reflect the history of art behind the Iron Curtain. Traditional Russian art in Soviet times focused on realism, celebrating the labor movement through art and literature. The works, inspired by the Impressionists of the 19th century, depict many of the tenets of the style, including humble subject matters, a focus on light and color, still lifes, and scenes of everyday life. While some of the paintings in the collection, which date from 1905 to 1976, highlight idyllic farm and work scenes, others present looser, more expressive images—ballerinas, musicians, academy students. The range of artists represented includes noted Ukrainian painters Viktor Mikhailovich Chaus and Georgi Georgievich Cherniavskie.
The Pearsons began collecting in the early 1990s, eventually donating the paintings to their namesake art center in 2007. The Pearson gallery, which the couple had constructed specifically to house the collection, beckons you to stay and study, with its soothing green walls, floors created from small blocks of richly grained wood, and soft ambient lighting.
Each summer, as an additional attraction, the art center opens its vault, featuring some of the Pearsons' private collection of paintings from famed artists N.C. Wyeth and Andrew Wyeth, John Singer Sargant and Larry Rivers. Works by local makers also grace the gallery walls, and the gift shop features handmade goods such as jewelry, pottery, birdhouses and greeting cards.
For more information, visit lakesart.org.
---
Growth Opportunities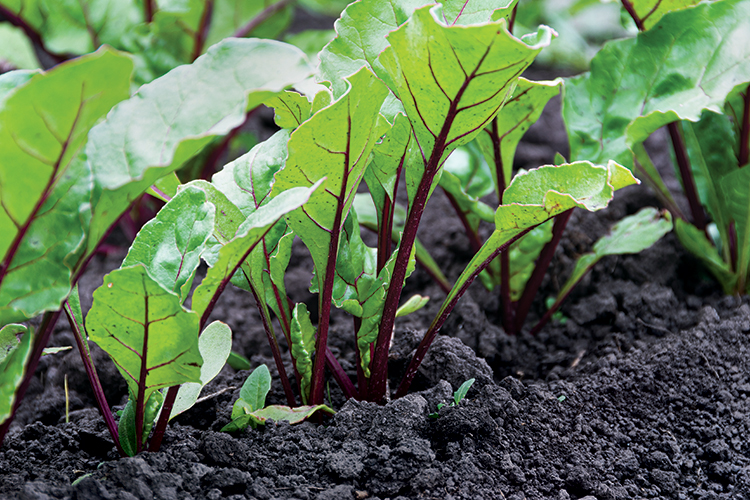 Iowans of all stripes and skills are picking up plant starts and seeds this year, with hopes of yielding fresh-picked salads, tomatoes for canning and dried beans for their winter pantries.
Early in the pandemic, Seed Savers Exchange outside of Decorah saw a surge in sales. In fact, business was so intense that the company, which specializes in preserving heirloom varieties, halted online sales for several weeks to play catch-up. "Our sales are through the roof," says Emily Rose Haga, executive director. "We've never seen a volume like this."
Iowa publishers are seeing a spike in information searches, as well. Brian Van Heuverswyn, vice president and general manager of Active Interest Media's home group (formerly August Home) in Des Moines, notes a significant swell in online queries at gardengate.com and a doubling of sales of its garden books, plans and hard goods. The group recently launched free online garden classes hosted by pros, including several of its editors. "We've had a ton of interest in this online event from both attendees and sponsors," Van Heuverswyn says.
And garden centers throughout the state have been buzzing with interest. At Busy Bee Garden Center outside of Indianola, vegetable gardening has meant big business. "This year exceeded all expectations," says owner Chelsey Soder. "Being able to grow the things we sell was key this year. We were able to keep producing the biggest trend, which is vegetables."
Soder says customers are shopping for kitchen staples like tomatoes and peppers. As of the end of May, her vegetable seeds were completely gone.
For those who missed the spring and summer seasons, there's still time to put in a fall crop, says Seed Savers' Haga. Growers can plant a late season of brassicas (cabbage, broccoli, cauliflower), lettuce, radishes, spinach, beets, peas and more to enjoy up to the winter frost.
---
Tiny Portraits Tell Big Story
Writer: Michael Morain
This story was written in collaboration with the State Historical Society of Iowa, a division of the Iowa Department of Cultural Affairs.
Artists who want to make a lasting impact could do worse than create stamps for the U.S. Postal Service. After all, they're "forever."
So Cedar Falls artist Gary Kelley was honored to create a quartet of tiny portraits of four larger-than-life luminaries of the 1920s Harlem Renaissance. Their faces adorn four new Forever stamps the USPS released on May 21—just four days before the death of George Floyd in Minneapolis refocused the nation's attention on racial injustice and the often-overlooked contributions of African Americans.
The stamps honor novelist Nella Larsen, writer and arts advocate Alain Locke, historian Arturo Alfonso Schomburg and poet Anne Spencer.
All four contributed to the burst of creativity that centered in Harlem, the New York neighborhood where thousands of African Americans migrated after World War I.
The new stamps aren't Kelley's first commission for the USPS. He created portraits for an earlier series honoring famous gospel singers, another series about Hollywood directors, and a single stamp about Oscar Micheaux, a pioneering African American filmmaker, who spent several years in Sioux City.
"I'm always happy to do them," says Kelley, who participated in the postal service's virtual unveiling ceremony.
Over the course of his award-winning career, Kelley has exhibited his work all over the world and created illustrations for Time, Rolling Stone and the New Yorker. His murals adorn Barnes and Noble bookstores nationwide, as well as the World Food Prize Hall of Laureates in downtown Des Moines and a massive Google data center in Council Bluffs. He just polished off a manuscript for his first graphic novel, about the Spirit Lake Massacre, which his publisher plans to release in March 2021.
But there's nothing quite like a postage stamp. As soon as the new series was released, his wife picked up a few fresh sheets at the post office in Cedar Falls.
Others have mailed him sets to autograph—tucked in, of course, with pre-stamped, self-addressed envelopes. "I've gotten a few packets in the mail now," he says, "from people I don't even know."
---
Arnolds Park
The New 'It' Place
Writer: Beth Eslinger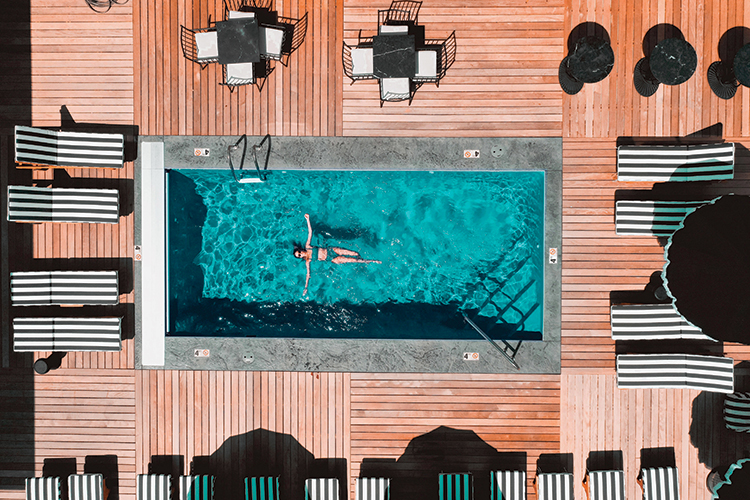 The pool at The Inn Hotel, new in 2019. Photographer: Drew Dau.
Roy Orbison, Johnny Cash, the Beach Boys and Cheap Trick all played the legendary Roof Garden Ballroom at Arnolds Park back in the artists' heydays.
Thanks to a $15 million renovation, the park is still feeling its groove.
At the newly reconstructed Roof Garden, classic orchestras, contemporary rhythm and blues artists, and '80s rockers perform to visitors of all ages. Just one of the updates at Arnolds Park, the Roof Garden is perhaps its most storied structure.
The Rock 'n Roll Hall of Fame, located less than a block away, tells the history of the music venue. Through interactive displays, you can discover some of the bands to headline the Roof Garden, see some of the playbills, and study some of the artists' contracts. (Louis Armstrong earned $1,000 to play in 1952, and the Everly Brothers made $1,750 for their 1965 show.) Catch one of the movies to learn about the Iowa Great Lakes' past, as well as the appeal of ballrooms in the mid-1900s.
Next door, the Great Lakes Maritime Museum is worth a quick cruise to see paraphernalia from the area—wooden boats, an early scuba suit, rows of motors, vintage fishing gear, town pennants and more. Several old amusement park games and a giant wooden slide, which you can ride, are part of the Arnolds Park Museum, located inside the Maritime. And at the Arnolds Park entrance, a new carousel is accessible to all, with chariots for those in wheelchairs.
New in 2019, the Inn Hotel offers boutique luxury within a short walk to the museums and amusement park. Decked in a 1920s theme, with a lobby of green paneled walls, leather furniture and vintage lake photographs, the hotel offers a relaxed, sophisticated experience. A second-floor courtyard pool is an inviting place for drinks and sunbathing. At the hotel's Caribbean-themed restaurant, the Beach Club, order a rum flight or Havana Club Sour to pair with a Cubano. Finish with crème brûlée infused with coconut and vanilla bean.
For more information and upcoming events, visit arnoldspark.com.
---
Ames
Building Community
Photography: Duane Tinkey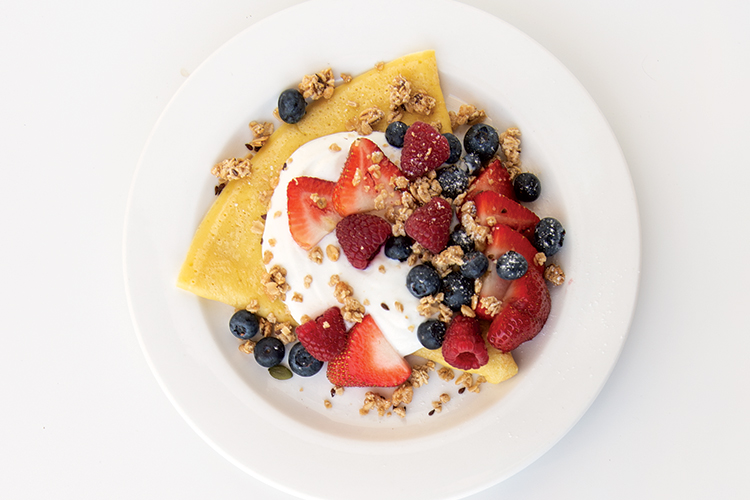 Crepes at the Lockwood Cafe.
Spend a weekend morning at the sunny, art-filled Lockwood Cafe in Ames, and you'll see parents sip coffee while watching their kids play outside, students eat banana Nutella crepes, professionals work on their laptops, and retirees catch up on the latest news. Peer through to the adjacent gallery space and you might see contemporary artwork and the Art Bar set for the next indie-theme social gathering.
New last October, the Lockwood Cafe is the latest addition to the Reliable Street art center, located on the northwest side of Ames (it's a bit hidden even from GPS—take North Dakota north and turn left before the railroad tracks). "The concept of the Lockwood Cafe and Reliable Street gallery was to build on the idea [that] something was missing in the community," says Sharon Stewart, who runs Lockwood Cafe and is part owner of Reliable Street.
Started by several community members, including artist Lindsay Nissen, Reliable Street is intended to be flexible space. It's a bit raw—this is a feed mill, after all. There's a climbing structure (an ISU class project), and a new playground and gardens recently donated by Ames-based Country Landscapes. Inside, residents gather in the open space for art night with hip-hop and costume-themed dance parties. Numerous events—including those with a cultural focus—are currently in the works.
"It's a part of the community not seen at other art gatherings," Stewart says. "We worked really hard to make sure everyone is welcome."
Visitors enter through the Lockwood Cafe. "The cafe is a gateway to the gallery," says Stewart, whose husband, Austin, teaches new media art at ISU's College of Design. "It's so important spaces are accessible. So many times, art is a connector. Art is a storyteller and a community motivator."
The Lockwood keeps its prices intentionally low—think McDonald's. But this is no Egg McMuffin or Happy Meal. Featuring fresh, tasty ingredients (such as mushrooms and goat cheese on the savory side; apple brie with jam and candied walnuts for sweet cravings), the crepes are assembled on-site in the open kitchen. At night, the Lockwood serves Indian-style dosas (a thin crepe).
The Stewarts are currently working on artist space across the street, with tools and rental studios available. "We're happy to work with anybody," she says.
For upcoming events, check out the Reliable Street Facebook page. Visit lockwoodcafe.com for menu and cafe updates.
---
Cedar Rapids
Hooked on Storytelling
Writer: Timothy Meinch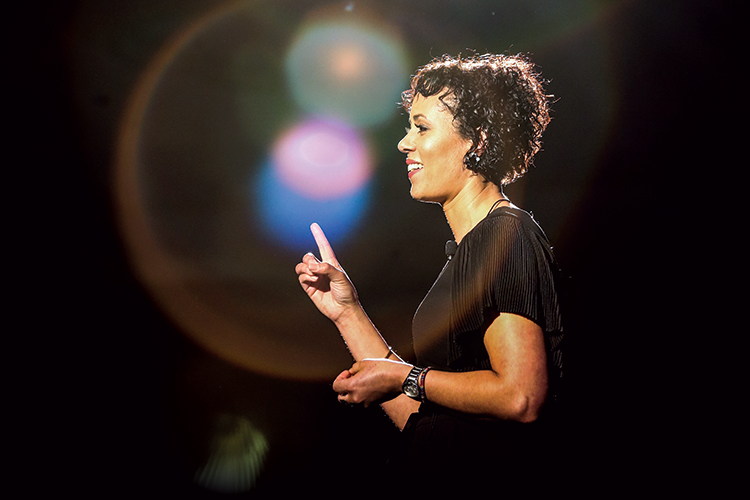 Cedar Rapids poet Akwi Nji.
When Akwi Nji made her stage debut for live storytelling, it felt like coming home—for the first time.
That sensation was especially meaningful, she says, after spending most of her life feeling like an outsider, first in Cameroon and later in eastern Iowa. Now Nji (pronounced "en-gee") invites as many people as possible onto stages and into audiences across Iowa to share stories.
Her vehicle is the Hook, a nonprofit that Nji launched in 2016 for live storytelling, including poetry readings and performance art. Her own inspiration started with SPT Theatre in Cedar Rapids after graduating from the University of Iowa.
Live storytelling, rooted in oral traditions older than any other type of human entertainment, forges powerful connections and change, the 40-year-old Nji says. And, when executed properly, listeners feel just as vulnerable as the speaker.
"The audience has put their trust in me, that whatever I say onstage they're going to be able to manage it," Nji says. "They can't just shut the book."
Nji, who has two daughters, was born to a black father and white mother. She spent her earliest years in Cameroon; then her family moved to Springville outside Cedar Rapids by the time she turned 8.
"In both places I was an outsider," she says. But she sees a through-line, a theme connecting these worlds on opposite sides of the globe: rich dirt. "What I remember is the soil in both places," she says. "What my siblings and I did for fun and entertainment was spend a heck of a lot of time playing in the dirt."
Specifically, she recalls Caterpillar Hill behind her house. To anyone else, it looked like a construction site littered with dusty earthmovers. But for Nji, it was her playground—named after the Caterpillar machines—and claimed as her own space.
The Hook has become a much bigger playground for Nji—and anyone who wants to broaden their perspective on the world.
For more information on Hook events, visit thehookcreates.com.
---
Searching for Stories
This story was written in collaboration with the State Historical Society of Iowa, a division of the Iowa Department of Cultural Affairs.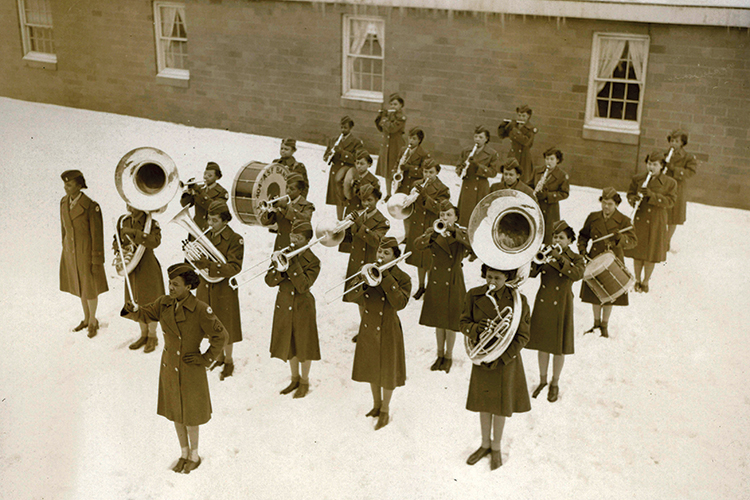 The 404th Armed Services Forces band plays outdoors in winter at the For Des Moines Training Center in Des Moines, circa 1943. Photograph Courtesy of the State Historical Society of Iowa (Des Moines), a division of the Iowa Department of Cultural Affairs.
Many Iowans know of renowned scientist George Washington Carver and civil rights activist Edna Griffin (often referred to as the "Rosa Parks of Iowa"). But fewer know the Harris family, who moved into an all-white Cedar Rapids neighborhood in 1963 despite a petition against them.
Through a multiyear initiative, the State Historic Preservation Office is working to find more unsung civil rights trailblazers like the Harrises. The Iowa African American Civil Rights Survey "is a project to get at some of those lesser-known stories," says Paula Mohr, an architectural historian at the State Historic Preservation Office, a part of the Iowa Department of Cultural Affairs.
The agency also is looking for properties, such as churches, workplaces, neighborhoods, theaters and more, that are associated with the state's civil rights history in the 20th century. Currently, four sites with a direct tie to civil rights are listed on the National Register of Historic Places: Fort Des Moines (the Army training camp prepared black officers for World War I), the Flynn-Griffin Building in Des Moines (site of Griffin's 1948 sit-in at the Katz Drug Store), the Alexander Clark House in Muscatine (he sued in 1868 to allow his daughter to attend a white public school), and the long-gone mining town of Buxton in Monroe County.
But there are many more that have not been listed yet. "What I saw on the National Register for Iowa wasn't reflective of our great history," Mohr says. "Iowa is more diverse than people think. This is a great opportunity to see what else is out there and tell a fuller story of African American civil rights."
Mohr's team expects to complete the survey by the end of 2020 and nominate the Harris house to the National Register. In addition, a civil rights tour will be added to the Iowa Culture mobile App, which maps more than 3,500 cultural landmarks statewide.
The Harris home is still owned by the children of Dr. Percy and Lileah Harris, who both died several years ago. Their oldest child, Bruce Harris, was 12 when the family moved into the house and recognizes its significance only now, looking back. "It's not like the house is an architectural wonder," he told the State Historic Preservation Office. "It's just a place where something important happened, something that reflects a change in our society."
If you'd like to suggest a site that should be recognized, fill out a survey linked on the Iowa Department of Cultural Affairs' website at iowaculture.gov/civilrights.
Photograph Courtesy of the State Historical Society of Iowa (Des Moines), a division of the Iowa Department of Cultural Affairs
---
Cedar Falls
The Heart of the Craft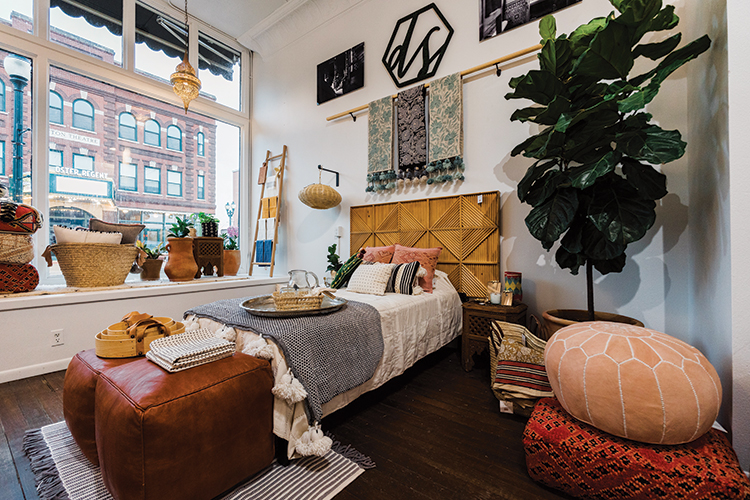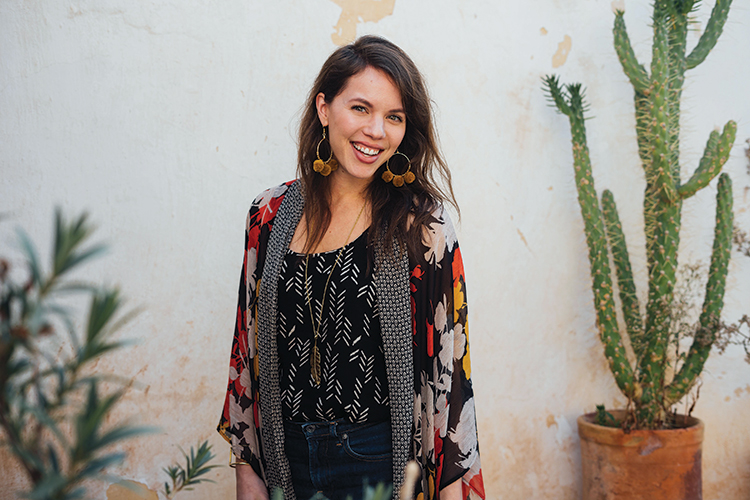 Kelsie Kunkle of Driftless Style in downtown Cedar Falls.
Walk into Kelsie Kunkle's store on historic Main Street Cedar Falls (or new online shop, driftlessstyle.com) and prepare to do some redecorating.
Featuring handmade decor from Morocco, Peru, Argentina, Mexico and right in Cedar Falls, Kunkle's Driftless Style shop features products that are sourced ethically and crafted beautifully.
While helping boost artist communities in sustainable ways, she's also bringing Iowans bohemian looks made popular on Instagram and Pinterest. You can find elaborate mirrors, inlay trays, woven basket lights, leather poufs, handmade pottery, glassware and more. Each item features the country of origin, and the shop donates 5% of all purchases to charities.
On a two-week trip to Morocco earlier this year, Kunkle worked with local artisans to help fill a shipping container for the store. She designs the products, then works with the artists who create their interpretations.
"There's so much heart behind it all," she says. "This is truly a way we help preserve culture by developing modern designs for traditional handicrafts." Lead times can take several months, and Kunkle has learned the ins and outs of importing since starting her business.
Prior to Driftless Style, Kunkle worked in fair-trade jewelry, where she connected with those working in arts and crafts. She finds her artist contacts through trade shows and sourcing partners. "In certain countries crafts are celebrated," Kunkle says. In fact, the Peru government paid for her trip to collaborate with the country's artisans.
Opened a year ago, Driftless Style is just one of the new attractions in downtown Cedar Falls. Across the street, the renovated Black Hawk Hotel, new speakeasy Bar Winslow (see page 96), and eatery and gourmet shop Farm Shed are attracting foot traffic to the area's independent shops, breweries and restaurants. Local residents and visitors have helped the business take off. "It's fun to see how it's grown organically," Kunkle says.
Visit driftlessstyle.com and @driftless.style on Instagram.