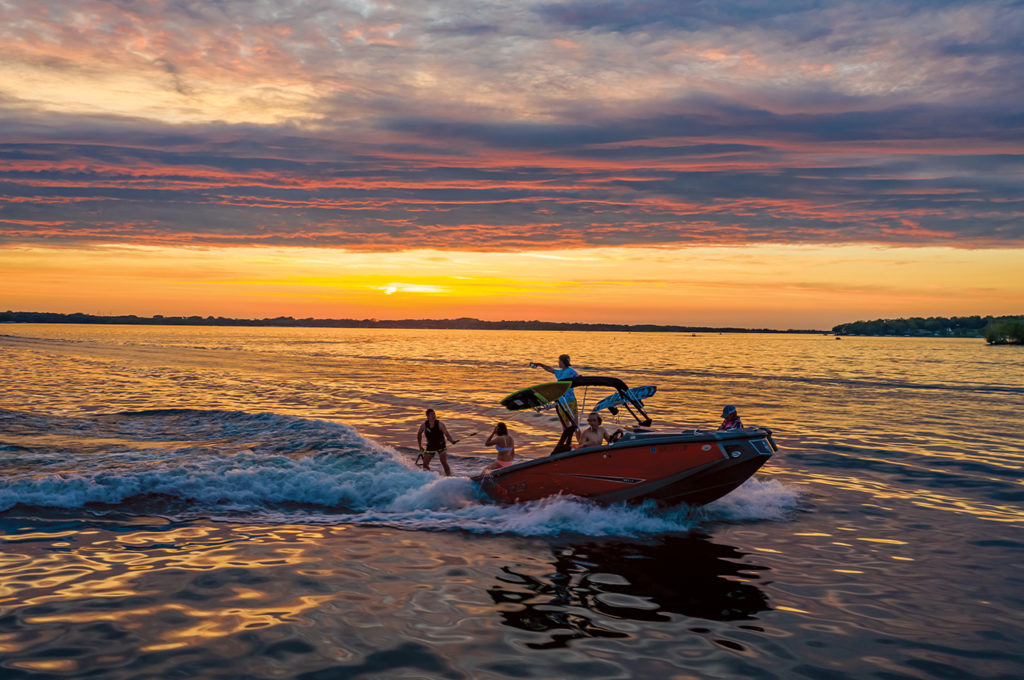 Get out on the water even when the temps start to dip. You'll need to bring your own boat after Labor Day.
Writer: Lisa Holderness Brown
Photography courtesy of vacationokoboji.com.

If summer's the life of the party in Okoboji, then fall is the candlelight dinner—serene, relaxing and intimate. The full-throttle bustle is gone, the daylight's more fleeting, and the chain of five interconnected, glacier-carved lakes reflects the glowing autumnal colors in the lulled waters. Locals admit these days are a best-kept secret. The playing is far from over and the sunsets are some of the year's most dramatic.
While some of the shops, restaurants and attractions close after the summer season, including Arnolds Park Amusement Park, there's still plenty of shopping, dining and outdoor adventures to discover. Now's the time to put a getaway on the calendar. We've done the planning for you, with a Boji-bests fall weekend itinerary that will appeal to both families and adults-only travelers.
---
Friday
Classic Cars and Vintage Murals
Plan to arrive by 3 p.m. Stretch your legs and step back in time during a tour of one of Okoboji's most inspired hidden gems. Okoboji Classic Cars restores and sells mostly vintage autos, but it's the showroom and museum that's a must-see for all ages. Owner and avid car collector Toby Shine hired local artist Jack Rees to paint a 28,000-square-foot mural of downtown Spencer and Arnolds Park set in his nostalgic 1960s childhood years, creating a streetscape backdrop for the period cars. Plan on an hour visit. Guided tours only— reserve spots since the last tour starts before 4 p.m. Phone: 712.332.8029.

Okoboji Classic Cars' showroom and museum is a must-see for all ages.
Check Into Your Hotel
Option One: New in 2019, the Inn Hotel in Arnolds Park romances an iconic 1920s Okoboji lake vibe, with its art deco style and Beach Club Lounge. The hotel and lounge take their names from a prior inn that served the area for over 120 years. The Inn Hotel is conveniently located steps from West Okoboji Lake. Plan on walking to restaurants, bars, museums and the lake. Once you settle in, head to the lounge by the lobby for a Hook + Ladder cocktail or a Picante Margarita.
Option Two: Originally part of an 80-acre homestead in rural Dickinson County, the Oakwood Inn in Spirit Lake is centrally located a mile from both East Okoboji and West Okoboji lakes on Nature Center Road. This adults-only Victorian-style bed and breakfast is Saturday Breakfast known for its 11 luxurious rooms, many with whirlpool tubs, fireplaces and verandas or patios. Set aside time to wander the two-acre grounds that boast plentiful gardens and an oak savannah, and to shoot pool or play cards in the lower-level den.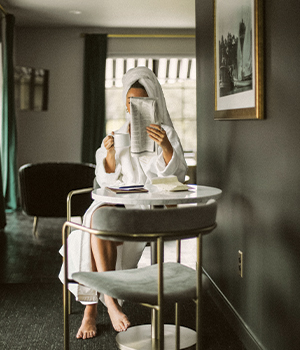 Relax in the soothing art deco ambiance at The Inn Hotel.
Dinner: Two Spots to Love
Whether you're in the mood for a steak by the lake or a cozy Italian dinner, restaurateurs Juliana and Tom Domoras have the perfect spots. The couple left Chicago to settle in Okoboji and recently opened two of the newest restaurants in the area, Prime Boji and Ciao Boji.
Located lakeside in the Emporium in Arnolds Park, Prime Boji is a quintessential steakhouse, with a mesmerizing view of Smith's Bay from every table. The steak cuts are as classic as the cocktails, but the menu also includes the creative chef's collection of seafood, chicken and vegetarian options. For dessert, the Baked Alaska's calling your name.
Ciao Boji is their intimate, less pricey Mediterranean restaurant and wine bar, also in Arnolds Park. The immediate success of this spot convinced the couple to open their steakhouse. Look to the chalkboard behind the wine bar for the daily wine and food specials. For a light meal at the bar, consider the steamed mussels or Mediterranean salad and a glass of Italian wine, or settle in with a hearty dish of pasta, such as the ribbon-style Papardella Bolognese.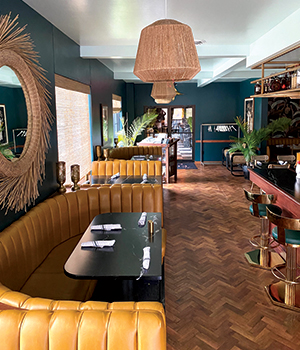 At The Inn Hotel, the Beach Club Lounge exudes a hip vibe complete with relaxed bar-side and booth dining.
---
Saturday
Breakfast
The Inn Hotel: Grab coffee and homemade pastries on-site or drive to the Coffee Shop and Cafe in downtown Milford for a Grande (breakfast) burrito and a cup of house brew or a latte.
Oakwood Inn: Head to the sunny and spacious dining room for a sizable homemade breakfast that's included in your stay. Owners Bill and Bridget serve some of their family's favorite recipes, such as Grandma's raisin bread and homemade quiche.
Morning Through Afternoon: Happy Trails
With boating season winding down, turn to the Iowa Great Lakes Trail to stir up some fall leaves. It winds through several communities and is a family-friendly place to bike, walk and run. The "spine" is a 14-mile, 10-footwide hard-surface trail that connects a variety of other trails, creating 60-plus miles of dedicated paths to experience the lakes, parks and surrounding areas.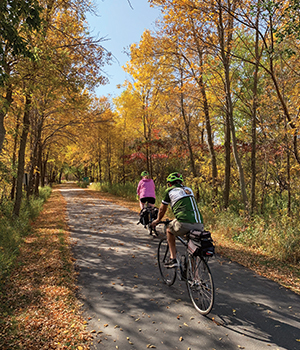 We suggest renting bikes or bringing your own to experience the Classic Lake Loop around West Okoboji Lake. It's about 18 1/2 relatively flat miles of nature, parks, neighborhoods and playful stops with most of the route now on paved trails. Ride the whole loop or choose a portion. If you're not into the trails, drive to all the spots listed along the way. To prep for the day, download a Dickinson County Recreational Trails map at dickinsoncountytrails.com. The actual bike route is marked with periodic signs and painted arrows on the pavement, but this up-to-date map offers a helpful overview. For a detailed route description of the Classic Lake Loop, also check out vacationokoboji.com/classic-west-lake-loop/.
Gear Up in Milford
The Okoboji Cyclist opened its spacious new store on Okoboji Avenue this past summer. Their crew will outfit you with rental bikes for the day or weekend, including road bikes, hybrids, electric-assist bikes, and a Burley trailer or pull-behind bikes for the kids. Pick up a paper trail map, biking gear, clothing and energy bars as well. Set up your rental reservations in advance at theokobojicyclist.com.
Find the Trail
If biking from Milford, start at the parking lot on 13th Street and County Road A34 in Milford (P on the map) and take the paved trail north to 202nd Street. Head east and follow the trail over bridges between Lower Gar, Minnewashta and Upper Gar. This short and scenic stretch takes you by three additional lakes before picking up the Classic Loop Trail at Bascom Street and U.S. Highway 71. At the end of the day, you will have cycled by all five interconnected lakes.
If you brought bikes, start right from your hotel—just ask at the hotel staff where to hop on the trail or check the map. Since it's a big loop, you can pick it up at any point on the trail.
Top Stops
The spots below are listed in order, starting in the town of Arnolds Park at the amusement park, and going counterclockwise around West Okoboji Lake (from the east side of the lake and heading north) on the Classic Lake Loop trails.
1. Arnolds Park: Stop into the Iowa Rock 'n Roll Hall of Fame and wander through the exhibits and artifacts from the musicians and personalities that shaped Iowa's music history. Next, walk down to the lake and for a few pre-ride stretches on the State Pier (look for the three stainless steel sail sculptures set over a reflecting pool). It's named after the late Berkley Bedell, a local entrepreneur, state senator and conservationist. Turn away from the lake for a view of the famous wooden roller coaster peeking out from Arnolds Park Amusement Park.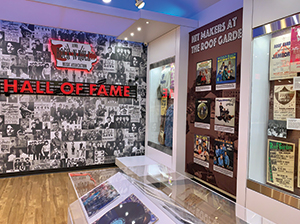 The Iowa Rock 'n Roll Hall of Fame at Arnolds Park showcases memorabilia including playbills, player contracts, signed guitars and more.
2. Tunnel Mural: Just past the Ritz Restaurant and before the bridge that goes between West and East lakes, look left to find the colorful Connector Tunnel under Highway 71. In 2020, Iowa City artist Thomas Agran painted playful murals on both sides with iconic Okoboji images, including everyone's summer park favorite, the Nutty Bar.
3. The Minnie Queen: Another 2020 addition on the trail is East Lake Park, which is right before the boat dock and Sanborn Avenue. Look for kids climbing all over a large boat play structure, which is a replica of the Queen II, the beloved excursion boat that tours West Okoboji Lake.
4. Bike Art: Cross Highway 71 at 175th Street and pick up the trail going north to the Pearson Art Center. Search for the 20 outdoor sculptures that surround the art center and bike trail leading to the Dickinson County Nature Center. Can you spy the big metal bike? Clue— look up!
5. Break for Nature: Take a trail break at the Dickinson County Nature Center. Head inside to learn about the Okoboji ospreys and play your way through the hands-on Pollinator Paradise. Pick up a flying disc in the gift shop if you want to try your skill at the Okoboji Gold Disc Golf Course. The 18-hole course has both professional and amateur levels. Also, near the nature center and on the trail are the Nature Playscape, which encourages climbing and fort-making, and the old Westport Schoolhouse. This whitewashed building was Dickinson County's last remaining country school and was moved to Kenue Park in 1996 from Westport Township. While it's only open in the summer months, it's worth biking by.
6. Lunch: Bike around the north end of the lake past Pike's Point State Park to the Okoboji View Golf Course on the west side of Highway 71. Ride up to the Pub19 Grille for a lunch overlooking the course. The pizzas and flatbreads are go-to choices for the locals, but there's a variety of lunch options to fortify your group for the rest of the ride.
7. Outdoor Science: The trail on this side of the lake hugs Iowa Highway 86 and is easy riding. Keep a lookout for Iowa Lakeside Laboratory, which was founded in 1909 by Thomas Macbride for the "study of nature in nature." Use the Wahpeton Water Tower as a guide, since it's across the highway from the stone entrance gates. This 147-acre property is owned by the state and used as a field station for Iowa's state universities and offers community outreach programs. Pick up an Iowa Lakeside Self-Guided Tour brochure at the kiosk near the gates. It includes 16 interactive learning stops around the property. Also look for the five stone lab buildings on the southern side of the property that were built in the 1930s and named after famous Iowa scientists.
8. Get Krafty: Every summer returning tourists and summer-home residents search Okoboji for what's new to the area. Krafty's Meat Market is one of 2021's most exciting additions. It's next door to the new Okoboji Gas Company convenience store. Stop in for a homemade cookie and peruse the meat cases. Stop back tomorrow with a cooler on the way out of town. Owners Nathan and Tina Kraft will happily show you around. Ask about their homemade brat selections (especially the West O beer-infused varieties) and freshly baked buns.
9. End Around the Bend: The next stretch of trail borders the Garlock Slough and is one of the prettiest. The paved trail ends at 213th Street by the First Lutheran Church. Turn left and bike on local roads past Terrace Park Beach on Brown's Bay. To catch the bike trail back to Milford, cross Highway 71 at 202nd Street and it will be on the right. Or head back to the Inn following the bike trail signs to the amusement park.
10. Plan B Means Beer: Bike to the nearby and nationally renowned West O Brewery and Taproom to grab an aprèsbike Smoked Red Ale or Coco Chocolate Stout and a cup of peanuts. Beer enthusiasts won't want to skip this stop, either now or later by car.
Optional Shopping: Spirit Lake
If you're off the trails early or can't say no to a shopping trip, here's a fun trio of stops in nearby Spirit Lake.
Timeless Consignments on Hill Avenue brims with unique and interesting items, including art and furniture, and just might be one of the coolest consignment stores you've ever visited.
Allure & Co. across the street on Hill Avenue curates a thoughtful mix of brand-name home furnishings and clothing for men, women, kids and babies. Cafe Esteam coffee shop is also right inside the door.
Mary's Home Decor & Gift Shoppe is tucked behind Goodies Candies on Aurora Avenue. The room full of kitchen gadgets is a big draw but so are the many gifts and seasonal decor items.
Dinner: Lake or Legend
After a busy day of exploring, you've earned a leisurely dinner. Both spots listed here are casual and have a full bar, wine list and kids' menu.
Lake: It's hard to get enough of a lakeside view, and the Waterfront American Grille in the Bridges Bay Resort brings East Okoboji Lake to your table. The menu's breadth suits all ages and preferences. Consider the Crepe Shoppe options or the perennial favorite Parmesan-crusted walleye.
Legend: Walk to Yesterdays in minutes from the Inn. With reasonably priced and well-executed house specialties, plus sandwiches and salads, it's easy to see why this dining spot has been a locals' favorite for over 35 years. The Cedar Plank Salmon is always a winner.
Night Cap: Walk a few doors down for a cocktail at Captain's Getaway and possibly live music. The rooftop lounge is open seasonally. Check out their event schedule online.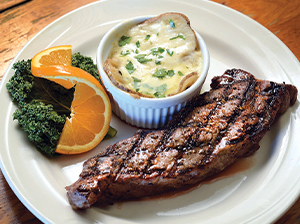 Known for seafood, Yesterdays also dishes steaks such as New York strip and filet mignon.
---
Sunday
It's almost time to wrap up your revitalizing fall weekend away, but before you head home, take time for one last outdoor experience, a satisfying breakfast and a few shopping stops.
Morning
Oakwood Inn: Wander around the well-maintained property or sit on the veranda with a cup of custom-blend coffee before enjoying another of the noteworthy breakfasts.
The Inn Hotel: Walk through the nine arches of the Promenade walking trail that leads to the lake and amusement park. This trail runs adjacent to the Preservation Plaza green space. Choose one of the 10 benches to enjoy a to-go coffee from the hotel and the lake breeze before heading to breakfast.
Breakfast and a Bloody Mary: O'Farrell Sisters is open for breakfast and lunch seven days a week all year. This lakesarea tradition started in 1949 when Edna Mae and Arlene O'Farrell opened their cafe. It's especially known for plate-size pancakes and homemade pies (pre-order a whole one 24 hours in advance), but the breakfast and lunch options are plentiful.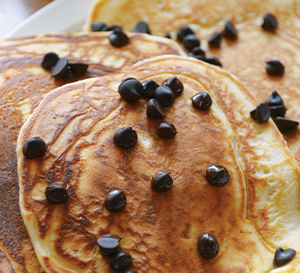 End your trip with a grand finale of pancakes, which you can customize with the topping of your choice, at O'Farrell Sisters. Bonus: There's breakfast all day in case you get a late start. Photographer: Duane Tinkey.
Before You Go
Make the rounds to gather a few Boji specialties to take home with you:
The Barn Swallow Gift Shop can "swallow" you up for an hour or more. Wander through room after room of home goods, gifts, books, Okoboji gear, jewelry and curios.
Goodies Candies: "Who's going with me on the Goodies run?" It's a regular question in Okoboji households. This family-run business makes candies and cookies you will always remember and crave. Say yes to the dark home goods, gifts, books, Okoboji gear, jewelry and curios.
Krafty's Meat Market: If you stopped by on your bike ride yesterday, you'll already know to bring a cooler this time and fill it up.