Above: The Stockman House is Frank Lloyd Wright's only Prairie house designed in Iowa. It features the wide overhangs, decorative windows placed in perfect symmetry, low-pitched roof and central chimney common in Prairie School homes. The structure is one of three "concrete house cousins" Wright designed in the early 1900s.
Writer: Megan VerHelst
Photographer: Duane Tinkey
For Frank Lloyd Wright enthusiasts and Stockman House docents Chuck and Nancy Sweetman, it's a bit of good fortune the couple calls Mason City home.
The northern Iowa town of nearly 30,000 people boasts an abundance of Prairie School architecture, a style pioneered by Wright and a group of associates in the early 1900s. Just east of downtown, the Rock Crest-Rock Glen Historic District features the characteristics of Prairie School architecture—horizontality, bilateral symmetry, the incorporation of natural elements, and an emphasis on sunlight. Examples of modern businesses emulating the architectural style abound.
If you ask the Sweetmans, the appeal of Prairie School architecture rests in design concepts well ahead of their time, an aesthetic that has somehow managed to transcend more than a century.
The Stockman House is a testament to that. Designed by Wright and built in 1908, the house relocated to its current location and, after an extensive renovation, converted into a museum in 1992. The house design was adapted from Wright's Fireproof House, which was published in the April 1907 issue of Ladies' Home Journal. It cost $7,000 to build ($196,000 in today's dollars).
"Wright designed a lot of big homes for a lot of well-to-do people," Nancy says. "This was one of the unique things about this house—he said even middle-class people should have beautiful homes."
Nearly 3,000 people visit the Stockman House each year. The house saw a spike and steady rise in visitors once the renovation of Mason City's Historic Park Inn Hotel, the only remaining Wright-designed hotel, was completed in 2011.
Nearly everyone finds something to admire within the stucco walls of the Stockman House. "One of the most overwhelming reactions we hear is, 'I could live here. I could move in and live here comfortably,' " Nancy says. "To me, that's a real testament to how this house has endured time."
Perhaps one of the most enduring components of Prairie School architecture is the open floor plan. "In those days, there was a small room with a door, and another small room with a door," says docent Nancy Sweetman. "But here, we have a large opening between the living room and dining room, and three sets of French doors leading to the front porch. This was a new idea when the home was built."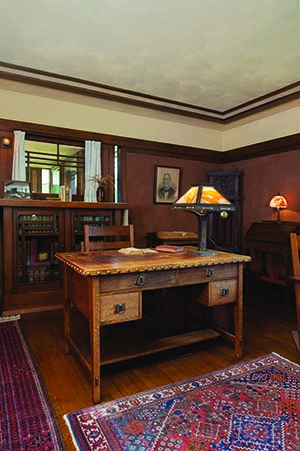 Originally located at 311 First St. S.E., the house belonged to the Stockman family until 1924; it's passed through at least six owners since then. It was occupied until 1987 before it was put up for auction. As part of the restoration, the Stockman House was furnished with period Arts and Crafts furniture. The only Wright-designed original fixtures remaining are the built-in bookshelves and the windows.
In Prairie School design, the intent was to allow in as much natural light as possible or borrow as much light as possible from other rooms. The addition of interior windows, as seen behind the desk, allowed this to happen.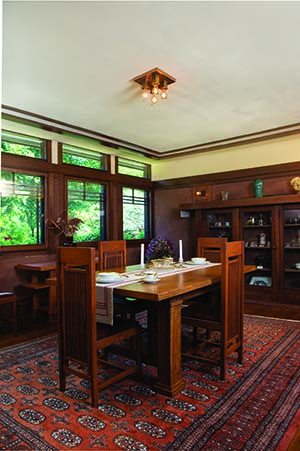 During the house's restoration, the River City Society for Historic Preservation commissioned a local carpenter to construct a dining room table from one of Wright's designs. While the furniture isn't original, the oak trim, floors and built-in cabinets are.
Chuck Sweetman noted many visitors will comment on the low height of the house's door frames. No, people weren't shorter a century ago—it was an intentional design. "The reason for that is so when you enter a room, it feels bigger and grander than it really is," Nancy says. "It's an illusion."
---
Experience the Style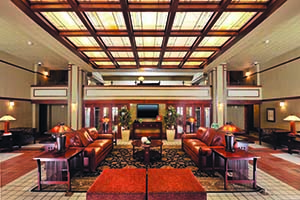 Frank Lloyd Wright fans can live his look for a weekend at the Historic Park Inn Hotel (pictured above), located downtown. With its original art glass windows and rich woodwork, the 27-room boutique hotel exudes character and comfort. One of just six hotels designed by Wright, the Park Inn remains the only functioning hotel, and it inspired the design of Tokyo's Imperial Hotel. Next door, the City National Bank, also designed by Wright, looms large with its brick facade. Both buildings are available for tours.
For a lasting memory, book the chef's table at 1910 Grille, located on site. The restaurant partners with local growers to create seasonal menus, featuring risottos, grilled steaks and fresh salads, and also has a lounge with a billiard room.
For more on Mason City's Prairie Style legacy, take the 90-minute walking tour of the Rock Crest-Rock Glen Historic District. The tour covers the Wright on the Park gift shop, the Stockman House and six additional homes, including a 1959 Usonian space designed by Wright apprentice Curtis Besinger. Visit wrightonthepark.org for more information and tour times.