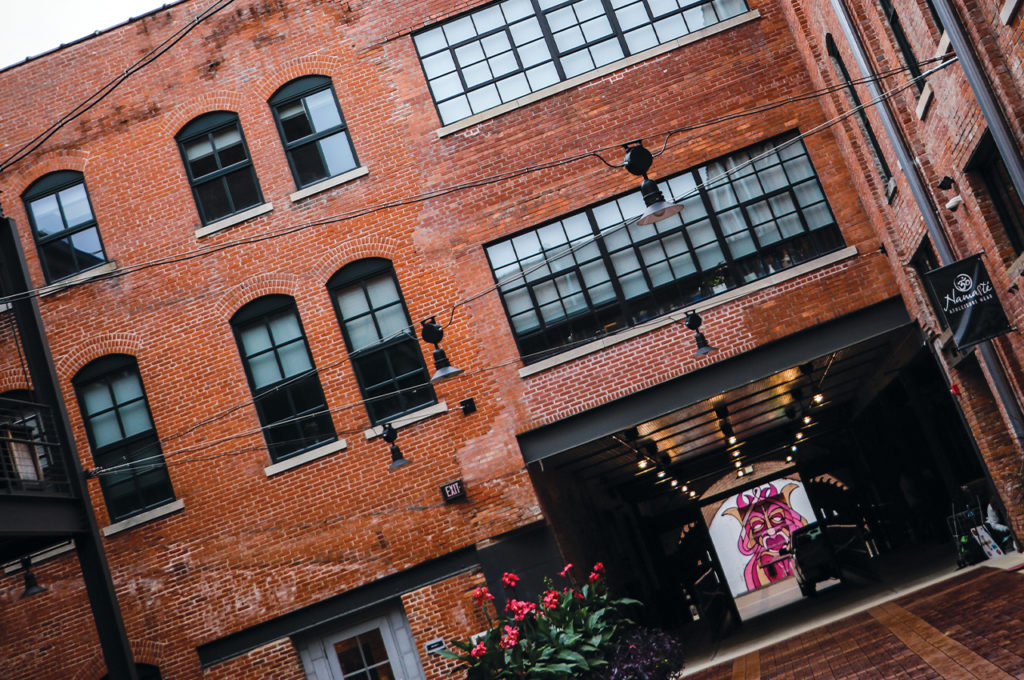 Stroll through Dubuque's Millwork historic district to find coffee shops, breweries and dining options (anyone say Top Chef caliber?). Photography courtesy of Travel Dubuque.
Writer: Karla Walsh

With more millennial and Gen Z Iowans craving city life, urban neighborhoods once reserved for warehouses, factories, shipping hubs and department stores are being converted into chic, convenient and thoroughly modern housing and entertainment options.
We revisited some eastern Iowa cities that were sometimes perceived as drive-through towns and discovered some great tourist-worthy yet hometown-favorite haunts. With something old and something new, we've designed a perfect day or weekend in each destination.
---

Left: Black Hawk Hotel in downtown Cedar Falls. Right: Newton's Paradise Cafe in downtown Waterloo. Photography courtesy of Experience Waterloo.
Best for a well-rounded weekend: Waterloo
STAY: Located in nearby Cedar Falls, the Black Hawk Hotel (theblackhawkhotel.com) exudes a vintage vibe. In fact, it's the second-longest continuously operating hotel in the country. Originally built as a stagecoach hotel and utilized as housing during the Civil War, the building was rebuilt after a fire in the 1860s and stands strong—and full of charming touches like intricate woodwork and exposed brick. But it also has plenty of modern amenities like a fitness center, a speakeasy, complimentary breakfast, and local coffee and tea. The Black Hawk has just 43 rooms, so be sure to book early.
EAT: Waterloo's historic downtown has undergone significant updates and investment over the past few years. And there's no better way to start a day than diner-style at Newton's Paradise Cafe in the art deco Newton's Jewelry building.
The cafe's menu features four types of pancakes, biscuits and gravy, and breakfast pizza, but we recommend the Iowa Toast. It's their luscious riff on French toast and comes with bacon, ham or homemade sausage. For lunch, snag a sandwich or wood-fired Neapolitan pie from Basal Pizza (basalpizza.com), also downtown.
Come dinnertime, relax over local beers and upscale bar food including the Iowa Taco (yes, it's topped with corn, bacon and ranch) at Singlespeed Brewing. Once home to a 1927 Wonder Bread factory, the chic spot offers tasty bites, beer flights, patio dining and areas for the kids to play or for you to store your bike. And for old-school Italian in the lobby of a former historic hotel, the Russell Lamson Building, check out the Brown Bottle. It's been a downtown institution since 1974 and serves classics like lasagna (the seafood variety is super tasty).
DO: Make the most of your sightseeing time by renting wheels at Waterloo Bicycle Works, located in the 1912 Kistner Building (originally a funeral home). Tool around both Waterloo and Cedar Falls on trails edging the Cedar River on a regular bicycle or an e-bike; there are over 80 miles of trails in the sister cities.
When you return to Bicycle Works after your ride, stock up on local souvenirs—the shop offers Iowa books, stickers, stationery and more.
After all that activity, rest your feet and chill out with a kombucha flight or cocktail at Verve Kombucha. The trendy fermented, effervescent, slightly boozy tea makes a lovely base for mixed drinks like gimlets, mojitos and the must-try "Destination Wedding," made with blended scotch, yellow chartreuse, fresh lime, pineapple and passion fruit-pear-cayenne kombucha.
---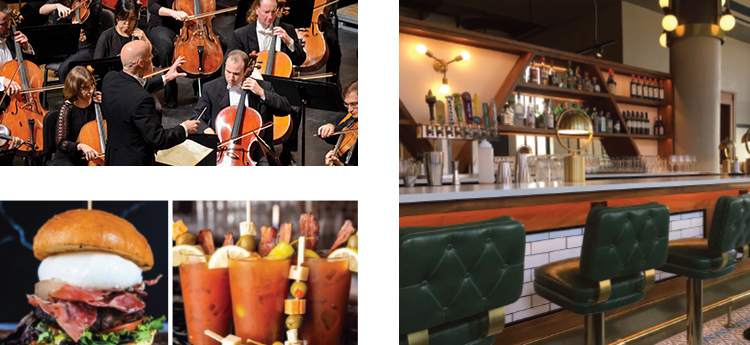 Top left: Quad City Symphony Orchestra. Bottom left: Baked Beer and Bread Co. burrata burger and bloody marys. Right: Half Nelson. Photography courtesy of Visit Quad Cities.
Best for music fiends: Davenport
STAY: Designed to "embody the riverfront renaissance," the Current resides on the site of the 1910 Putnam, the last building designed by Daniel Burnham, a pioneer of the modern skyscraper. The Current is in the heart of walkable downtown Davenport, and each room is uniquely appointed as its own "Midwestern art collection." From an impressive indoor pool and whirlpool spa to the rooftop Up Skybar, you might never want to leave the premises. But you'll be rewarded by what you discover.
EAT: The promise of fun yet familiar comfort food drew us in first, but what really sold us on Baked Beer and Bread Co. were their brand values: "Your family is our family. And we love carbs." If you, too, love all things flour-based after the 2-mile walk from the Current, you can't do much better than a brunch of a dulce de leche-drizzled churro waffle or the "Miss Cheezious," a grilled cheese eggs Benedict.
Midday, stroll down toward the Mississippi River to land near the Freight House (a year-round indoor farmers market) for lunch at Taste of Ethiopia, a new African restaurant run by a team who were all born and raised in Ethiopia. New to the cuisine? Try the Ye'Doro Kay Wot, chicken thighs simmered in a warmly spiced sauce with fresh herbs, a boiled egg, and plenty of injera flatbread.
For dinner, make a reservation at the Half Nelson, a classy, Instagrammable lounge that serves solid steak frites, salmon and soba bowls. It's housed in a 1922 building that once produced heating and plumbing equipment.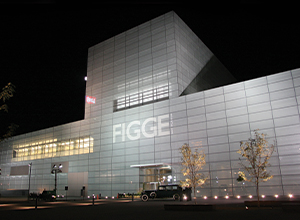 DO: Experiencing a show in a historic venue is a must-do activity while in the city of about 100,000. Check out offerings at the art deco Adler Theatre, the River Music Experience in the Redstone Building, or the Quad City Symphony Orchestra (they've been playing since 1916 at venues throughout the Quad Cities). And pay homage to Davenport's most famous musician, Bix Beiderbecke, at the Bix Bistro, a restaurant and lounge with live tunes that's located in the Hotel Blackhawk, another historic downtown hotel.
Art lovers should visit the Figge Art Museum, which showcases regional, national and international works from the 15th century on, including one of world's largest collections of Haitian art.
For happy hour, try a cocktail crawl at these spots within one block: Cavort QC has a lineup of fun, tropical tiki drinks, and Raw (rawdavenport.com) is all about fresh produce and flavors (blackberry old fashioneds and grapefruit caipirinhas).
---

Our picks in Dubuque's Millwork historic district: Brazen, 7 Hills Brewing Co., Dubuque Star Brewing Co. Photography courtesy of Travel Dubuque.
Best for beverage lovers: Dubuque
STAY: Discover your home away from home in Dubuque, Iowa's oldest town, at the top of one of the city's highest hills. The Queen Ann-style Hancock House Bed and Breakfast (thehancockhouse.com) was built in the 1890s by Charles Hancock, the third son of John Hancock, one of the most successful Midwest grocers of his time. After acting as home for Charles and his family, it was later converted into its current iteration as a bed and breakfast.
Guests can now book stays in a guest room that's named after the family member who slept there or the purpose of the space, such as the library. Most come with fireplaces, showers and whirlpools, and you can witness history in everything from the wallpaper to the tea party tableware collection.
EAT: Since you'll be climbing Dubuque's substantial and pervasive hills all day, you'll need lots of energy. Wake up with a latte and breakfast panini or hashbrown-egg burrito at Charlotte's Coffee House. Grab it to go to stroll around downtown, working your way to 1st and Main for lunch. With a menu of "gourmet fare with local flavor," the space is as spectacular as the cuisine. As you dig into a cheese curd-garnished Wisconsin Burger or a Mac'enator (a pulled pork sandwich with mac and cheese and root beer-bourbon sauce), you can enjoy the colorful light as it streams through Frank Lloyd Wright Luxfer Prisms and the historic exposed-brick space that's part of a row of 19th-century commercial architecture.
Be sure to save room for a dinner feast at Brazen. This innovative Millwork historic district bistro is surprisingly warm and approachable for being run by such an all-star culinary pro. Chef Kevin Scharpf attended the Le Cordon Bleu College of Culinary Arts in Minneapolis before competing on "Top Chef," and now whips up seasonal dishes like duck confit tacos and scallops and asparagus with bacon broth over Parmesan polenta.
DO: Dubuque has a surprisingly lengthy hops history (Google "Dubuque Star Brewing Co." if you haven't heard that story), so consider a brew or cider tour. Jubeck New World Brewing (jubeckbrewing.com), 7 Hills Brewing Co. (7hillsbrew.com), and Dimensional Brewing (dimensionalbrewing.com) are all within walking distance and offer substantial snacks if you get peckish.
Nearly 40 murals have been added to Dubuque's downtown streets in the past five years, so as you explore and walk from brewery to brewery, you can try to find them all—including the colorful, floral tribute to Iowa botanist, educator and preservationist Ada Hayden by renowned artist Gaia.