Above: World-renowned Renzo Piano designed the Krause Gateway Center in downtown Des Moines. The $150 million, 160,000-square-foot building was completed in 2018. Photographer: Michel DenancÉ
Writer: Kelly Roberson
What is it about architecture? I've spent a good portion of my life in the company of buildings and architects, and there's more to it than I would have ever expected. In buildings from Iowa to Paris, I've learned that it is possible to find meaning and solitude, anger and frustration, elation and sorrow inside walls from different centuries and created for different purposes.
Global giants have never ignored our state's architectural landscape—look at Louis Sullivan's Grinnell bank or Frank Lloyd Wright's hotel in Mason City for confirmation. And the state has nurtured its own talent, to the benefit of its residents. Luckily, architecture always offers up something new to explore as demonstrated by three recent buildings completed by global firms in partnership with Iowa architectural offices. They firmly cement the state as a place where talent flourishes and architecture offers meaning beyond its four walls.
---
Italy // Iowa
The Krause Gateway Center, Des Moines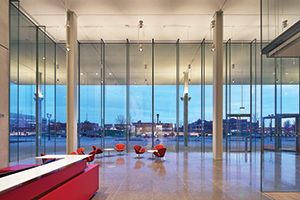 If there's an architecture prize, Italian Renzo Piano has likely won it, including the most notable of them all, the Pritzker Prize. His design for the Krause Gateway Center overlooking Des Moines' downtown sculpture park engendered much anticipation, and not just within the architectural community. 
Piano doesn't have a specialty, although his firm, Renzo Piano Building Workshop, has designed some of the most celebrated museums, cultural centers, airports and office buildings in the world. His work is notable for the challenging structural expressions in his designs. To wit, take note of the cantilevered planes on the Krause building, rendered askew to create a sense of floating, which is amplified by the oversize glass panels. Notable too is the experience of the building, which unlike other corporate headquarters sits back from the sidewalk, creating space to appreciate it from all sides. It is unlike anything else in the city, much less the state.
Architect: Renzo Piano Building Workshop and OPN Architects (local office)
Open hours: Generally normal business hours; for tours, check  krausegatewaycenter.com/visit.
---
New York City // Iowa
The University of Iowa's Visual Arts Building, Iowa City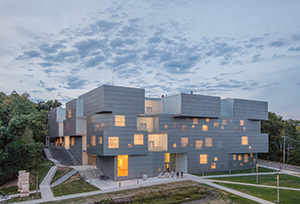 Museums, libraries, cultural centers: Although Steven Holl can design (and has designed) every type of structure, his mark is most widely felt in spaces that have some sort of public component. The Visual Arts Building, which replaced the School of Art and Art History, is the second structure in a University of Iowa complex that includes the 2006 Arts Building West, another Holl-designed project.
The university boasts a prodigious collection of buildings designed by internationally renowned architects, and Holl's design adds to that canon. From the outside, the Visual Arts Building, constructed with hundreds of custom perforated stainless steel panels, plays with right angles and rectangular forms, but inside the 126,000-square-foot space, there's a welcome contrast. 
In fact, the winding four-story, irregularly structured, sculptural-like atrium invites a leisurely stroll past galleries and studios and classrooms. There you might catch a glimpse of students and teachers in ceramics, sculpture, metals, photography, printmaking, 3D design, animation or graphic design. Most notable is the quality of light inside the studios—the fact that there is natural light and that windows are placed irregularly to help refract and diffuse its intensity.
Architect: Steven Holl Architects
and BNIM (local office)
Open hours: Sometimes open on weekends; check hours at art.uiowa.edu/about/facilities/visual-arts-building.
---
Boston // Iowa
Federal Courthouse, Cedar Rapids
Photographer: Main Street Studio
Say "courthouse" and most of us conjure up majestic, imposing structures, likely made of stone and probably designed about 100 years ago. Those buildings reflected a particular moment in time, but their designs don't necessarily translate well to the expectations and design favor of 21st-century Americans.
Today presents different pressures and concerns—access and protection, to name just two—when it comes to the design decisions that go into new government buildings. How do you protect employees and users but create a welcoming, light-filled space that's beautiful and useful?
A good example can be found in the U.S. District Courthouse for the Northern District of Iowa, in Cedar Rapids. Its stated goal was to streamline several different judicial needs, including district, magistrate, bankruptcy, appellate, probation, and U.S. attorney offices.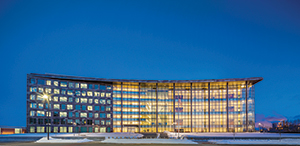 Noted Boston architectural firm William Rawn Architects collaborated with OPN Architects on the design, and the focus was in line with the dignity and presence accorded courthouses of old. The four-story structure is centered by an expansive atrium, and circulation paths push visitors and users to the windows for a refreshing glimpse of the city beyond.
Architect: William Raw Architects and OPN Architects
Open hours: Generally business hours; check iand.uscourts.gov.
---
More Architectural Stops 
Photographers: World food prize building by Duane Tinkey; Hancher Audiotium by Jeff Goldberg; Cedar Rapids Public Library by Main Street Studio.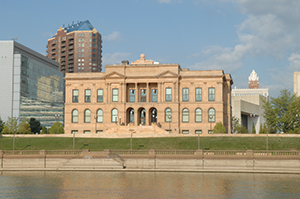 Des Moines: Be sure to visit the renovated 1903 building that once housed the public library and now is the headquarters of the World Food Prize, and the David Chipperfield-designed Downtown Des Moines Public Library, notable for its glass-metal skin.
Iowa City: Two new buildings near the Visual Arts Building, which replaced flood-destroyed facilities, were recognized with national American Architecture Awards and are worth a stop: Hancher Auditorium, designed by Cesar Pelli and OPN Architects, is distinguished by two swooping horizontal forms that offer visual movement. The Voxman Music Building is notable for its subtle shift from a flood of windows street-side to more enclosed spaces on upper floors.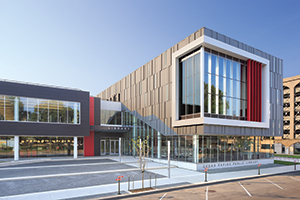 Cedar Rapids: Take note of the Cedar Rapids Public Library, a relatively new addition to the city. The award-winning structure by OPN Architects also plays with light and openness in an interplay of openings and windows to the street-side view.