Above: High style in two styles: The Perky Parrot's daytime specialty is coffee. In the evening: cocktails. It reflects the desire to tailor Algona to fit an anticipated wave of young new residents.
Writer and Photographer: Dan Weeks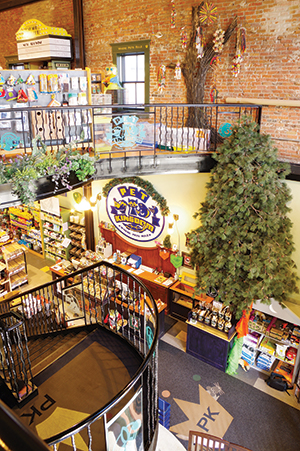 America's future is rural," says Zachary Mannheimer, who came to Des Moines from New York
10 years ago to manifest his hunch that the country's cutting-edge cultural centers were migrating from the coasts to the heartland.
Testing his thesis, Mannheimer developed and managed the Des Moines Social Club, an arts and entertainment venue in a historic firehouse. With the Social Club well established, he left at the end of 2015 to take that migration one step further—to Algona, "two and a half hours from anywhere, population 5,000," as he puts it.
Why?
"People are natural pioneers," Mannheimer says. "They'll find a place to change the world where they can afford to do so."
Coastal cities are priced out of reach, so midcontinent, second-tier cities have been booming. Minneapolis. Kansas City. Nashville. Austin. Denver.
"Now those cities are getting oversaturated and unaffordable," he says, "particularly if you're in your 20s. So people are coming to the next tier of cities. They're looking for a place that's not terribly expensive but has the cultural and recreational amenities of a big city. Right now, that's Des Moines.
"But in five years," Mannheimer predicts, "you're not going to be able to afford an apartment in downtown Des Moines if you're 25. Between 2025 and 2035, you're going to see a massive rural migration—first toward micropolitan areas like Clinton, Fort Dodge, Marshalltown, and then into small towns. There's nowhere else affordable to go."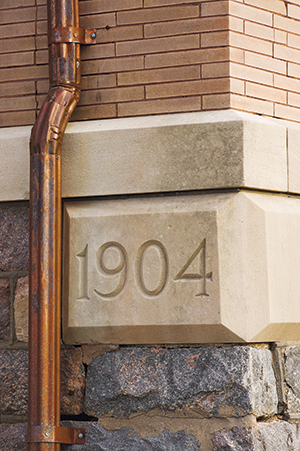 Algona already has a lot going for it. Its distance from larger cities ensures a strong, independent identity. Cars routinely fill most of the diagonal parking spaces that flank State Street, the corridor that bisects Algona's 16-block central business district. Shops sell everything from shoes and lunch to real estate.
The rolls of the Chamber of Commerce include more than 220 members. And local leaders have aggressively pursued industrial development. The city claims facilities for several national brands, including Snap-On Tools, Hormel, Pioneer, Pharmacists Mutual and John Deere.
A midsummer Founders Day celebration, AutumnFest, Frostbite Olympics and other community events hold long-standing favor among the locals. An aquatic center, a YMCA and nearby Smith Lake provide recreation. Museums preserve local heritage. And the new $9 million Ed and Betty Wilcox Performing Arts Center, which opened in early 2017, adds artistic energy to the community.
Mannheimer sought to add something more—a spark to energize the city, responding to the anticipated desire of future arrivals. His objective was to set up the quality-of-life infrastructure such migrants will be looking for. "By a two-to-one margin, millennials choose location first, job second," he says. "Cities with culture will have the edge."
"It isn't rocket science," he explains over an iced tea in Des Moines' Gateway Market. "You need outdoor recreation, a walkable downtown, bike trails, interesting and creative jobs. A brewery. A good martini. If you build it, they will come. Not overnight—it will be drips at first. Then the dam will break. Waukee used to be rural. Ankeny gains five people a day. The fringes will grow."
So why a town of 5,000? Why not, say, Clinton?
For the same reason he chose Des Moines over Minneapolis, he says: "The smaller the community, the greater the impact one person can make."
As the former vice president of creative placemaking for Iowa Business Growth Company in Johnston, he recently helped Algonans create projects in restored-to-the-nines vintage downtown buildings that add lifestyle amenities to an already thriving town.
Already completed:

Pet Kingdom, which Mannheimer calls "the most ornate pet shop you've ever seen." It has a two-story atrium and includes a pet spa and boutique.
The Perky Parrot next door is a high-style coffee bar by day and martini joint by night.
In the works:
A rehabbed 1894 brick storefront with retail on the first floor and a half-million-dollar deco-style condo complete with a glass tube elevator above. ("Yes, there's a market for it," Mannheimer says of the condo.)
A 1904 Carnegie Library-turned-cultural center with visual art and performance spaces on the upper level, offices for nonprofits on the lower level, and music performances and other events on the expansive lawn.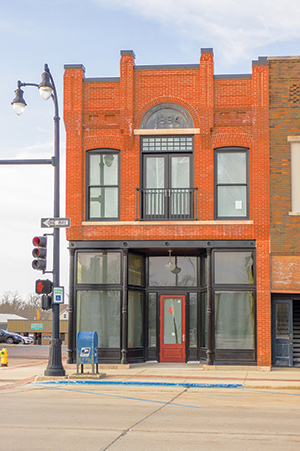 "We're already seeing people detour through here on their way to the lakes," says Brian Buscher, an entrepreneur and lifelong Algonan. He's helped lead the downtown revival with pet shop owner Debra Wolfe and local attorney Scott Buchanan.
Other businesses followed suit, removing tacked-on aluminum awnings and restoring original century-old storefronts. Mannheimer's prophesied in-migration has already started: Erika and Brad Jensen recently chose downtown Algona over Omaha for their gourmet chocolaterie, the Chocolate Season.
These developments aren't imported by outsiders but rise from meetings within the community, where residents assess underutilized facilities and the best way to use them. Financing comes from public and private sources that see the value in reinvesting in small towns.
Mannheimer himself has moved on again. "Ideas are great, but someone has to make them happen," he says. "Algona had people that could do that, but not every place does. To do housing, which is what many small towns need, you need land use development. You need infrastructure. You need engineers."
So last spring, Mannheimer joined McClure Engineering. The civil engineering firm was founded in Jefferson in 1956 and now has 10 offices in Iowa and Missouri. Mannheimer's job: Add creative placemaking and cultural development to McClure's bricks-and-mortar infrastructure focus.
The combination seems to be taking off. "I'm now involved in a lot of projects, and I've done zero solicitation," he says.
"We're about to do some really exciting things in Jefferson."