Above: Gardening friends and horticulture students help out when possible. There's a good deal of walking involved in tending the 6,000 daylilies at Walkabout Gardens.
Writer: Veronica Fowler
Photographer: Karla Conrad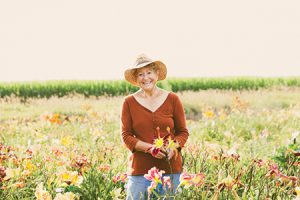 Keeping up with Nan Ripley is a challenge.
Chattering a mile a minute, she's doing a power walk through her 9½ acres of stunning, ambitious beds and borders, trailed all the while by her beloved German shepherd, Savannah. Ripley is old enough to have retired from her office assistant job at Iowa State University 14 years ago, but she isn't about to slow down.
Instead, she's redoubled her gardening efforts. Her beautiful landscape, located a few miles east of Nevada, boasts a connoisseur's collection of trees and conifers. Over the past 20 years, it's her passion for daylilies that she's become best known for—garnering the attention of ia and another little magazine, Martha Stewart Living.
Not only does Ripley grow daylilies, she also hybridizes them, carefully cross-pollinating promising cultivars and growing out the resulting offspring. She has won many national awards for her work and introduced an impressive 43 named varieties recognized by the American Hemerocallis (Daylily) Society. Her acreage is also recognized as an official AHS National Display Garden.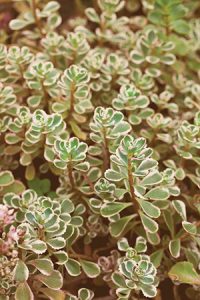 Most gardeners grow daylilies because they are easy and colorful. Deer and rabbits leave them alone. Daylilies do well in both sun and light shade and need minimal water. Ripley likes to keep her daylilies in top shape by watering more regularly when it gets dry, fertilizing in the spring and fall, and mulching to prevent weeds and conserve moisture.
Then there is a whole subculture of gardeners across the nation, like Ripley, who grow daylilies not because they're easy but so that they can tinker with their genetics. They create new and spectacular cultivars in a dazzling array of colors and shapes with record numbers of blooms.
Ripley gives a tour of what she's named Walkabout Gardens by starting through a series of designed beds to the north of the house. Then she ranges out to a mini-arboretum farther north. Next she swings through plantings to the west of the house and a plot to the south. It's a stunner—perhaps a half acre with almost nothing but daylilies planted in long, neat rows. That's where each spring she plants and tests most of her 1,500 to 2,000 new daylily seedlings. Overall, the daylily population at Walkabout Gardens hovers around 6,000.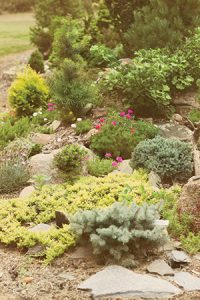 The expanse of daylilies is bordered with a hosta garden and shadier beds, which lead back to the house, where Ripley finishes up her tour with a bottle of water on the front deck.
All the while, as she walks through her garden, Ripley works the flower beds like a politician working a room. She nods to old acquaintances, reaching out to touch and admire her favorites, and stopping here and there to make introductions. "This is 'Razor Sharp.' She's from Florida." We also meet 'The Allen,' and 'Patricia Lynn,' 'Winifred Esther,' 'Bob's Hawkeye Beauty,' 'Scarlet Pimpernel,' and dozens and dozens of others. There are multiple benches scattered throughout, but it's fairly clear Ripley doesn't do much loitering on them.
"I can't wait to get up in the morning and walk the gardens to see what new blooms await me," Ripley says. Once the light starts to wane on even the longest of summer days, she has her back patio set up with hundreds of plants to tend so she can continue to garden even after the sun has called it quits.
Her husband of 53 years, Merwyn, keeps the lawns mowed and helps out with various tasks. "The church ladies who visit always ask him, 'Oh, do you love gardening too?' And he always says, 'No, but I love her.' "
The secret to all this energy? Ripley pauses, considers the prudence of what she's about to say, and then reveals in a low conspiratorial whisper, "I take two Tylenol PM before I go to bed."
She has a couple of Iowa State students who help for a few hours here and there each week during the growing season. That gives her time for crafting accents and sculptures for the garden, writing gardening articles, or teaching gardening classes.
Ripley loves creating daylilies that appeal particularly to her. She's become known for her vivid colors, unusual petal shapes, a special sparkle on the petal called diamond dusting and metallic edges that look like gold or silver braid. "Daylily is my plant of choice because it can be hybridized," she says. "It brings out the artist in me and I never tire of creating."