Writer: Lisa Holderness Brown
Following in the footsteps of "buy local" and "farm to table," small-batch ice creams have popped up on the coasts in recent years, igniting a nationwide trend. Interestingly enough, that's how many ice-cream shops in Iowa have always done it.
So why put in the extra effort of churning, hand-mixing specialty recipes, and hunting down highest-quality local ingredients? We chatted with makers around the state to find out. Hands down, none of them would have it any other way. They believe they sell happiness by the scoop—tapping into nostalgia, bringing people together, and giving them a splurge that is as much about fun as it is about flavor.
"Ice cream is really, really easy to sell, especially if it's really good," says Alex Carter of Black Cat Ice Cream in Des Moines.
Meet the artisans behind some of Iowa's favorite ice creams, as they talk about their top flavors, why they churn, and what makes their shops and ice creams memorable. They're a personality-plus group, including a self-professed science-geek grandpa, an ex-pastry chef/standup comedian and a family that starts the ice-cream process by milking cows.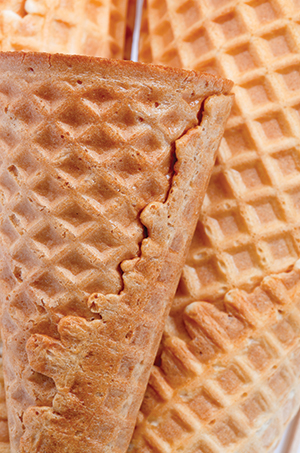 Grandpa's Homemade Ice Cream
Burlington
Bob Cook ran a camera store for 30 years in Burlington until, at age 61, he converted the store into an ice cream parlor. His family always made ice cream and he was ready for a fun change. He and his son make all the ice cream from secret recipes that aren't even written down. As for the naming of his business, his nine grandkids had some say in that.
How did you develop your ice cream recipes?
I was very much interested in the science of ice cream. I bought books from Malcolm Stogo, who runs Ice Cream University on the East Coast, and learned that the faster you churn ice cream, the better and smoother the results. There is so much chemistry involved in making ice cream properly. I use the best ingredients money can buy since shortcuts mean you lose quality.
Which flavors do you love best?
We make about 45 flavors and usually have about 24 available. My favorite is butter brickle. When I was a kid this was very popular, and then it disappeared in the 1980s. I finally mastered the recipe over time, and now it is a top flavor. While all the other flavors are secret recipes, I will give my vanilla recipe to anyone. It's the vanilla we use that makes it so amazing. Ours is absolutely the top Madagascar bourbon vanilla available.
After seven years, how has your business grown?
We serve about 80,000 to 100,000 scoops annually now and stay open year-round. One customer even drove from Chicago every few weeks to stock up on pints.
600 S. Roosevelt Ave., Burlington; 319.754.0970; find "Grandpas-Homemade-Ice-Cream" on Facebook
Outside Scoop 
Indianola
This business started in 2010 with lots of entrepreneurial spirit and a single ice cream cart. Today, Outside Scoop has a shop in Indianola and two trucks that peddle ice cream at events from mid-March through October. The ownership changed in 2017, but the mission is still to serve the same quality ice cream using mostly local and homemade ingredients. We talked to manager and head ice-cream maker Haylee Kort.
What makes Outside Scoop ice cream so special?
People really like homemade and local—and want unique and different. Our ice cream is super rich, and we take requests for new flavors all the time. Also, our employees are trained to make perfectly round scoops for aesthetic appeal.
Do you make most of the ingredients?
Yes. This means roasting nuts, making marshmallows and sauces, baking cheesecake and apple crisp to crumble into ice cream, and even making puff pastry for my favorite Dutch letter ice cream. We also buy local ingredients from farmers, such as the cheese for our popular goat cheese and roasted cherries flavor.
What is it about ice cream that attracted you to the business?
Ice cream is so fun. It is very labor-intensive, but I don't like to sit still. I can be very creative with the flavors, and it's great to watch the little kids really dive into our extra-big scoops.
602 N. Jefferson Way, Indianola; 515.444.7864; outside-scoop.com
Birdsall's Ice Cream Shop
Mason City
History abounds at this 86-year-old ice cream shop. After two generations in the Birdsall family, it is now in the second generation of Eschers. David Escher, the current owner, was in sixth grade when he started bicycling to the shop to help his dad. Eventually, all three of his daughters did their "tour of duty" at the shop. Escher says they don't tamper much with the Birdsall traditions, including the recipes and the horseshoe-shaped counter and vinyl stools where kids love to sit and twist.
Who buys your ice cream?
Everybody, young and old. We have a huge following of people that return to Mason City and have to make a stop at Birdsall's. People come on their bikes, and on nice days, many folks sit outside on the wall.
Can you tell us about your special fresh peach ice cream?
When Missouri peaches are at their best, we make 300 gallons of fresh peach ice cream, and we also serve fresh peach sundaes.
How many locals has Birdsall's employed over the years?
Since my father bought Birdsall's, we have employed about 500 young people. Lots of them come back to visit, and four couples who worked here have gotten married. One of my daughters was working when a couple was sitting in the shop and the man knelt down and proposed. Their first date had been at Birdsall's.
518 N. Federal Ave., Mason City; 641.423.5365; find "Birdsalls Ice Cream" on Facebook
Heyn's Premium Ice Cream
Iowa City and North Liberty
Current owner Peggy Cullivan's infatuation with Heyn's started when she was 12 and tried a scoop of blueberry cheesecake ice cream. She was hooked. After that, she would raid her father's change jar and head to Heyn's almost daily. Owner Paul Heyn offered her a job at age 14 and made her a manager at 19. Seven years ago, Heyn died and left her the shop. In 2015, Cullivan opened a second shop in North Liberty.
Do you still use Heyn's original recipes? The recipes are pretty close to the originals, with a few tweaks. We make them in six-gallon batches and mix in the flavors by hand. We use Iowa-based dairy and try to keep as close to home as possible for ingredients. As for flavors, monster mash (made with cookie dough, peanut butter, and M&Ms) is by far the best-seller, and of course we still carry blueberry cheesecake.
You have dedicated your life to this business. Is it all about the ice cream? When I was a kid, Heyn's was the cool place to work, and all my friends would stop in. Even now it is just as much about the people as it is the product. I am like a big kid and try to make the shop a really fun place to be and treat my employees like a big family. I also love it when people come in that used to stop by when I was 14, and it's fun hiring teens that I remember as toddlers.
Nationwide, ice cream sales have dipped in the last few decades. Do you see business dropping off?
Actually, we have only grown. Nostalgia and the desire for great quality ice cream keep people coming back.
811 S. First Ave., Iowa City; and 25 Cherry St., North Liberty. 319.354.1981; hheynsicecream.com
Beecher's Ice Cream & Yogurt
Dubuque
Brian Beecher's dad added small-batch ice cream to the family's gas and beverage store in 1984 and brought Brian in to help. That was 33 years ago, and he still loves making their ultra-rich, hand-scooped ice cream. He says consistently good ingredients make the difference. Beecher's has been voted the best ice cream in Dubuque for five years in a row.
Has there always been just one Beecher's?
Yes. Beecher's opened in 1922 and three generations of family ran it before it was purchased in 2017. The new owners kept the name Beecher's and kept me on as ice-cream maker.
What flavors sell best?
Cookie dough is the top seller, but I make about 36 flavors from scratch. Old South is really popular, which includes lots of chocolate with coffee, chocolate chips and Oreos. Also M&M brownie, monster cookie, butter pecan and black raspberry.
Why do you like to make ice cream?
It makes people feel happy. People who move away and come back to visit Dubuque remember us and are glad we are still there. We sell about 3,200 scoops per week and are open April through September.
1691 Asbury Road, Dubuque; 563.556.2623; find "Beecher's Ice Cream" on Facebook.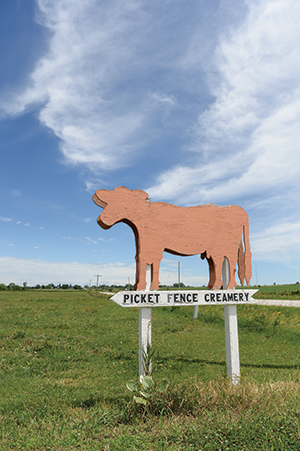 Picket Fence Creamery 
Woodward
Jeff and Jill Burkhart started a dairy farm as a sideline in 1984. Eventually they were milking so many cows that they decided to quit their day jobs and bottle their own milk. Within a few months, they started making ice cream. The timing was good, as they benefited from the buy-local movement. After all, their milk and cream couldn't get any fresher or more local.
Jill, can you talk about your ice cream?
We wanted to create a natural, small-batch, flavorful ice cream that tastes like you made it at home. Our Jersey brown cows are fed a chemical-free diet and give milk that is higher in protein and richer in butterfat. As for flavors, we knew that our vanilla had to be over the top, since that is the No. 1 seller nationwide and people would try it first. We now make 34 flavors, including such standouts as pumpkin, rum raisin, luscious lemon and maple bacon.
Where can people get Picket Fence ice cream?
All of the ice cream is sold in Iowa—mostly wholesale to retail outlets such as ice cream shops, stores, swimming pools and restaurants. You can also stop by our store on the farm. Once a month, we have Sample Sunday. This is a great time to spend a day in the country and sample all kinds of local food, including our ice cream.
Is Picket Fence still a family business?
Absolutely. I am chief ice-cream maker. My mom is a dietitian by training, so she helps with flavor development. Our 29-year-old daughter, Jenna, just rejoined the business, and our son James, 16, helps make deliveries on Saturday with his dad.
14583 S Ave., Woodward; 515.438.2697; picketfencecreamery.net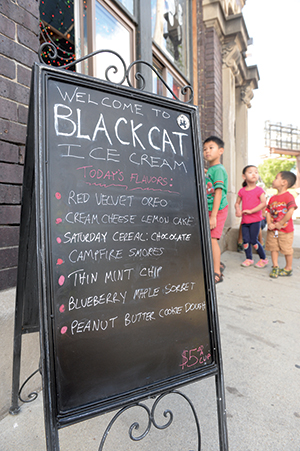 Black Cat Ice Cream 
Des Moines
Of the ice-cream makers we talked to, Black Cat owner Alex Carter is the newest and has the most boutique-style operation. He fell in love with making ice cream while working as a pastry chef. In August 2016, Carter took over a closet-size spot in downtown Des Moines with the goal of making his ice cream "undeniably one of the best things you've ever had."
When he says he makes old-fashioned ice cream, he means churning it inside a bucket packed with ice and salt. The waffle cones are also homemade.
You named your shop after your black cat, Boo Bear. Do pets like ice cream?
For being such an obese cat, Boo Bear never cared about anything I was eating with the exception of ice cream. So many people have asked for ice cream for their dog that I now also serve a special dog ice cream.
Can we talk flavors?
The best-sellers are my vanilla and Cookie Monster, but my favorite is blueberry pancake (maple buttermilk ice cream with blueberry pancakes mixed in and a blueberry sauce swirl). I also try to have at least one vegan offering, such as spicy vegan coconut curry and granola.
Beyond ice cream, who is Alex Carter? I have a lot of interests. I've won awards for watercolor painting and bread making. I'm also a stand-up comedian and have a podcast. Somehow I still find time to have an ice cream business.
1501 Grand Ave.; Des Moines. Black Cat operates out of a service window around the corner from the Gas Lamp bar. 515.720.2672; blackcaticecream.com